Are you looking for the perfect sourdough cinnamon roll recipe? These No-Knead Sourdough Cinnamon Rolls are just the recipe you're looking for! They are soft, sweet, and buttery with a deliciously gooey center. The best part is, you won't have to break your back making them.
I love a good cinnamon roll, but I don't love is kneading. I would almost rather buy a can of ultra-processed, ready-to-bake cinnamon rolls than spend twenty minutes working some cinnamon roll dough. Do we really need to put in all that work? As it turns out, we don't! I tested this recipe at least a dozen times, making sure they were as hands-off as possible, and each time they came out perfect! Plus the dough is easy to put together in the evening, letting it rise overnight so you can make your rolls in the morning.
This overnight sourdough cinnamon rolls recipe easily fits into any baker's schedule. You can even make them ahead of time and store the unbaked rolls in the fridge or freezer to be baked on the perfect morning. With an irresistible combination of tangy sourdough, warm cinnamon sugar filling, and sweet cream cheese frosting, these sourdough cinnamon rolls are an absolute must-try.
Ingredients
What is Sourdough Starter? The dough for this recipe is leavened using a sourdough starter instead of conventional baker's yeast. These rolls have the cozy goodness of traditional cinnamon rolls with the added health benefits of sourdough. If you're not sure what a sourdough starter is, check out my "How to Make a Sourdough Starter" post to learn all about it.
Dough Ingredients:
Sourdough Starter – This recipe uses Sourdough Starter to make the dough rise instead of baker's yeast. Make sure your starter is fed the night before you plan to bake, so it is active and bubbly when you mix the dough.
Sugar – Sugar gives the wild yeast in your starter a boost, helping the dough to rise, and also makes it sweet. I use raw organic cane sugar when baking, but any sugar will work.
Egg – Egg plays a crucial role in enriching the dough and providing these rolls with a light and tender texture. For best results, use a room temperature egg when making the dough.
Bread Flour – For this recipe, I used organic bread flour. Bread flour will give these sourdough rolls the best rise and the softest crumb. If using all-purpose flour, you may need to increase the amount of flour called for in the recipe.
Salt – Salt is added to enhance flavor without making these rolls salty. It also acts to strengthen the dough.
Butter – Butter enriches this dough making these rolls soft and tender. I use unsalted butter when baking, but you can use salted by omitting the salt in this recipe.
Filling Ingredients:
Butter – Use room temperature butter when making the filling for these rolls so that it is easy to spread. You can test your butter to make sure it is soft enough by pressing on it. If you can push all the way through without resistance, the butter is ready.
Brown Sugar – Dark brown sugar makes the filling for these sourdough cinnamon rolls extra rich, sweet, and sticky. If you don't have brown sugar on hand, you can create your own substitute by adding 1 teaspoon of molasses to 1/2 cup of regular cane sugar.
Cinnamon – They wouldn't be cinnamon rolls without cinnamon! If you're feeling particularly adventurous, I recommend trying Ceylon cinnamon instead. It's my personal favorite and adds a more delicate flavor to the rolls.
Frosting Ingredients:
Cream Cheese – Cream cheese makes this frosting extra yummy. If you prefer a non-cream cheese based frosting, you can replace it with butter.
Butter – Butter contributes a rich flavor to the frosting that can't be achieved with cream cheese alone. Make sure to use unsalted butter at room temperature for the best results.
Powdered Sugar – When making frosting, I prefer using organic powdered sugar. Keep in mind that organic powdered sugar tends to be lumpier than conventional powdered sugar, so it's recommended to sift it before use.
Milk – Adding a little milk helps to make the frosting creamier and easier to spread on top of your sourdough cinnamon rolls. Adjust the amount of milk according to your desired consistency, using less or more than what the recipe specifies.
How to Make No-Knead Sourdough Cinnamon Rolls
Plan Ahead: Sourdough leavened baked goods have a long rise time. Take a look at my Sample Bakers Schedule before you begin so you have a better idea on when to begin and how to plan ahead.
Step 1: Mix the Dough
In a large bowl, whisk together the active sourdough starter and milk until the starter is fully dissolved. Next, whisk in the sugar and room temperature egg until well incorporated.
Sift the flour and salt into the bowl, stirring until a shaggy dough begins to form. Then, add the room temperature butter, mixing either by hand or with a stand mixer until fully incorporated. It is important to use room temperature butter or this step will be difficult. You can test the butter's softness by pressing your finger into it. If you can easily push all the way through without resistance, then the butter is ready.
Step 2 (optional): Strengthen the Dough
Skip This Step? Strengthening the dough will develop more gluten structure and give your cinnamon rolls more body and rise. However, it's important to note that this recipe has been formulated and tested to not require any kneading, and the rolls will be delicious without this step.
After mixing, cover the dough with a damp cloth and allow it to rest for 20 minutes.
Uncover the dough and knead it on medium speed with a dough hook attachment for approximately 12 minutes. The dough is ready when it becomes smooth and pulls away from the sides of the bowl. If working without a stand mixer strengthen the dough by hand. To do this perform three sets of stretch and folds.
How to Stretch and Fold:
To prevent sticking, lightly wet your hands before handling the dough.
Start by scooping up an edge of the dough and gently pulling it upwards.
Continue pulling the dough until you reach a point where it resists being stretched, then fold it over itself.
Give the bowl a quarter turn and repeat this stretching and folding motion.
Keep turning the bowl, performing the stretch and fold technique until you complete a full circle. These four stretch and folds are called a set.
Repeat the process of allowing the dough to rest and performing the stretch and fold method two more times. In total, you will have completed three sets.
Step 3: Bulk Fermentation
Cover the bowl with a damp cloth to bulk ferment the dough at 72°F(21°C) for 8-9 hours, or overnight. The dough will need to rise until it is double its original size. It's important to note that rise times can vary based on the temperature in your home, so adjust the time accordingly.
Step 4: Make the Cinnamon Rolls
Before turning out the dough, lightly dust your work surface with flour. Gently pat the dough into a rectangular shape and use a floured rolling pin to roll it out into a 12″x18″ rectangle.
In a bowl, whisk together the brown sugar and cinnamon to make the filling, then set it aside.
Spread the room temperature butter over the sheet of sweet dough, leaving a one-inch margin along the length of the dough. This margin will help to seal the rolls when you roll up the dough.
Next, spread the cinnamon sugar mixture on top of the layer of butter and roll dough up tightly. Start with the end opposite of the margin and roll inwards applying a gentle pressure.
Alternative Method: Another way to make the filling is to mix the room temperature butter together with the brown sugar and cinnamon before spreading it on top of the sweet dough. I've made the filling both ways, and either will give you delicious rolls.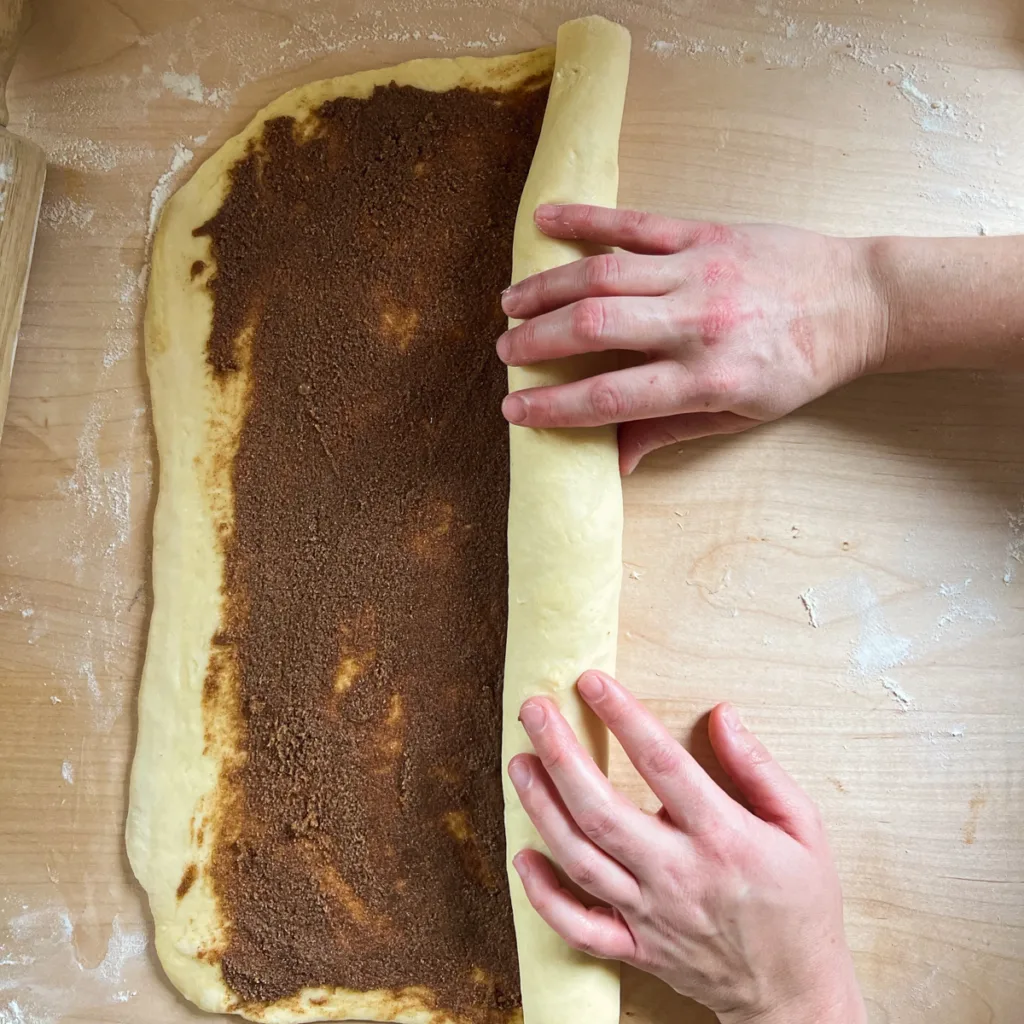 Lightly wet the margin with water before sealing. Allow the roll to rest, seam side down, for a minute to ensure a tight seal. Using a non-serrated knife, cut the log into twelve equally-sized cinnamon rolls.
Cutting Tip: Wetting your knife every few cuts will prevent the dough from pulling and give clean slices.
Step 6: Second Rise
Arrange the cut rolls in a 9″x13″ pan, ensuring they are evenly spaced apart. If preferred, using a slightly smaller pan will yield doughier cinnamon rolls. Place a cloth or kitchen towel over the pan, ensuring the rolls are well covered.
Let them rise at a temperature of around 72°F (21°C) for approximately two hours. During this second rise, the rolls will increase in size and become visibly poofy. It's important to note that rise times can vary based on the temperature in your home, so adjust the time accordingly.
Speed up Second Rise: For a quicker second rise, preheat your oven and place your pan on top of the stove. The heat the oven gives off will allow your rolls to rise much quicker.
Step 7: Bake and Frost
Position your rolls on the center rack of a 350°F (177°C) preheated oven and bake for 25-30 minutes.
While the rolls are baking, prepare the frosting. Using an electric mixer or stand mixer, beat together the cream cheese, butter, powdered sugar, and milk until you achieve a creamy, lump-free frosting. Add more or less milk as needed to achieve your desired consistency.
Once out of the oven allow the sourdough cinnamon rolls to cool for 15 minutes before frosting. Serve and enjoy!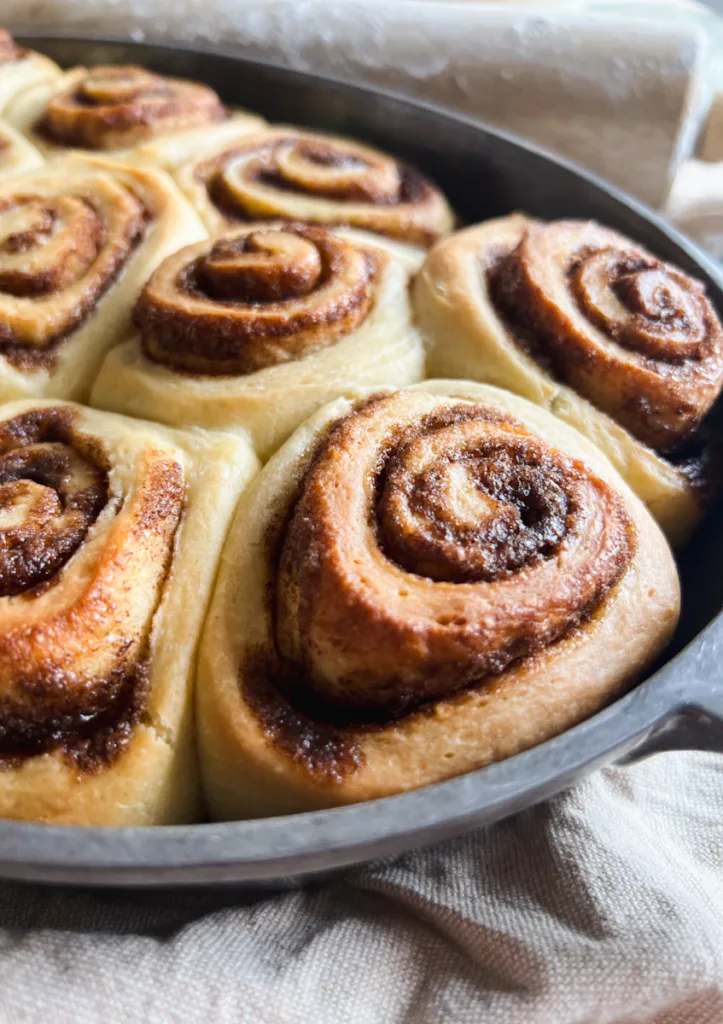 Sourdough Cinnamon Rolls FAQ
Can I substitute whole wheat flour or all-purpose flour for bread flour?
Bread flour will give these sourdough cinnamon rolls the best rise and the softest crumb. If using whole wheat or all-purpose flour, you will need to increase the amount of flour or reduce the milk called for in the recipe and strengthen the dough before bulk fermentation.
How do I store my leftover cinnamon rolls?
To store any leftover cinnamon rolls, place them in an airtight container at room temperature for up to 3 days or in the refrigerator for up to a week.
What is the best way to reheat leftover cinnamon rolls?
You can reheat leftover cinnamon rolls individually in the microwave, or reheat all the leftovers in a 300°F (150°C) preheated oven for 10-15 minutes, or until warmed through.
Can I make cinnamon rolls ahead of time?
To make cinnamon rolls to bake later, cover the pan of unbaked rolls tightly and refrigerate for up to 24 hours, or place them in the freezer for up to a week. When you are ready to bake, allow the rolls to come to room temperature and perform the second rise.
Can I use instant yeast or active dry yeast instead of sourdough starter?
This recipe is formulated to use sourdough starter. Using conventional bakers yeast would require ingredients and rise times to be adjusted. This non-sourdough cinnamon roll recipe is a great one to try!
Sample Bakers Schedule
9 AM (day 1): Feed your sourdough starter.
9 PM (day 1): Mix the sweet dough together.
9:30 PM (day 1): Strengthen the dough and cover to bulk ferment overnight.
6:30 AM (day 2): Roll and fill the dough, then cut into 12 rolls.
7 AM (day 2): Arrange the rolls in a 9″x13″ pan and cover for second rise.
9AM (day 2): Bake the sourdough cinnamon rolls and make the frosting.
9:40 AM (day 2): Frost and serve the rolls.
More Sourdough Sweet Roll Recipes