Soft, chewy, sweet and slightly tangy —these really are the best sourdough chocolate chip cookies. This simple recipe can be made using either sourdough discard or active sourdough starter. With bits of chocolate in every bite and the added benefit of long-fermented grains, they are sure to be a crowd pleaser.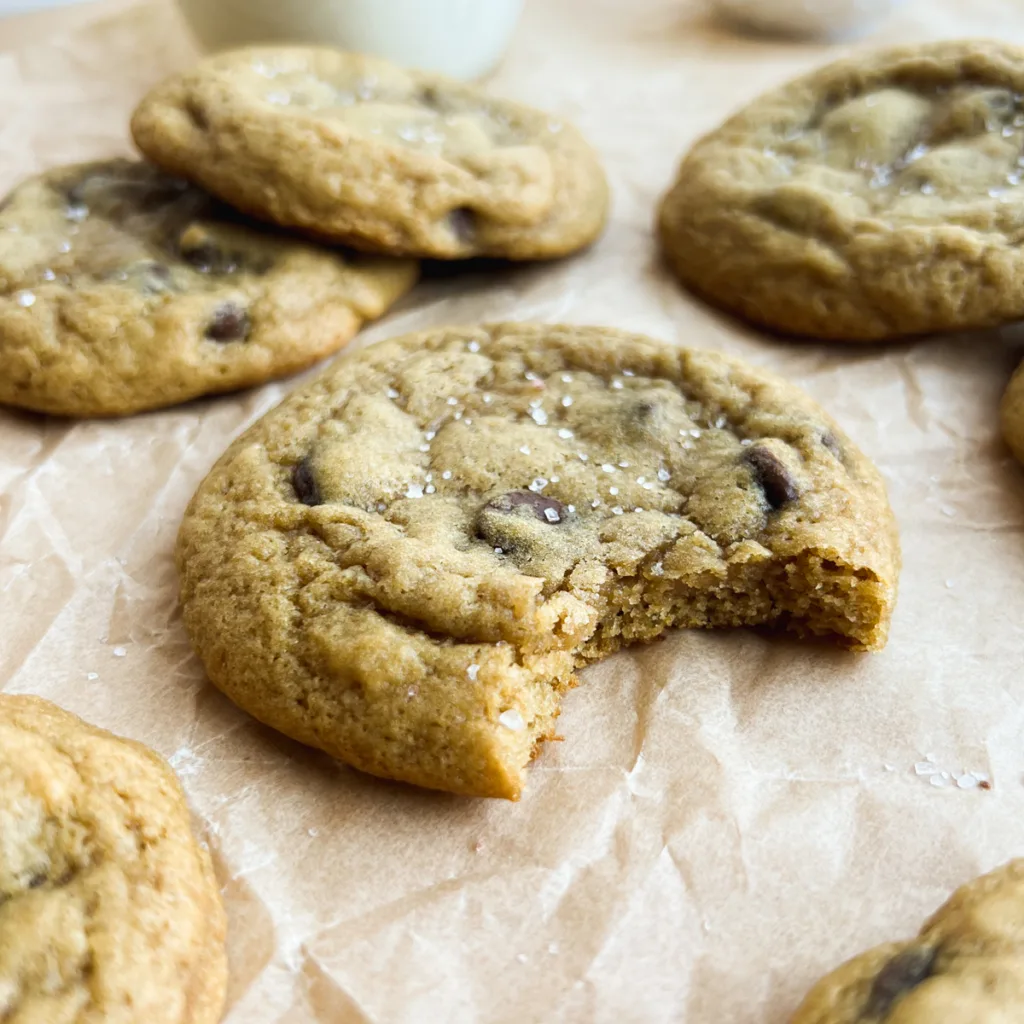 I've noticed that many sourdough cookie recipes turn out cakey, but that's not what we want, right? When it comes to the perfect chocolate chip cookie, it has to be soft and chewy. We deserve to have the best of both worlds—a chewy sourdough cookie with the added benefits of long-fermented grains.
After countless tries and tweaks, I can confidently say that these homemade chocolate chip cookies made with sourdough discard are exactly what you're craving. They're perfectly chewy, soft and packed with all those sourdough benefits, making ultimate cookie satisfaction.
This recipe is made with sourdough discard. If you're not sure what sourdough discard is, check out my How to Make a Sourdough Starter post to learn how to make your own sourdough starter. Sourdough discard adds a slight tang that makes these cookies irresistible. If you are looking for a new favorite chocolate chip cookie recipe, I think you've found it!
Sourdough Chocolate Chip Cookies Ingredients
Butter – You have the flexibility to use either salted or unsalted butter for this recipe. Whichever option you prefer, it's important to ensure that your butter is at room temperature.
Sugar – Sugar not only adds sweetness to your cookies but also plays a crucial role in their texture. The presence of sugar contributes to the chewiness of the cookies and helps promote the spreading action as they bake.
Molasses – Molasses helps hold things together and gives your cookies a caramel-like sweetness. If you don't have molasses available, simply omit it from the recipe and substitute regular sugar with brown sugar instead. Brown sugar is essentially regular sugar with the addition of molasses, and will offer a similar flavor profile.
Vanilla – Vanilla helps to enhance the flavors of all the other ingredients in your cookies. For the best results, opt for real vanilla extract rather than imitation vanilla.
Sourdough Discard – This recipe uses 100% hydration sourdough discard, but here's the good news: it works perfectly fine with both sourdough discard and active sourdough starter.
Egg – Eggs act as a binding agent, helping to hold the ingredients together and providing structure to the cookie dough.
Flour – I highly recommend using unbleached all-purpose flour for this recipe. Unbleached flour is a great choice as it retains more natural nutrients and has a slightly higher protein content compared to bleached flour. This can result in better texture and structure for your cookies.
Salt – Salt helps to enhance the flavors in the cookies. If you're using salted butter, you can skip adding additional salt.
Baking Soda – Baking soda reacts with the acids present in the starter, resulting in a chewy texture for your cookies.
Chocolate Chips – You cant have sourdough chocolate chip cookies without the chocolate chips! I use Guittard Baking Chips, because of their minimal ingredient list.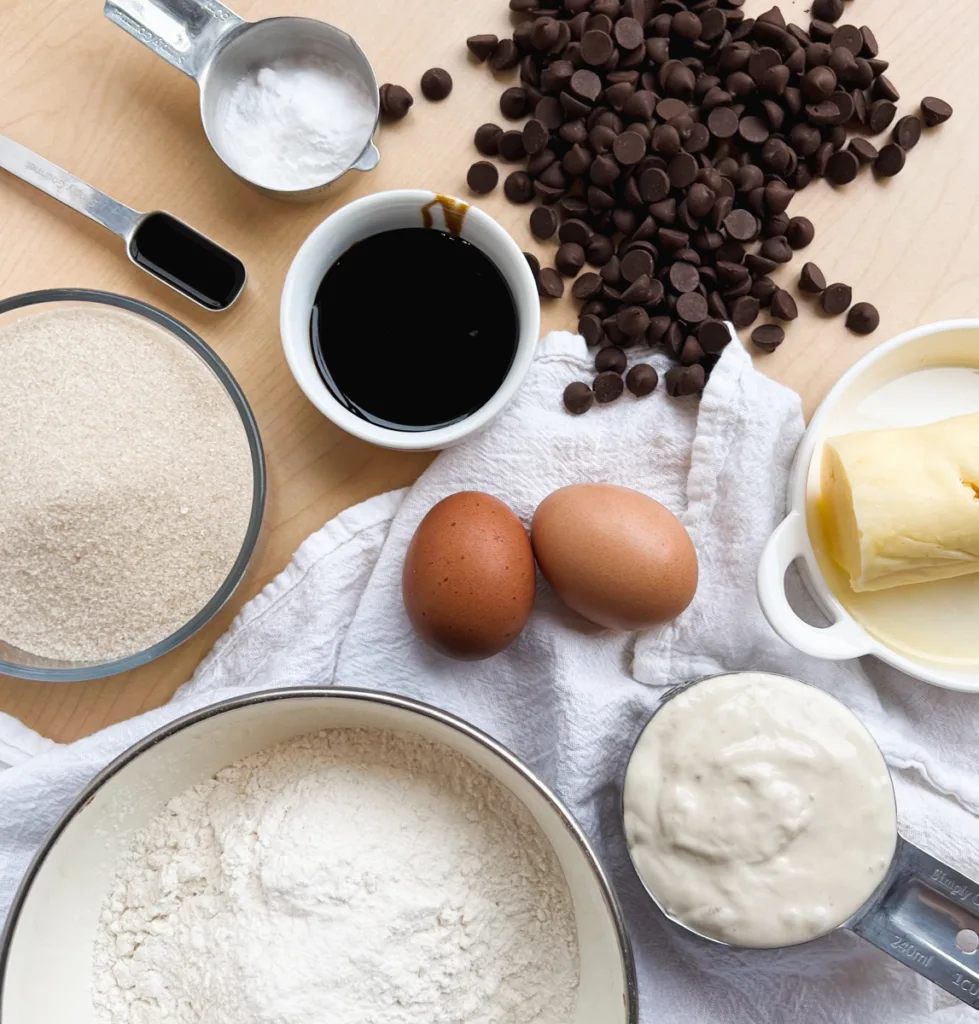 How to Make Sourdough Chocolate Chip Cookies
Step 1: Make the Cookie Dough
Using a sturdy spatula or mixing spoon, gently stir together the sugar and room temperature butter in a large mixing bowl until they are just combined. Be cautious not to overmix or cream the mixture, as this could result in a more cake-like texture.
Next, add the molasses, vanilla, sourdough discard, egg, and egg yolk to the bowl. Stir everything together until well combined.
Sift in the flour and baking soda, and stir until a tacky batter forms. Then, gently fold in the chocolate chips until they are evenly distributed throughout the batter.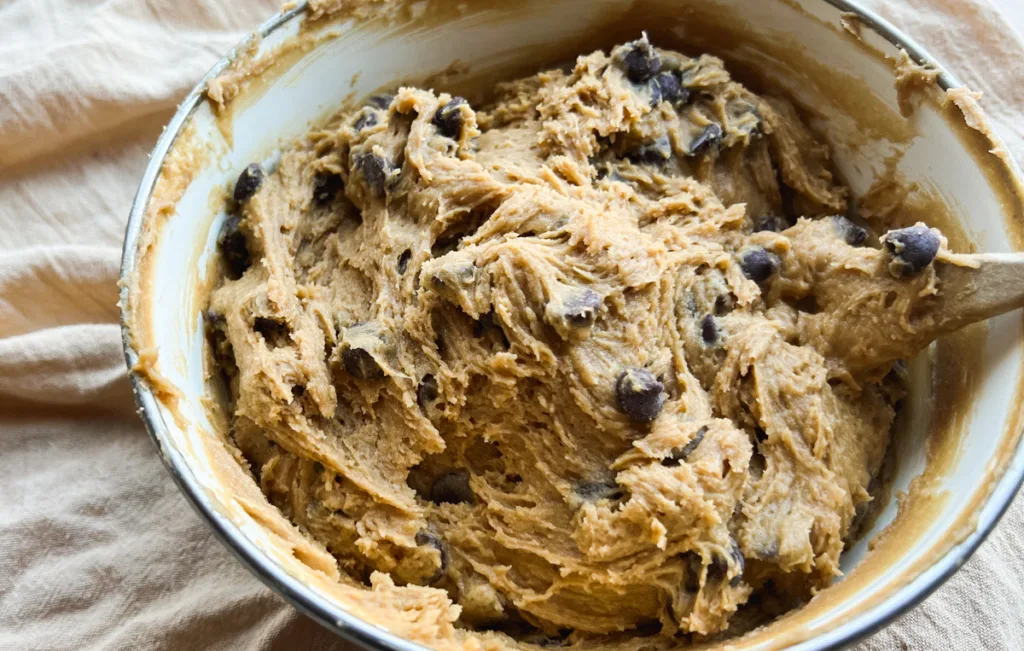 Step 2: Chill the Dough
Once the cookie dough is fully mixed, cover the bowl and refrigerate the dough for 2-24 hours. Chilling the dough allows the butter to solidify, which in turn helps prevent excessive spreading of the cookies during baking. So, be patient and give the dough some time to chill for the best results!
Step 3: Roll the Cookies
Preheat your oven to 350°F(180°C).
Scoop and roll the chilled cookie dough into 2-inch balls and space them 3 inches apart on a parchment-lined baking sheet. For uniform cookies, you can weigh each portion of cookie dough out to 50g.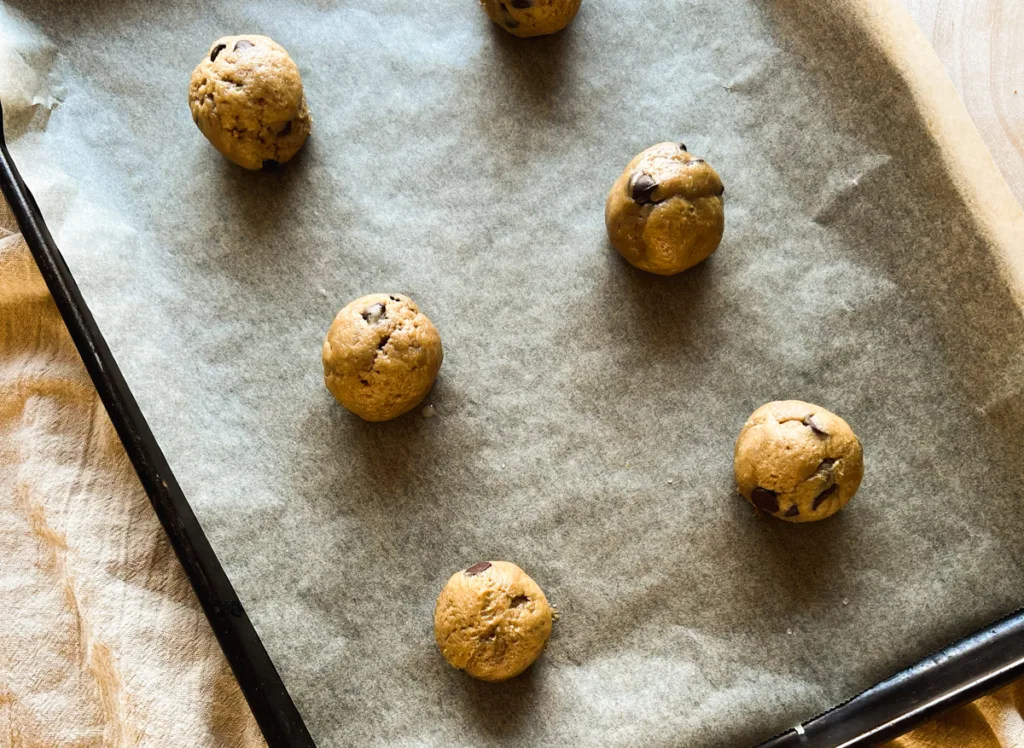 Step 4: Bake
Bake the cookies in batches on the center rack of your oven for 9-11 minutes. It's important to note that the cookies may appear underdone when you take them out of the oven. Resist the temptation to cook them longer.
Once you remove the cookies from the oven, let them cool for at least 10 minutes before transferring them to a cooling rack to finish cooling. Allowing them to fully cool will help them set and achieve the perfect texture.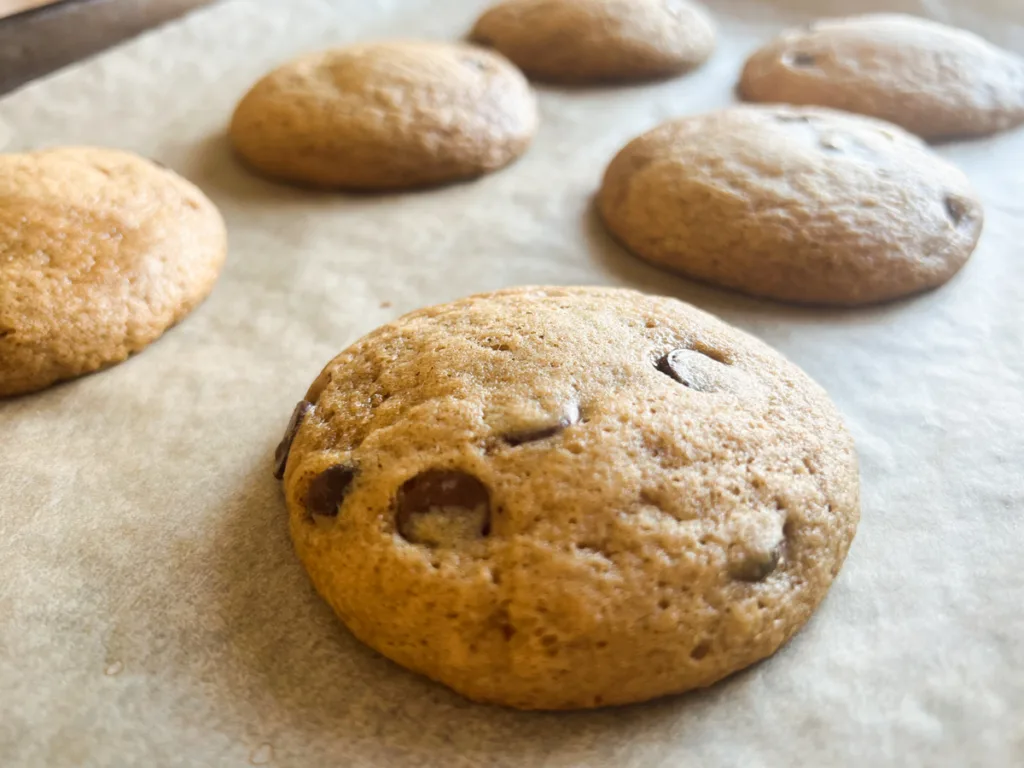 Tips for Baking Sourdough Chocolate Chip Cookies
Don't Cream the Butter and Sugar – Creaming the butter and sugar together incorporates more air into the cookie dough, resulting in a texture that leans towards a cake-like consistency.
Use Room Temperature Butter – Using cold butter will yield dense cookies that don't spread properly, while melted butter will cause your cookies to spread too much, resulting in thin cookies. So, achieving the perfect texture and thickness relies on having your butter at the right temperature. To test if the butter is ready, simply press your finger into it. If it easily goes through without resistance, it's good to go.
Don't Over Mix – Over-mixing cookie dough can lead to excessive gluten development, resulting in tough and overly chewy cookies. It's important to mix the dough until the ingredients are just combined to avoid overworking the gluten.
Chill the Dough – By chilling your cookie dough in the refrigerator, you allow the butter to solidify. This helps to prevent over-spreading during baking, resulting in thicker cookies. Chilling the dough also enhances the flavor of the cookies, giving them a deeper and more developed taste. So, don't skip the chilling step—it's the secret to achieving thicker and more flavorful cookies!
Don't Over Cook – When you take the cookies out of the oven, they may appear undercooked. Don't panic! It's important to resist the temptation to cook them longer. The cookies continue to cook for a few minutes after being removed from the oven. Allow them to cool for 10-15 minutes, before transferring them to a cooling rack to finish cooling. They will fully set up and achieve their desired texture during this time.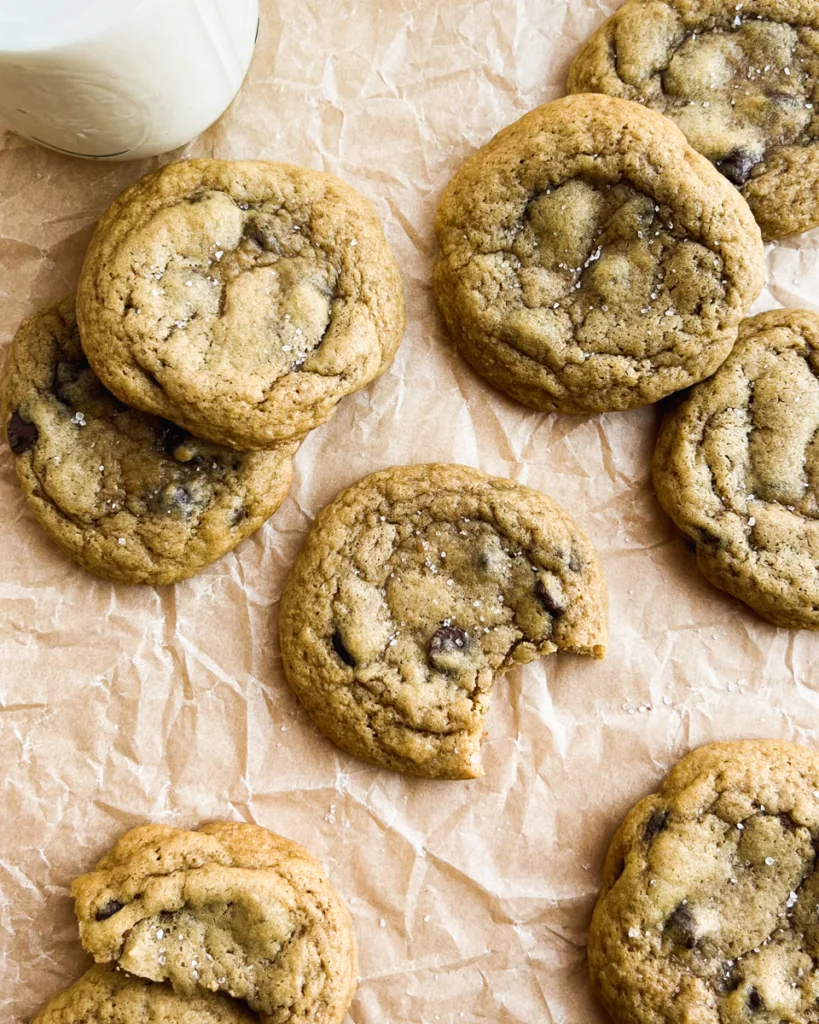 Sourdough Chocolate Chip Cookie FAQ
Can I substitute a different type of sugar for the recipe?
If you prefer, coconut sugar can be used as a replacement for regular sugar. However, it's important to note that using coconut sugar may result in cookies that are slightly crispier and darker in appearance. Feel free to experiment and choose the option that suits your taste preferences best.
Can I use a different type of chocolate in place of chocolate chips?
Any type of chocolate can be used. Feel free to experiment with substitutions like dark chocolate, white chocolate, dried fruit, and nuts.
Can I freeze cookie dough and bake it later?

Wrap the cookie dough tightly and store it in the freezer for up to three months. When you're ready to bake, transfer the wrapped dough to the refrigerator and let it thaw overnight.
How do I store the baked cookies to keep them fresh?

After the cookies have cooled completely, transfer them to an airtight container. Store the cookies at room temperature for up to three days or in the refrigerator for up to a week.
More Cookies and Treats