This sourdough apple cobbler recipe is filled with warm sugary spiced apples and topped with a crisp and tender cobbler. Serve it with vanilla ice cream for the perfect comfort filled dessert.
Nothing is quite as comforting as a bowl of warm apple cobbler topped with vanilla ice cream. This sourdough cobbler recipe is filled with warm spiced apples and topped with a sourdough discard cobbler. The cobbler in this recipe is not as biscuit like as you may find in some recipes. Instead it is more cake like, giving it a fluffy and tender crumb with a crisp crust. Sourdough discard also gives the cobbler a bit of fermented goodness and tang that pairs perfectly with the sweet spiced apples. This quick sourdough dessert is sure to become a family favorite.
If you are a fan of sourdough apple recipes, check out my Sourdough Irish Apple Cake topped with a sweet custard drizzle. If you are new to sourdough and want to learn more about sourdough discard, you can find more information in my How to Make a Sourdough Starter post.
Sourdough Apple Cobbler Ingredients
Apple Filling Ingredients
Apples – For this recipe I used honey crisp apples but you can use any tart baking apple you prefer.
Sugar – You can't have a sweet gooey apple filling for cobbler without sugar! For this recipe I used raw organic cane sugar.
Molasses – When I bake I prefer to add molasses separately, but if you don't have molasses on hand just replace the sugar in this recipe with brown sugar. Brown sugar is just cane sugar and molasses that have been pre mixed.
Vanilla – Choose real vanilla over imitation vanilla for the best flavor.
Cinnamon – Nothing pairs better with warm apples than cinnamon. If you are feeling adventurous replace the cinnamon in this recipe with ceylon cinnamon.
Cardamom – I love cardamom in spiced baked goods, but this ingredient is optional based off your taste preferences.
Salt – A little salt added to sweet baked goods acts as a flavor enhancer without making the dish salty.
Water – A bit of water added to the apples when cooking them will give you a lovely syrupy filling.
Corn Starch – Cornstarch is used to help thicken the apple cobbler filling.
Sourdough Discard Cobbler Ingredients
Flour – For this recipe I used organic all-purpose flour. Organic flour reduces unnecessary pesticide contamination.
Milk – When baking I always use full fat milk.
Sourdough Discard – This recipe uses 100% hydration sourdough starter. Meaning it was made with equal parts flour and water by weight. If you don't feed your starter with 100% hydration ratios, you will need to adjust the amount of flour in this recipe accordingly.
Sugar – Raw cane sugar adds sweetness and is what gives the cobbler its thin and crisp crust.
Baking Powder – Baking powder helps to leaven the cobbler dough while baking. Be sure to use an aluminum free baking powder for best results.
Salt – Fine sea salt added to the cobbler acts as a dough strengthener and flavor enhancer.
Butter – Melted butter adds a tenderness to the cobbler that makes it irresistible.
How to Make Sourdough Apple Cobbler
Step 1: Make the Apple Filling
To make the apple filling, start by prepping the apples. Wash, peel, and core the apples before slicing them into even pieces. Apple slices for cobbler should be about 1/4″ thick to ensure they cook through evenly.
In a large deep sided sauce pan add the sugar, molasses, vanilla, cinnamon, cardamom, salt, water, and cornstarch. Stir continuously over medium high heat until the mixture is fully combined and begins to simmer.
Once the filling mixture begins to simmer add the apples and stir until they are fully coated. Reduce the heat to medium and cook until the apples begin to soften, about 3 minutes.
Remove the apple filling from the stove top and set it aside while you make the cobbler topping.
Step 2: Make the Cobbler Topping
In a medium sized mixing bowl whisk together the all-purpose flour, sugar, baking powder, and salt. In a separate bowl stir together the milk, sourdough discard and melted butter. Combine the wet and dry ingredients and stir until a thick batter forms.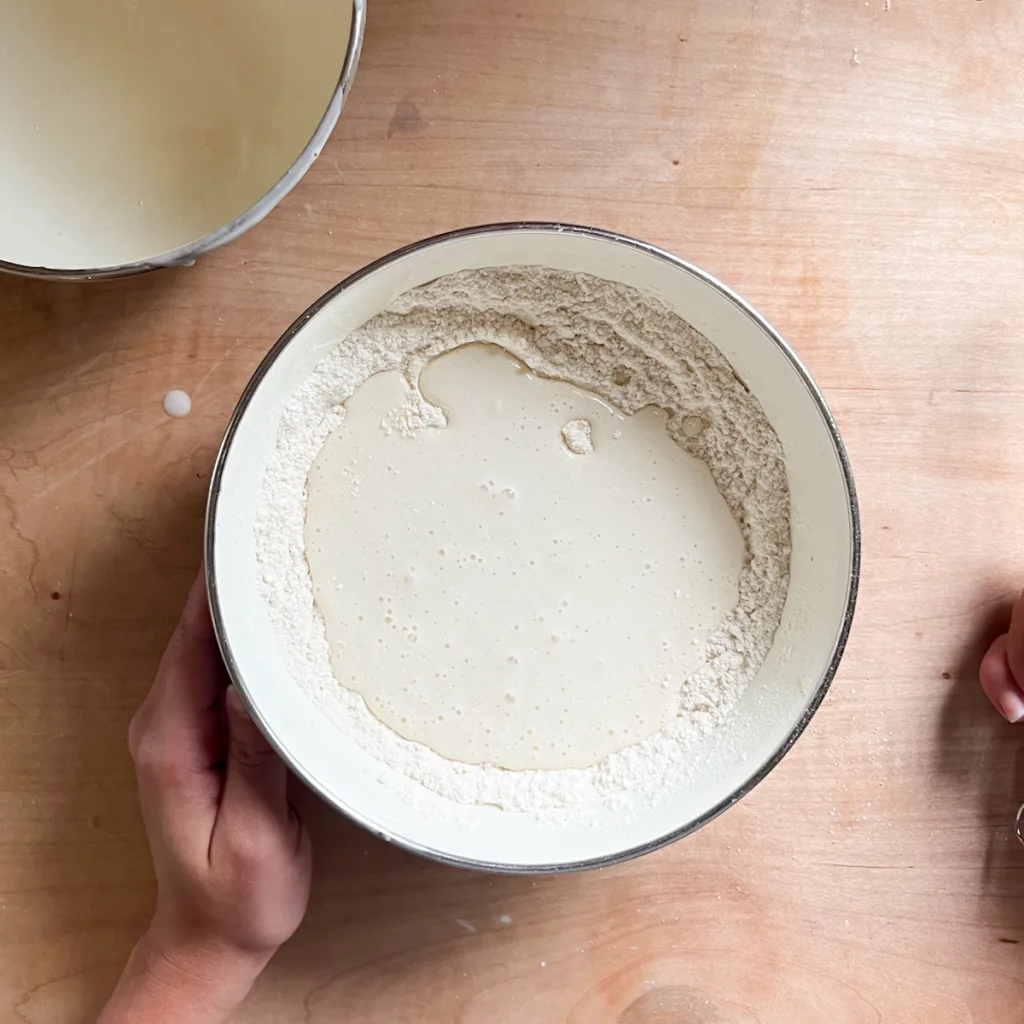 Pour the apple filling mixture into a 2 1/2 quart, or 9″x13″ baking dish. Spoon the cobbler batter evenly on top of the filling.
Step 3: Bake and Serve
Bake on the center rack of a 350°F(180°C) preheated oven for 55minutes, or until an instant read thermometer placed in the center of the cobbler crust comes out to 200°F(93°C).
Allow the cobbler to cool for 15 minutes, then top with vanilla ice cream and serve while still warm.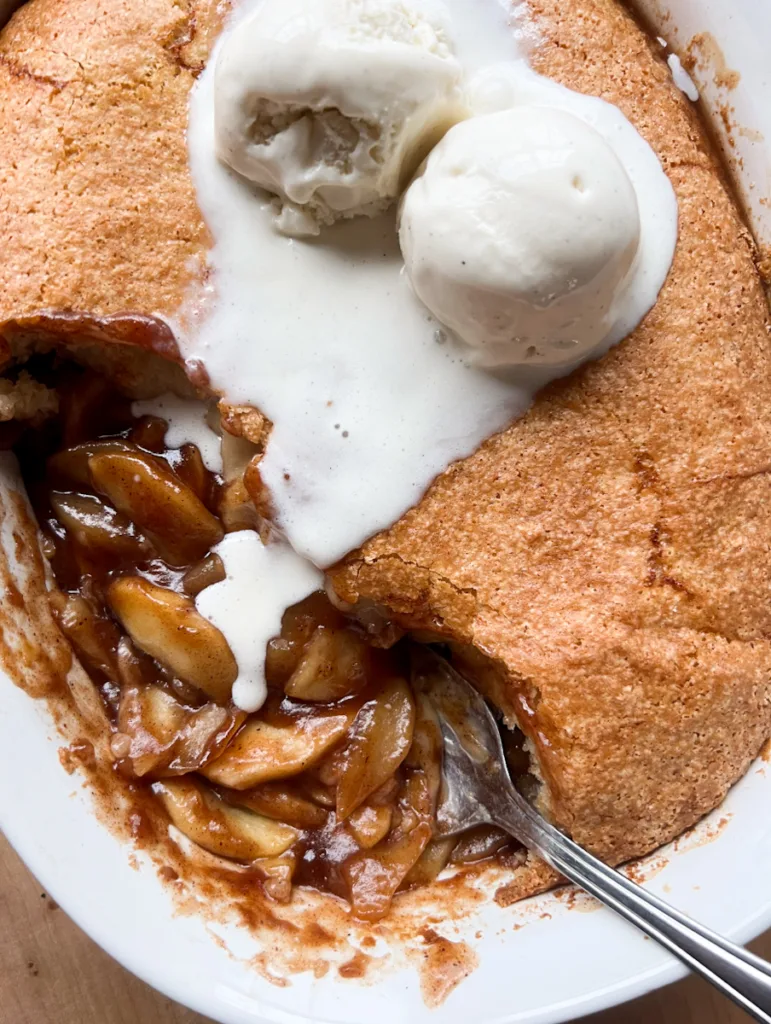 Sourdough Apple Cobbler Frequently Asked Questions
What are the best apples for cobbler?
Any tart baking apple will work when making apple crisp or cobbler. Tart baking apple varieties include; honey crisp, granny smith, golden delicious, and cortland apples. When making cobbler don't feel confined to picking just one type of apple, go ahead and mix a few varieties together!
How long is apple cobbler good for?
Apple cobbler is best eaten fresh, but can be stored in the fridge for up to 3 days. Reheat apple cobbler in the oven to avoid leftovers with a soggy crust.
Why is my cobbler not done in the middle?
If the center of your cobbler is still doughy after coming out of the oven, it could be an issue with oven temperature or the baking dish used that have caused it to under bake. To fix this, simply place it back in the oven and cook until an instant read thermometer placed in the middle reads 200°F(93°C).
More Sourdough Discard Recipes