Nothing is better than pizza, except maybe sourdough pizza. This sourdough pizza crust is flexible, yet sturdy enough to hold all your favorite toppings. The best part is that this sourdough pizza dough can be mixed in the morning and ready to bake by dinner!
Living a more nourished life doesn't mean you have to swear off pizza. Sourdough pizza crust packs all the benefits of long fermented grains while still being delicious. This crust is soft and chewy, flexible yet sturdy. All the things you want from a great slice of pizza. Plus, it's such an easy recipe to make and doesn't require a lot of planning ahead. Dip it in Homemade Ranch Dressing and serve it with a side of Sourdough Garlic Knots or Sourdough Breadsticks for an extra special family pizza night.
The dough for the recipe is leavened using sourdough starter. If you're not sure what sourdough starter is, check out my How to Make a Sourdough Starter post to learn all about it. If you are already familiar with sourdough and just starting your fermented journey, take a look at my Beginners Sourdough: A Guide and Recipe.
Sourdough leavened doughs require long rise times. To help you plan ahead take a look at my Sample Bakers Schedule.
Ingredients
Sourdough Starter – If you don't have a sourdough starter but would like to learn how to make one, check out my How to Make a Sourdough Starter post.
Water – When working with sourdough starter I always use filtered water. Tap water contains fluoride which can slow down the fermentation process.
Bread Flour – For this recipe I used organic bread flour. Bread flour will ensure your pizza crust is soft and flexible. If using all-purpose flour your pizza crust will be tougher.
Salt – Salt adds strength and flavor to the dough. I use like to use sea salt or celtic salt when making pizza dough.
Olive Oil – Olive oil makes the pizza dough tender and soft. You can substitute with avocado oil or melted butter if you like.
How to Make Sourdough Pizza Crust
Step 1: Mix the Dough
In a large mixing bowl, stir together the water and sourdough starter until the starter is completely dissolved. Sift in the salt and flour, mixing until a shaggy dough forms. Add in the olive oil and use your hands or stand mixer to work the dough until it is full combined.
Step 2: Strengthen the Dough
After mixing, cover the bowl with a damp cloth and allow your dough to rest for 30 minutes. Once rested, use a stand mixer to knead the dough on medium speed for about 8 minutes. Alternatively, you can strengthen the dough by hand by preforming two sets of stretch and folds.
How to Stretch and Fold:
Lightly wet your hands before handling the dough to prevent sticking.
Scoop up an edge of the dough and gently pull it upwards.
Once the dough reaches a point where it resists being pulled go ahead and fold the dough over itself.
Give the bowl a quarter turn and repeat this stretching and folding motion.
You will turn the bowl, stretch and fold until the bowl comes full circle. These four stretch and folds are called a set.
Repeat this step one more time so that you have completed 2 total rests and sets.
Step 3: Bulk Ferment
Cover your dough with a damp cloth and allow to bulk rise in a warm spot for 5-6 hours at 72°F(22°C). Your dough should be doubled in size at the end of bulk ferment. This can take more or less time depending on the temperature of your home.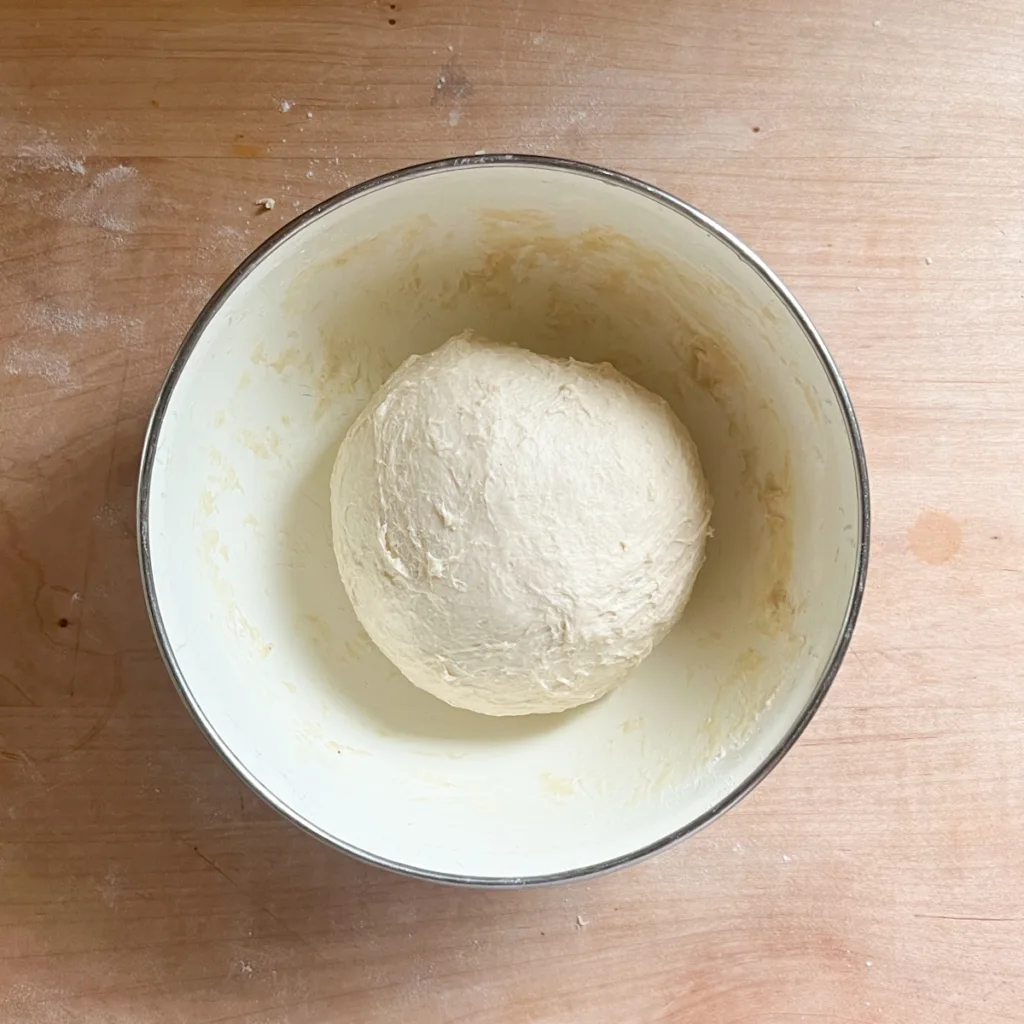 Step 4: Shape the Crust
After the bulk ferment, flour your work surface and turn your dough out being careful not to deflate it too much. Divide the dough into two equal portions and gently shape each portion into a ball before allowing them rest for 30 minutes.
Save it for later: If you plan to save your pizza crust for future use you can freeze the dough. To freeze the pizza dough lightly coat it in oil after shaping and place each portion in a freezer bag, removing any excess air from the bag. Store in the freezer for up to 3 months and thaw in the refrigerator for 12-16 hours before you plan to finish shaping.
Shape your crusts by gently pulling and pushing your dough out in a circular motion until they are each 12″-16″ wide.
Tip: Dust your pizza pan with rice flour to prevent sticking, and shape your crust directly on the pan so you don't have to transfer the dough.
Step 5: Top & Bake
Add your favorite sauce and toppings to the shaped pizza dough, and bake them in a 480°F/250°C preheated oven on the center rack for 10-12 minutes. Allow your pizza to cool for 10 minutes before cutting and serving.
Sample Bakers Schedule
9PM (the day before): Feed your sourdough starter.
10AM: Mix the dough.
10:30AM: Preform a stretch and fold set.
11AM: Preform a stretch and fold set.
5PM: Divide and shape the dough.
5:30PM: Shape the crust and add toppings.
6PM: Bake your pizzas.
More Sourdough Recipes to Try