Sourdough discard gives this recipe a slight tang that pairs beautifully with its slightly sweet, rich and buttery flavor. Top this Sourdough Pound Cake with fresh strawberries and homemade whipped cream for the perfect treat.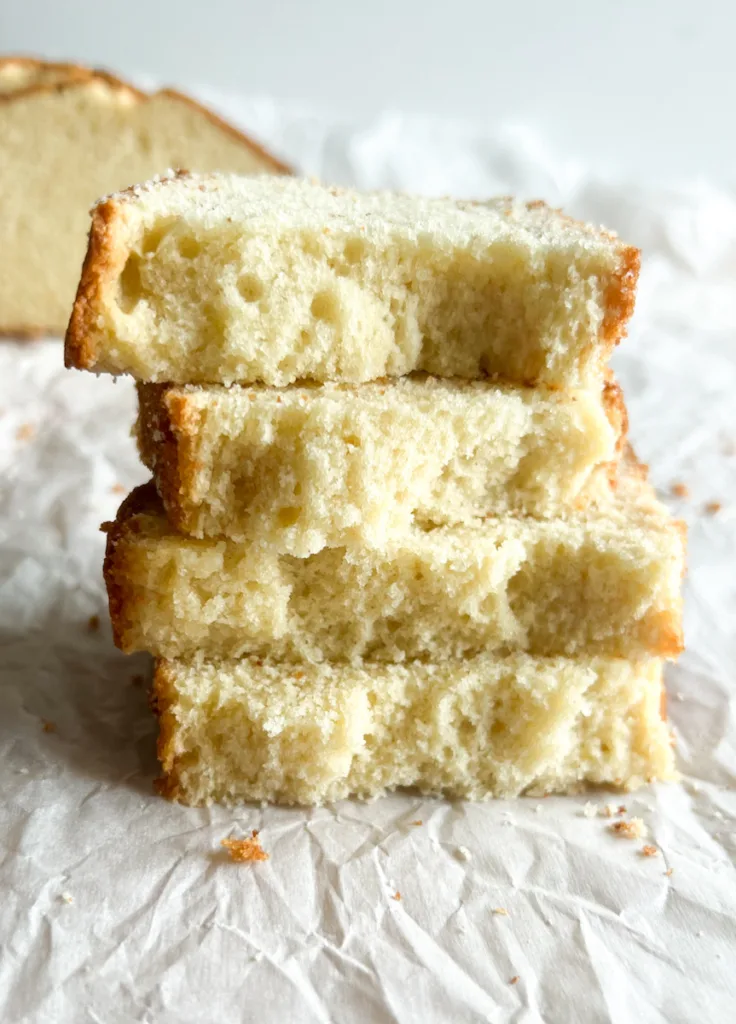 This Sourdough Pound Cake was adapted from my favorite non-sourdough poundcake recipe, Sohla El-Waylly's Go-To Vanilla Pound Cake. Just like the original, it is plush and springy with a rich buttery flavor. The only difference is the addition of leftover sourdough discard, which gives this cake a hint of tang that perfectly compliments the slight sweetness. If you're not sure what sourdough discard is, check out my How to Make a Sourdough Starter post to learn all about it. If you are already familiar with sourdough and just starting your fermented journey, take a look at my Beginners Sourdough: A Guide and Recipe.
This is an easy sourdough discard recipe that you will want to make over and over again. Top this classic cake with fresh fruit, whipped cream, or ice cream and you have the perfect summer dessert.
Ingredients
Butter – Unsalted butter is what makes this cake tender and gives it its buttery flavor. If using salted butter reduce you can leave out the salt called for in this recipe.
Sugar – Sugar gives pound cake the touch of sweetness that makes it so addictive. I like to use raw organic cane sugar when baking.
Salt – Using salt in cake helps to enhance the flavor. I like to use sea salt and celtic salt in most of my baking.
Eggs – Eggs give pound cakes like this one body and spongy texture.
Sourdough Discard – Sourdough discard in this recipe adds a touch of fermented goodness and a slight tang.
Sour Cream – Sour cream makes this cake moist and also helps give it its fine crumb.
Vanilla – Choose real vanilla over imitation to ensure the best flavor and cleanest ingredients.
Baking Powder – Baking powder is the leavening agent in this recipe. It is what makes your pound cake rise during bake.
All-Purpose Flour – Flour is the heart and soul of any great cake! I used unbleached organic all-purpose flour to make this banana cake.
How to Make Sourdough Pound Cake
Preheat your oven to 350°F(180°C) and lightly grease a loaf pan.
Using a stand mixer or hand mixer, cream together the butter, sugar until light and fluffy.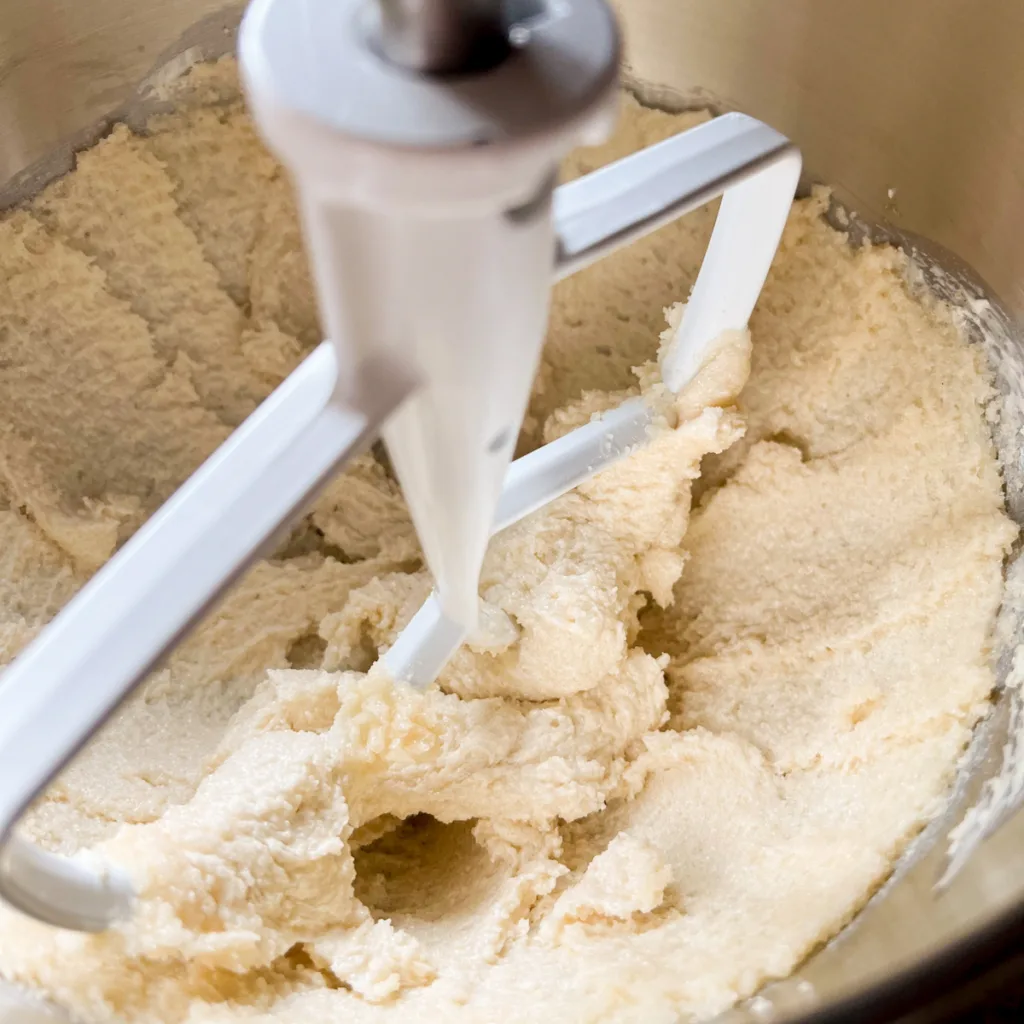 On medium speed, add the eggs one at a time to the creamed butter, and whip until each egg it is fully incorporated before adding the next egg.
Scrape the sides of your bowl, and beat in the sourdough discard, sour cream, and vanilla.
In a separate medium sized bowl, whisk together the flour, baking powder, and salt.
On low speed, incorporate the dry ingredients into the wet ingredients a little at a time. Scraping down the sides as needed.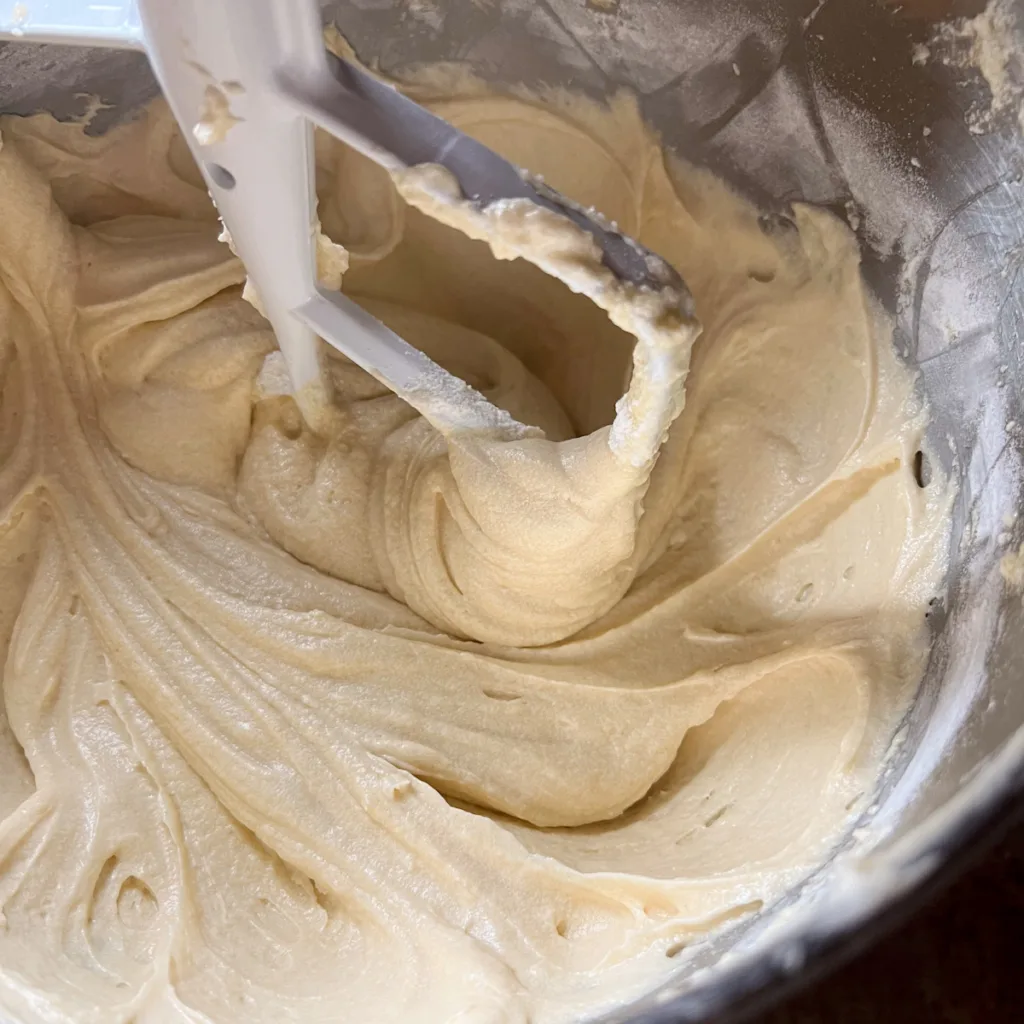 Pour the sourdough pancake batter into a 9″x5″ loaf pan, and spread it evenly.
Bake on the lower center rack of your pre-heated oven for 50-55 minutes. When the pound cake is ready the top will be split, it will have a nice golden crust, and a tooth pick inserted into the center will come out clean.
Allow your sourdough pound cake to cool for at least 20 minutes before cutting and serving.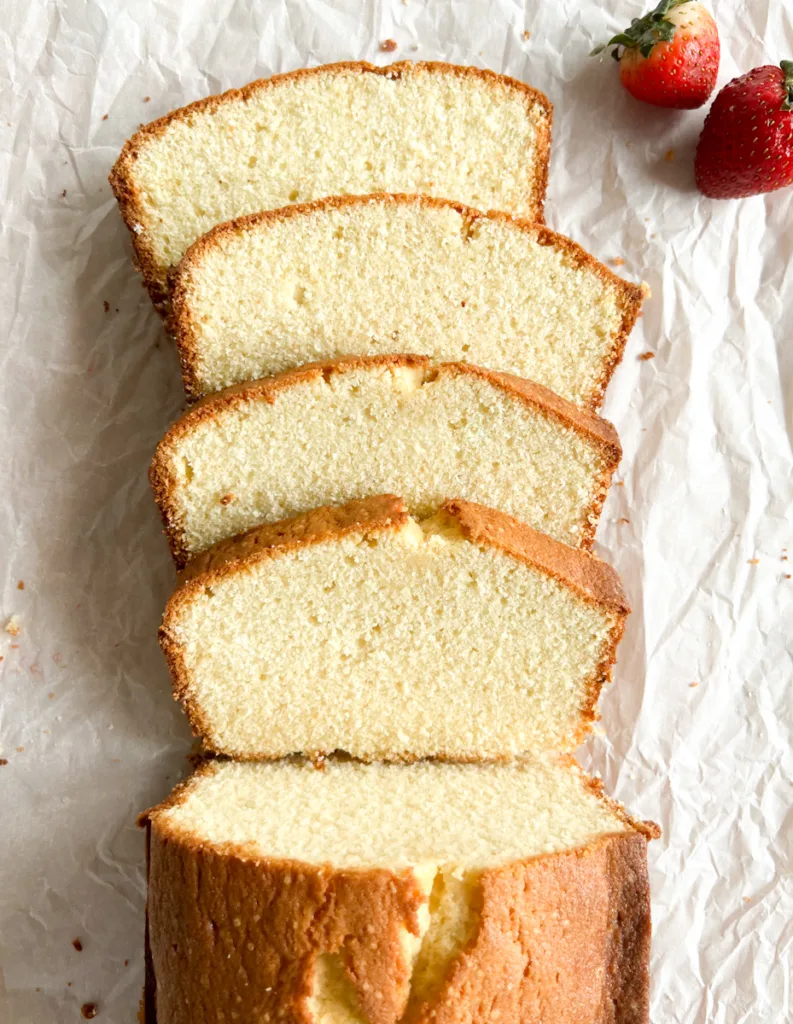 How to Store Sourdough Pound Cake
Sourdough pound cake can be kept in an air tight container at room temperature for up to three days and refrigerated for up to a week.
To freeze sourdough pound cake, wrap it tightly in plastic wrap and keep in the freezer for up to a month. When you are ready to eat it, simply pull from the freezer and allow it to come to room temperature.
More Sourdough Discard Recipes