Sourdough hot dog buns are a game-changer. They are fluffy yet filling, and have that sourdough tang we all know and love. Perfect for any barbeque or of 4th of July cookout. Once you try this sourdough bun recipe, you won't want store-bought buns again.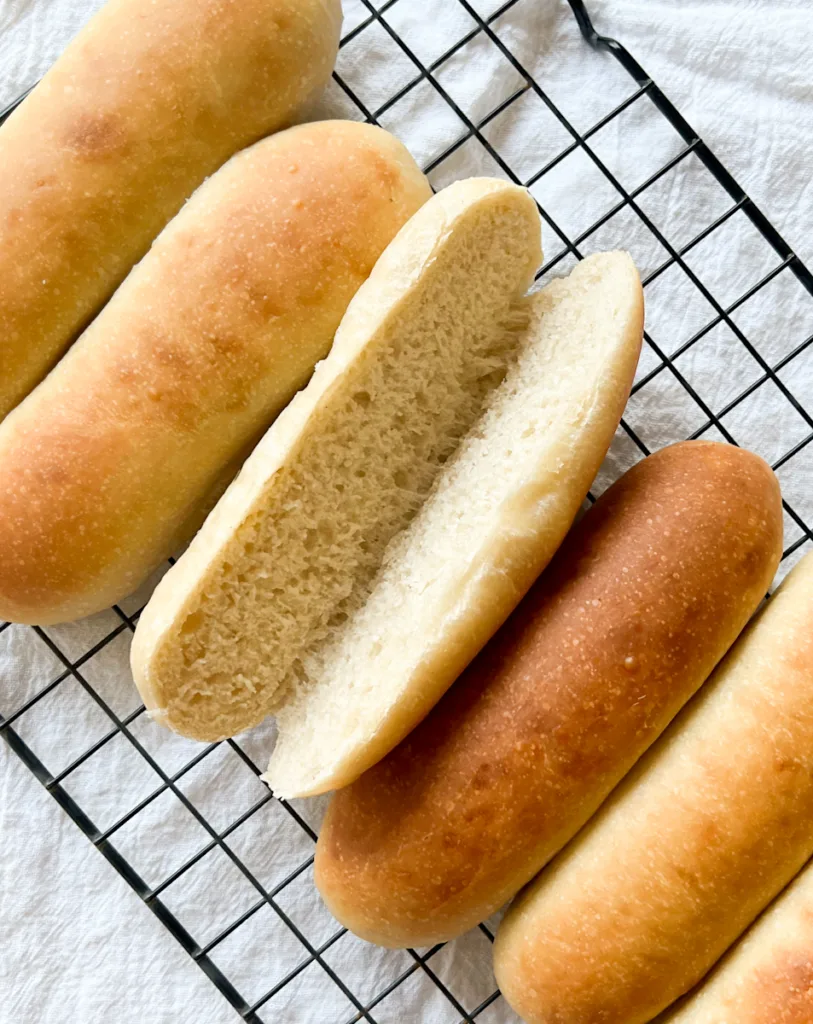 Get ready to level up your hot dog game with these incredible sourdough hot dog buns! The natural yeast in sourdough starter gives these buns a tangy, complex flavor that pair perfectly with grilled hot dogs. I won't lie – making sourdough hot dog buns takes a bit of time and patience. But trust me, the process is totally worth it. These buns are seriously next-level, packed with a sourdough kick and a fluffy, yet filling texture that is sure to impress everyone at your next cookout.
Want to know the best part? This recipe is flexible, allowing you to make the buns same day and have them ready in time for dinner, or start the process the evening before and have them ready by lunch time the very next day. Starting the dough the evening before and allowing it to bulk ferment overnight will yield more health benefits, but for those of us who tend to procrastinate, the ability to prepare these sourdough hot dog buns same day is a fantastic option.
The dough for these sourdough hot dog buns rises with the help of sourdough starter, rather than using traditional baker's yeast. If you're unfamiliar with sourdough starter and how it works, check out my How to Make a Sourdough Starter post to learn all about it.
Sourdough Hot Dog Bun Ingredients
Water – Warming the water speeds up the fermentation process so that you can have these buns ready by dinner! When working with sourdough starter I always use filtered water. Tap water contains fluoride which can slow down the fermentation process.
Sourdough Starter – This recipe uses Sourdough Starter to make the dough to rise instead of baker's yeast. Make sure your starter is fed the night before you plan to bake, so it is active and bubbly when you mix the dough.
Sugar – Sugar gives the wild yeast in your starter a boost, helping the dough to rise. I use raw organic cane sugar when baking, but any sugar will work.
Bread Flour – For this recipe, I used organic bread flour. Bread flour will give these sourdough rolls the best rise and the softest crumb. If using all-purpose flour, you may need to increase the amount of flour in this recipe.
Salt – Salt is added to enhance flavor and strengthen the dough.
Olive Oil – Olive oil makes these sourdough hot dog buns soft and airy. I find that olive oil also gives them a better lift than butter. If you want to substitute with butter in this recipe, use 95g of unsalted room temperature butter.
Egg Wash – Whisk together 1 large egg and 2 tablespoons of water to make an egg wash to brush over the buns before baking. This will give them a nice golden color and a soft crust.
How to Make Sourdough Hot Dog Buns
Plan Ahead: Sourdough has long rise times. Take a look at my Sample Bakers Schedule before you begin so you have a better idea on when to begin and how to plan ahead.
Step 1: Make the Dough
Warm the water to around 120°F (50°C). It should be hot to the touch without being scalding. Warming the water will raise the overall dough temperature and shorten bulk fermentation so your buns are ready for baking by dinner time. Skip this step and use room temperature water if you plan to bulk ferment overnight.
In a large mixing bowl, whisk together your active sourdough starter, water, and sugar until the starter is completely dissolved. Then, sift in the flour and salt, mixing until a shaggy dough forms. Finally, incorporate the olive oil by hand or with a stand mixer, until it's fully incorporated into the dough.
Step 2: Strengthen the Dough
After mixing, cover the bowl with a damp cloth and allow the dough to rest for 15 minutes.
Uncover the dough and knead it on medium speed with a dough hook attachment for approximately 12 minutes. The dough is ready when it becomes smooth and pulls away from the sides of the bowl. If working without a stand mixer strengthen the dough by hand. To do this perform three sets of stretch and folds.
How to Stretch and Fold:
Lightly wet your hands before handling the dough to prevent sticking.
Scoop up an edge of the dough and gently pull it upwards.
Once the dough reaches a point where it resists being pulled go ahead and fold the dough over itself.
Give the bowl a quarter turn and repeat this stretching and folding motion.
You will turn the bowl, stretch and fold until the bowl comes full circle. These four stretch and folds are called a set.
Repeat the process of resting the dough and performing stretch and folds two more times. You will have performed three total sets.
Step 3: Bulk Fermentation
Cover the bowl with a damp cloth to bulk ferment the dough at 72°F(21°C) for 4-5 hours. If using room temperature water bulk ferment for 8-9 hours, or overnight, at 72°F(21°C). The dough will need to rise until it is double its original size. It's important to note that rise times can vary based on the temperature in your home, so adjust the time accordingly.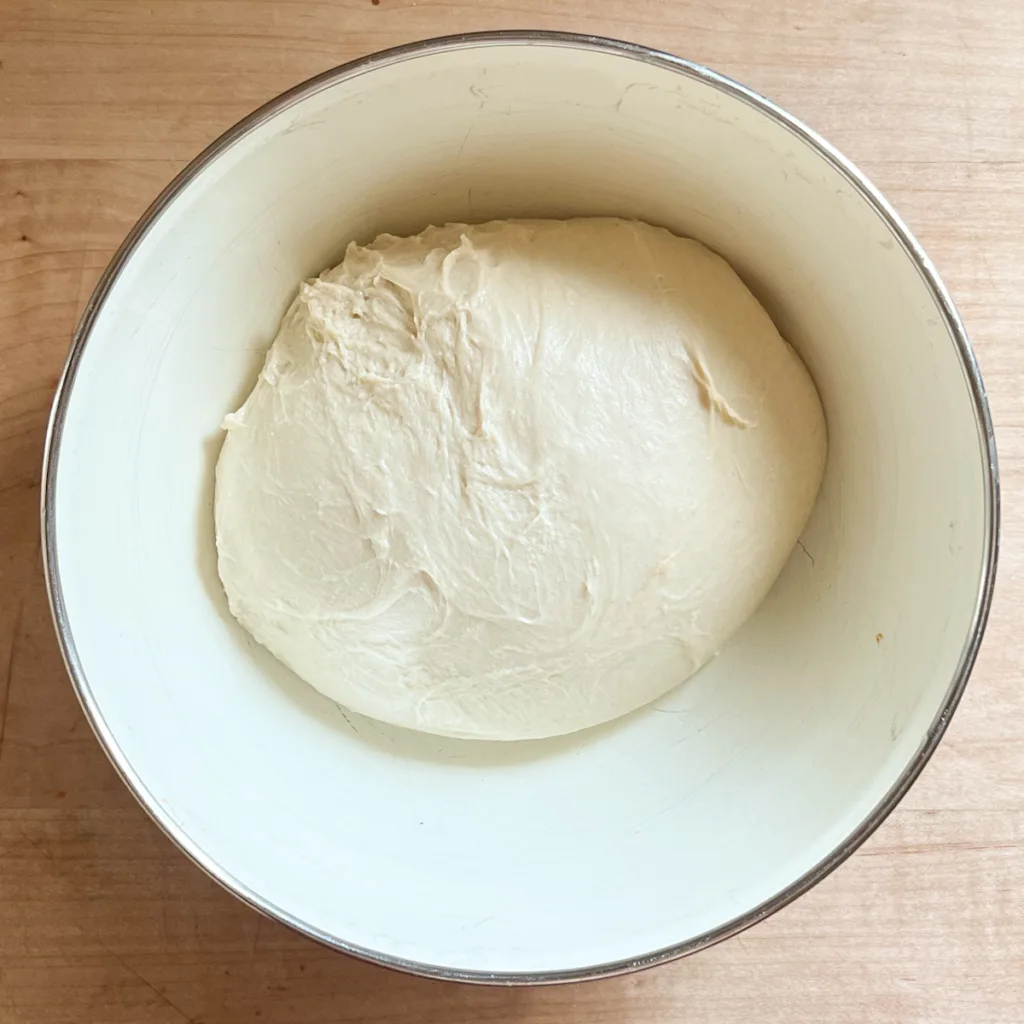 Step 4: Shape the Buns
Turn the dough out onto a lightly floured work surface. Using a bench scraper or a non-serrated knife, divide the dough into 10 equal pieces. For precise measurements, weigh each piece out to 95 grams using a digital kitchen scale.
Take a piece of dough and gently fold the edges inward, tucking them into the center. Flip the dough over and use your hands to shape it into a ball. Repeat this process with the remaining pieces of dough, then allow them to rest for about 10 minutes.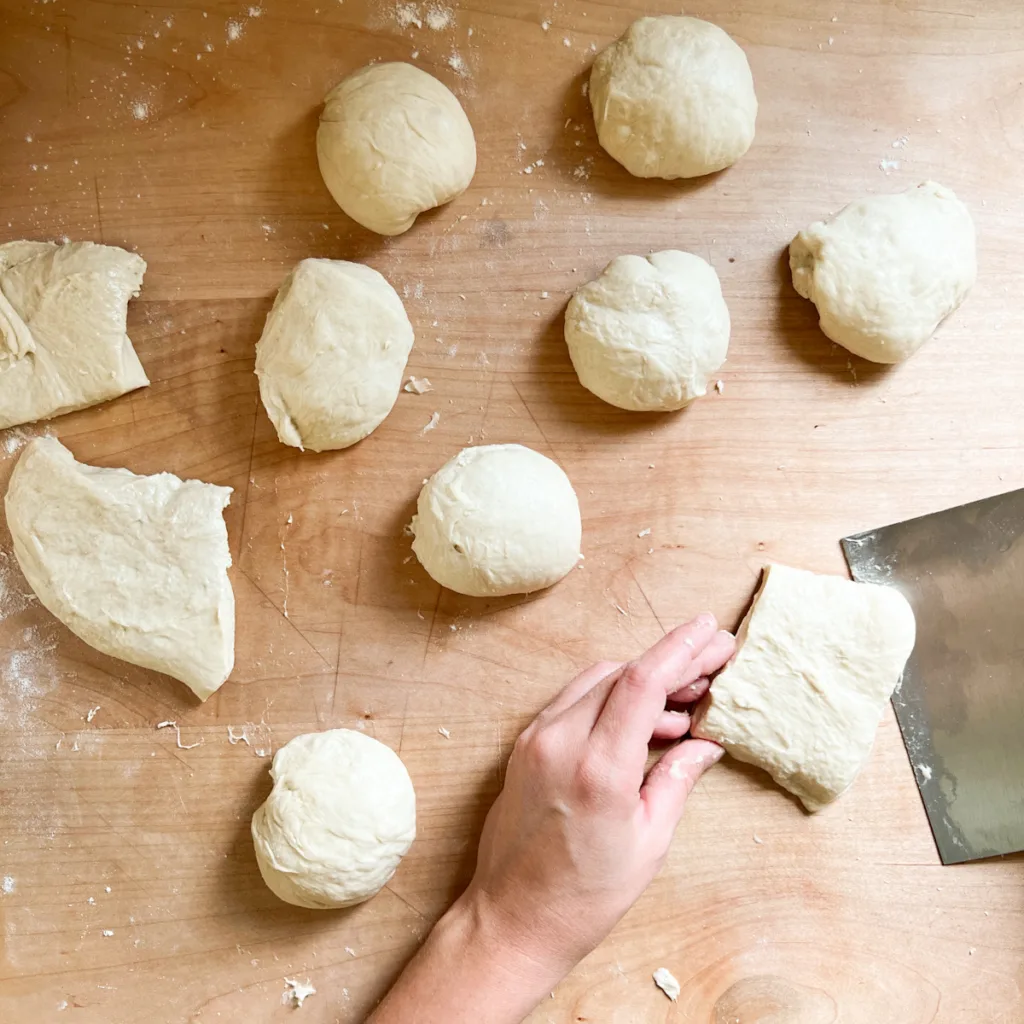 Take each ball of dough and flatten it into a rectangular shape using a floured rolling pin. Starting from one of the shorter sides of the rectangle, use your fingers to roll the dough tightly into a log, similar to rolling up sourdough cinnamon rolls or sandwich bread.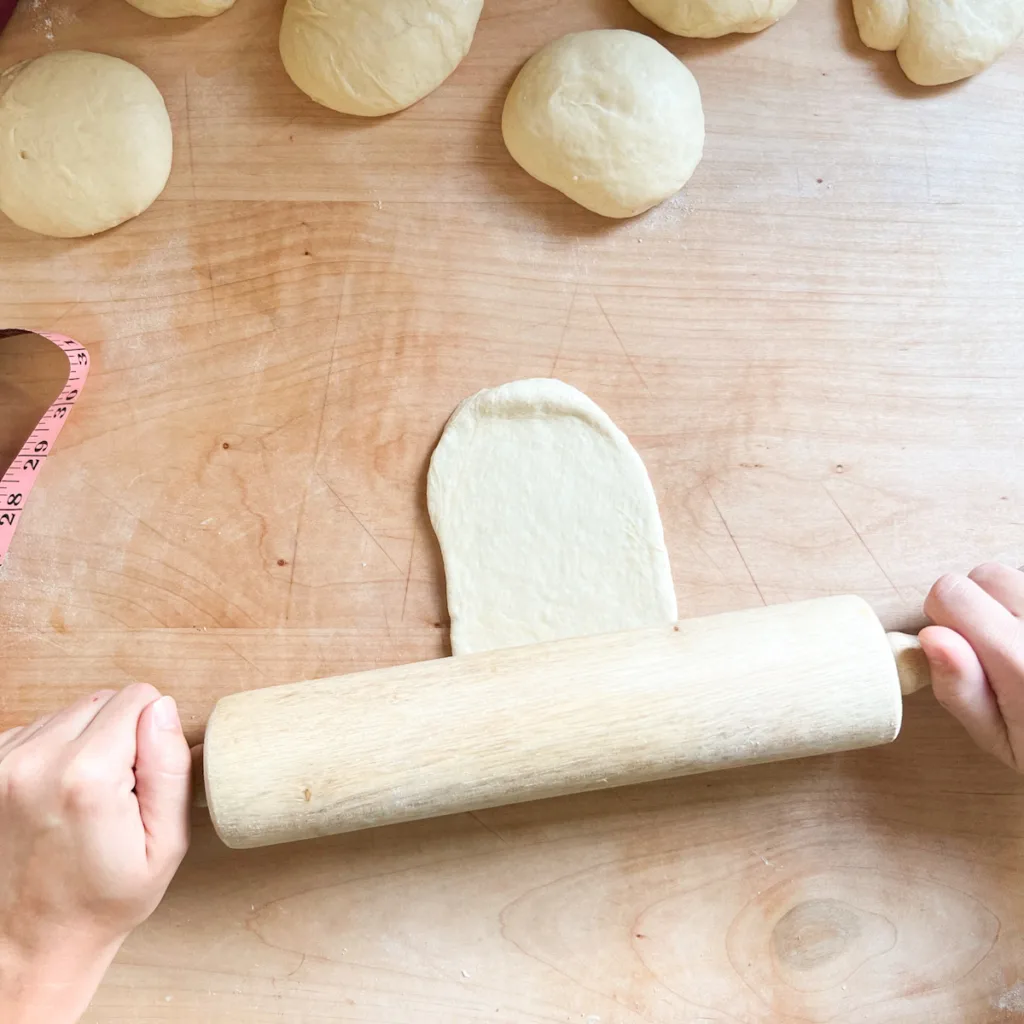 To seal the seams, tuck and pinch the ends of the dough together firmly. Then, using your hands, gently roll the dough into a length of approximately 5 1/2 inches, ensuring it is uniformly shaped. Repeat this process with the remaining balls of dough.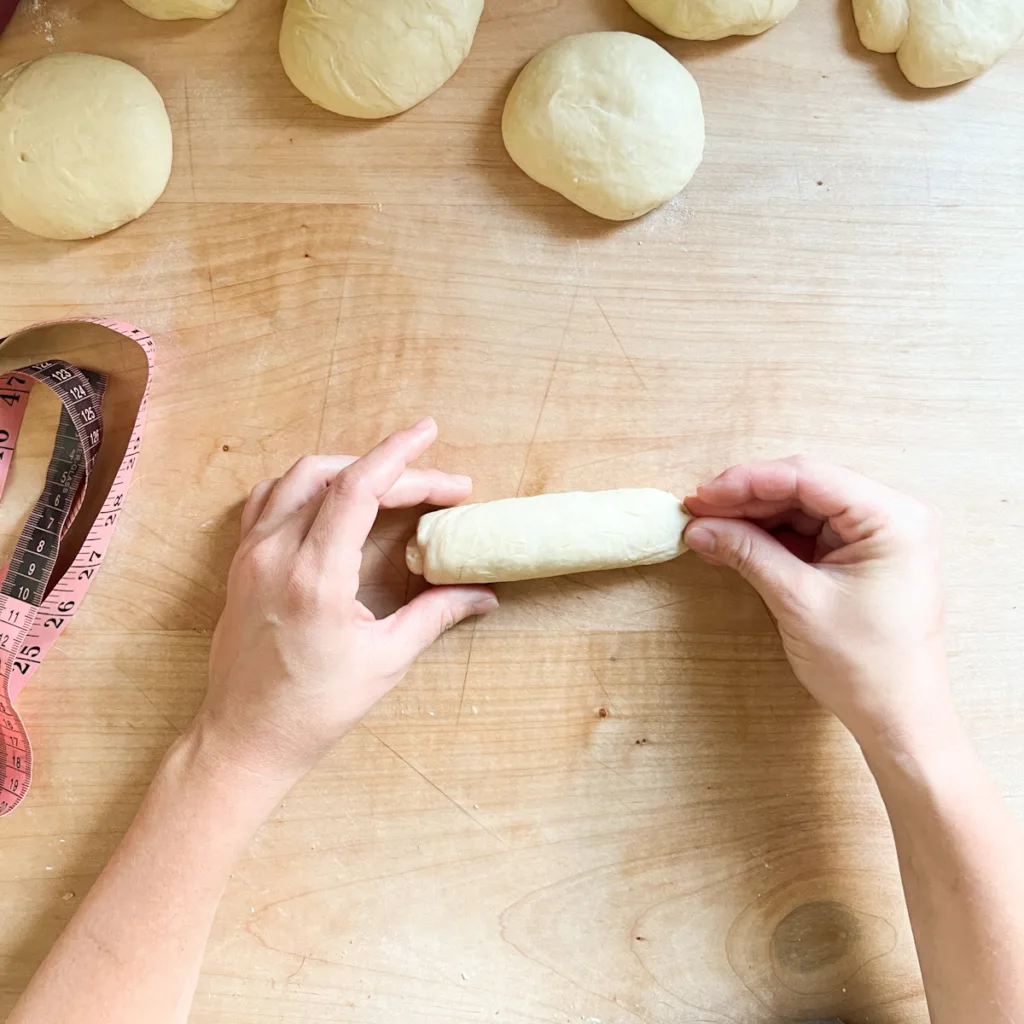 Step 5: Second Rise
Place your shaped buns on a parchment lined baking sheet seam side down. Leave about half an inch between each to allow room for rising.
Place a cloth or kitchen towel over the buns, ensuring they are well covered. Let them rise at a temperature of around 72°F (21°C) for approximately two hours. During this second rise, the buns will increase in size and become visibly poofy. It's important to note that rise times can vary based on the temperature in your home, so adjust the time accordingly.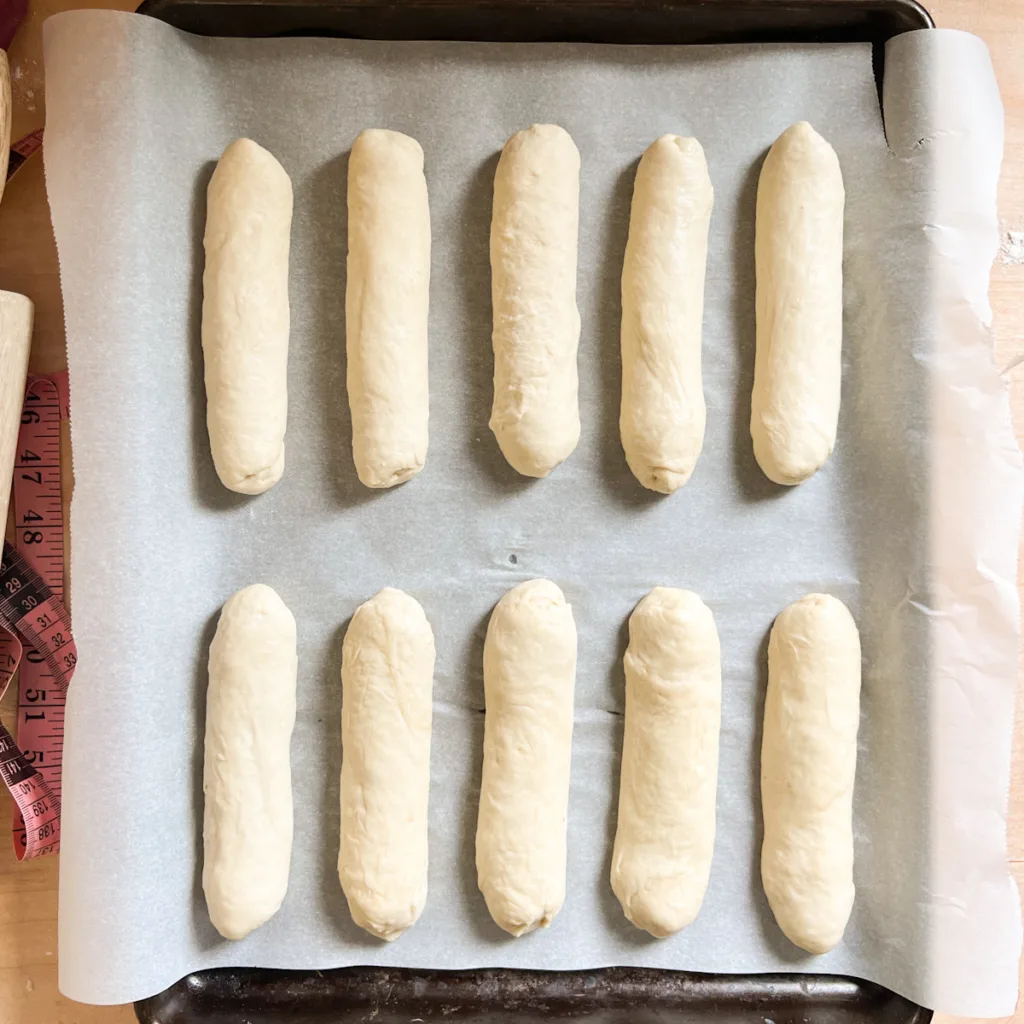 Step 6: Bake
In a small bowl, whisk together 1 large egg and 2 tablespoons of water to create an egg wash. Apply the egg wash by gently brushing the mixture on top of the buns with a basting brush, ensuring they are evenly coated.
Place a roasting pan on the lower shelf, directly beneath the center rack of your oven. Fill the roasting pan with one cup of water. Then, preheat the oven to 375°F (190°C) with the roasting pan inside. This will generate steam, which helps the buns rise and the pan acts as a protective barrier, preventing the bottoms from getting overly browned or burnt.
Be careful of the steam when opening the oven, and place the buns on the center rack to bake for 25-30 minutes, or until the tops turn golden brown. Once out of the oven brush the buns with melted butter if desired.
Let the hot dog buns cool for approximately one hour before slicing and serving.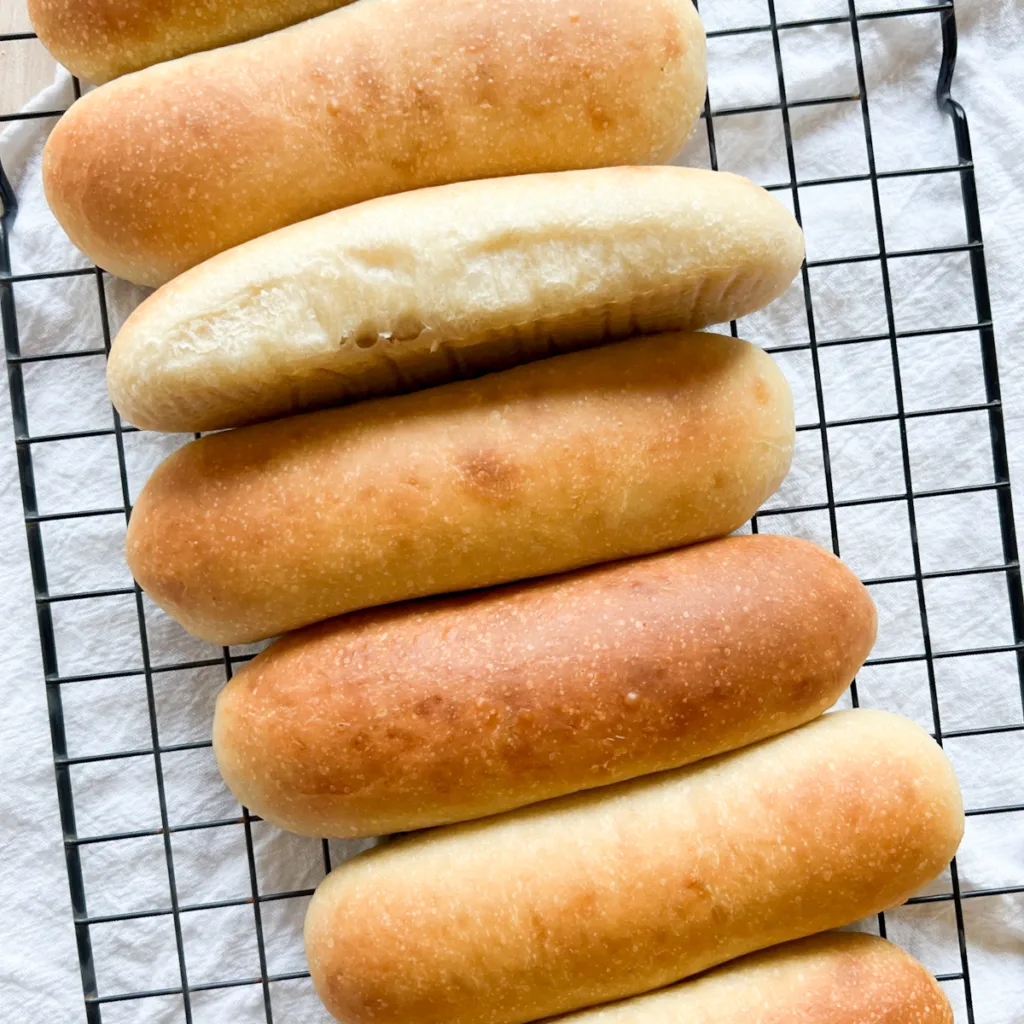 Sample Bakers Schedules
Same Day Bakers Schedule:
9 PM (the day before): Feed your sourdough starter.
8 AM: Heat the water and mix your dough.
8:30 PM: Strengthen the dough and cover it for first rise.
1:30 AM: Shape the dough into hot dog buns.
2:30 PM: Cover the shaped buns for second rise.
4:30 PM: Bake the sourdough hot dog buns.
6 PM: Slice the buns and serve them.
Overnight Bakers Schedule:
10 AM (day one): Feed your sourdough starter.
9 PM (day one): Mix the dough.
9:30 PM (day one): Strengthen the dough and cover it for first rise.
6:30 AM (day two): Shape the dough into hot dog buns.
7:30 AM (day two): Cover the shaped buns for second rise.
9:30 AM (day two): Bake the sourdough hot dog buns.
11 AM (day two): Slice the buns and serve them.
How to Store Sourdough Hot Dog Buns
These hot dog buns can be stored at room temperature in an airtight container for up to 3 days or in the refrigerator for up to a week.
If you want to freeze the hot dog buns, place them in a freezer-safe container and store them for up to two months. When you're ready to enjoy them, simply allow the buns to come to thaw and come to room temperature.
How to Serve Sourdough Hot Dog Buns
Classic hot dogs with ketchup and mustard are great, but there are so many different ways to top your dogs. Here are some fun ideas:
Relish: Sweet or dill pickle relish adds a tangy and slightly sweet flavor, along with a nice crunch.
Onions: Raw or grilled onions make a great addition to your hot dog. They can be diced, sliced, or even caramelized for added sweetness.
Sauerkraut: My personal favorite! Fermented cabbage adds a tangy and slightly sour taste that pairs well with sourdough hot dog buns.
Chili Cheese: Hearty chili and melty cheddar cheese bring a rich, savory flavor to your hot dog.
Bacon: Crispy bacon offers a smoky and savory element to your hot dog, adding an extra layer of flavor and texture.
Jalapeños: For those who enjoy some heat, sliced or pickled jalapeños provide a spicy kick.
Coleslaw: Creamy coleslaw adds a refreshing and crunchy texture with a hint of sweetness.
What to Do With Leftover Hot Dog Buns?
Perfecting this recipe was not easy; it took me countless attempts to get it just right. As a result, I found myself with more hot dog buns than I knew what to do with. If you also find yourself with leftover hot dog buns, there are plenty of fantastic ways to put them to good use. Here are some of my favorite ways to make the most of those unused buns:
Garlic Bread: Use your leftovers to make garlic bread! We all know garlic bread made from hot dog buns is a delicacy, plus it's incredibly easy!
Croutons: Homemade croutons are a great way to use up leftover buns. The perfect addition to your favorite soup or salad.
Bread Pudding: Turning leftover buns into a sweet homemade bread pudding is by far my favorite use of them.
French Toast: Use leftover hot dog buns in place of sliced bread when making homemade french toast! It may not be as pretty, but it will be just as delicious!
More Recipes That Use Sourdough Starter