This cake is moist and chocolatey with a slight sourdough tang. A tall glass of milk and a slice of Sourdough Discard Chocolate Cake is what dreams are made of. The perfect way to use up extra sourdough discard.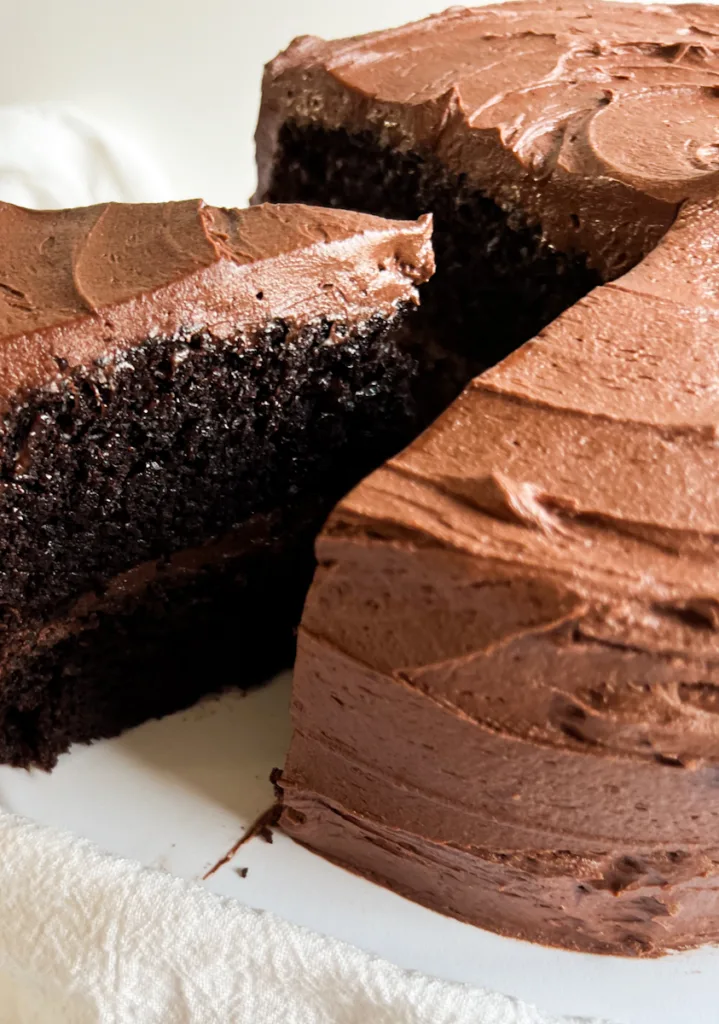 I'll be honest, this is the best chocolate cake I've ever made, and I used to make and sell cakes as a side gig. This sourdough discard chocolate cake is extremely moist, yet not too heavy or dense. In fact it is incredibly light and tender. With a deep chocolaty flavor and a rich chocolate butter cream frosting, this recipe makes the perfect birthday cake for the chocolate lover in your life. Once you try it I'm sure you will agree this cake is sinfully delicious.
This recipe is made with sourdough discard. If you're not sure what sourdough discard is, check out my How to Make a Sourdough Starter post to learn how to make your own sourdough starter. Sourdough discard not only helps give this cake a little extra body, it adds a slight tang that couples perfectly with its deep chocolaty flavor. If you are looking for a new favorite chocolate cake recipe, I think you've found it.
Sourdough Chocolate Cake Ingredients
Ingredients for the Cake
All-purpose Flour – Flour is the heart and soul of any great cake! I used unbleached organic all-purpose flour to make this Sourdough Discard Chocolate Cake.
Sugar – Sugar is what makes this cake so sweet and yummy! I like to use organic cane sugar when baking.
Cocoa Powder – You can't make a chocolate cake without the chocolate! Use unsweetened non-dutch cocoa powder for best results.
Baking Soda – Baking soda helps lift the cake and neutralizes the acids in the cocoa powder, coffee, and sourdough discard.
Baking Powder – Baking powder also helps to leaven this recipe. For best results be sure to use both baking soda and baking powder.
Salt – Using salt in sweet recipes helps to enhance the flavor, but don't worry it won't make your cake salty. I like to use sea salt and celtic salt in most of my baking.
Milk – Added milk makes helps to thin out the batter and make the cake moist. For best results use full fat milk.
Coconut Oil – Oil is needed to ensure the final cake is moist because cocoa powder is very drying. I use coconut oil in most of my recipes for health reasons, but any oil will work. Don't use butter as a substitute in this recipe.
Eggs – Eggs help give the cake body and structure. Make sure your eggs are room temperature when making the batter. If you forgot to bring them to room temperature before you started mixing don't worry! Just place your cold eggs in a bowl of hot water for three minutes to bring them to temperature.
Vanilla – Choose real vanilla over imitation to ensure the best flavor and cleanest ingredients.
Sourdough Discard – Sourdough discard adds a touch of fermented goodness and a slight tang to this recipe. If you don't have a sourdough starter but would like to learn how to make one, check out my How to Make a Sourdough Starter recipe.
Coffee – Hot coffee enhances the chocolate flavor of this cake and also helps to dissolve the cocoa powder. If you don't consume caffeine try using a decaf coffee as a substitute.
Ingredients for the Frosting
Butter – When making frosting, use room temperature butter. To check if your butter is soft enough press your finger into it. If you can push through it without any resistance it is ready.
Powdered Sugar – Powdered sugar is necessary for any frosting recipe. Sift the powdered sugar to ensure your frosting is lump free.
Cocoa Powder – Cocoa powder makes this buttercream rich and chocolaty.
Vanilla – Vanilla adds a nice depth to the flavor of the frosting.
Milk – Milk thins out the frosting enough to make it creamy and spreadable.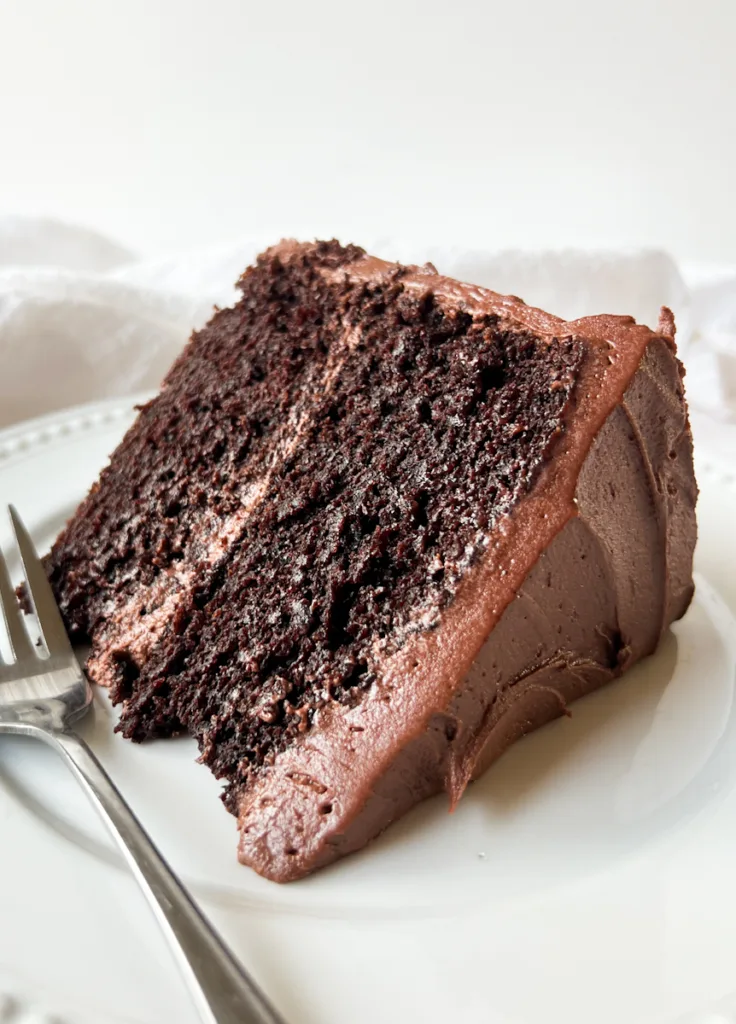 How to Make Sourdough Discard Chocolate Cake
Make the cake
Preheat your oven to 375°F (190°C). Grease and flour two 9″ cake pans then set them aside.
In a large mixing bowl whisk together the flour, sugar, cocoa, baking soda, baking powder, and salt until fully combined.
In a different mixing bowl, mix together the milk, oil, eggs, vanilla, and sourdough discard. Whisk until the sourdough discard is fully dissolved and everything is fully incorporated.
While stirring continuously, slowly add the wet ingredients to the dry until the batter is as lump free as possible. Pour the hot coffee in and stir, scraping down the sides as needed, until your ingredients are fully combined. The batter will be very thin, this is just how we want it!
Pour the batter evenly into the cake pans and bake for 35 to 40 minutes, or until a toothpick inserted into the center comes out clean.
Allow the cakes to cool in the pans for 30 minutes before turning them out onto a cooling rack to finish cooling.
Make the Frosting
Using a stand mixer with the paddle attachment or a hand mixer, beat the room temperature butter until it is smooth and creamy.
Mix in the powdered sugar a little at a time until about half of it is incorporated into the butter. Then add in the vanilla and milk. This will thin out the frosting and allow you to more easily incorporate the rest of the powdered sugar.
Alternate adding the remaining powdered sugar and cocoa powder a little at a time, scraping down the sides of the bowl as needed. Beat until the frosting is light and fluffy.
Assemble the Cake
Once the layers are completely cooled, you can assemble and frost the cake. Set one layer on cake plate flat side facing up. Spread about 1/4 of the frosting evenly across the cake layer.
Place the second layer on top of the first with the flat side facing down. Spread the rest of the frosting evenly over the top and sides of the cake.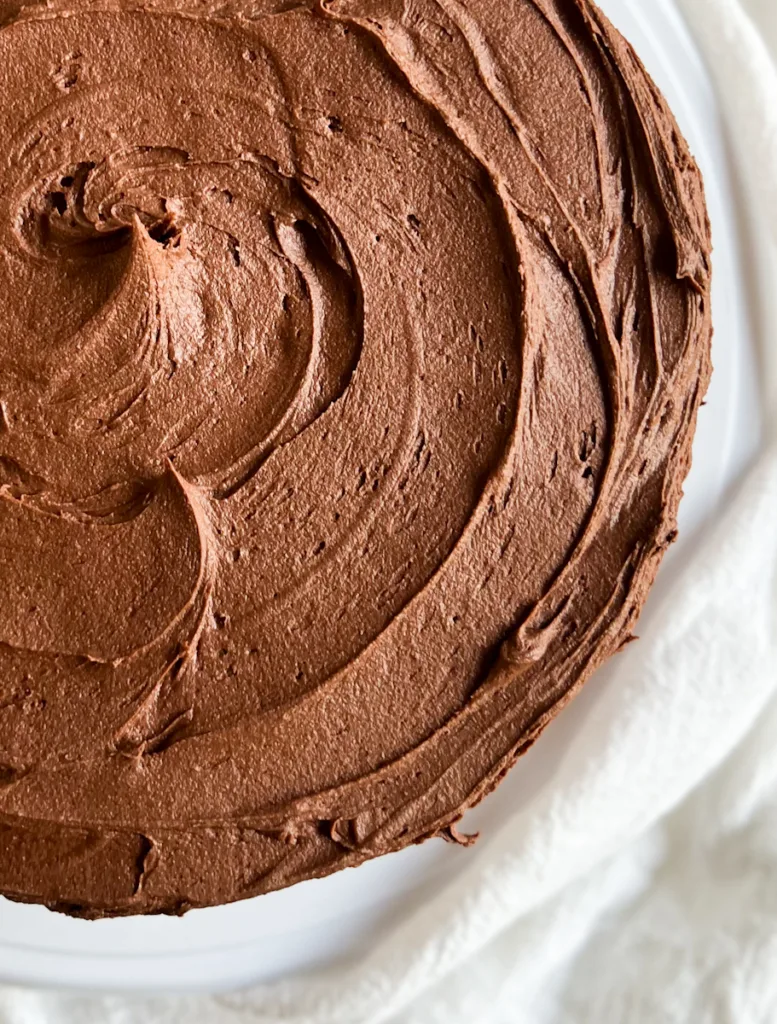 Tips for Making Sourdough Discard Chocolate Cake
Use room temperature ingredients – When making this discard cake use room temperature eggs, milk, and sourdough discard. Room temperature ingredients will bind together better than cold ingredients, resulting in a lighter and taller final product.
Use fresh ingredients – The combination of baking soda and baking powder in this recipe is necessary to leaven the cake and neutralize the acids brought in from the coffee, cocoa powder, and sourdough discard. Make sure your baking soda and baking powder are fresh for the best results.
Use non-dutch cocoa powder – Dutch cocoa powder is not as acidic as non-dutch cocoa powder because of the way it is processed. Using dutch processed cocoa powder in this recipe can result in a sunken or flat cake, because it won't react with the baking soda to lift your cake. If uncertain organic cocoa powder is a safe choice.
Don't over mix the batter – Over mixing the batter can can cause too much gluten development, resulting in a cake that is tough and rubbery. Avoid over mixing to keep your chocolate cake light and tender.
Don't overbake the cake – Overbaking can cause your cake to come out dry.
How to Store Sourdough Chocolate Cake
This sourdough discard chocolate cake will stay moist for days if stored properly. Keep this cake frosted in an airtight container at room temperature for up to 3 days or in the fridge for up to a week. If refrigerating, bring the cake to room temperature before serving for the best texture.
If you want to make this cake ahead of time you can freeze it. To do this tightly wrap the cake layers in plastic wrap after they have completely cooled and place them in the freezer for up to 3 months. When you are ready frost the cake, pull the layers out of the freezer and allow them to thaw fully before assembling.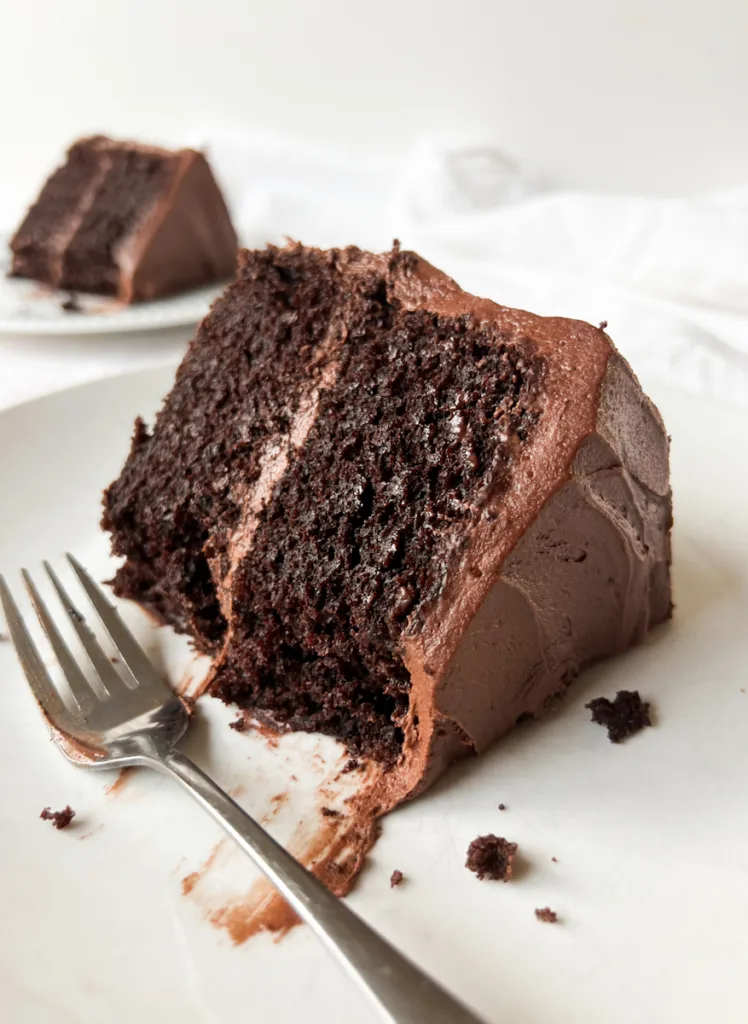 More Sourdough Discard Recipes to Try