Sweet, gooey, pull apart Sourdough Monkey Bread recipe is about to become your newest obsession. This addictive dessert is easy to make and fun to eat!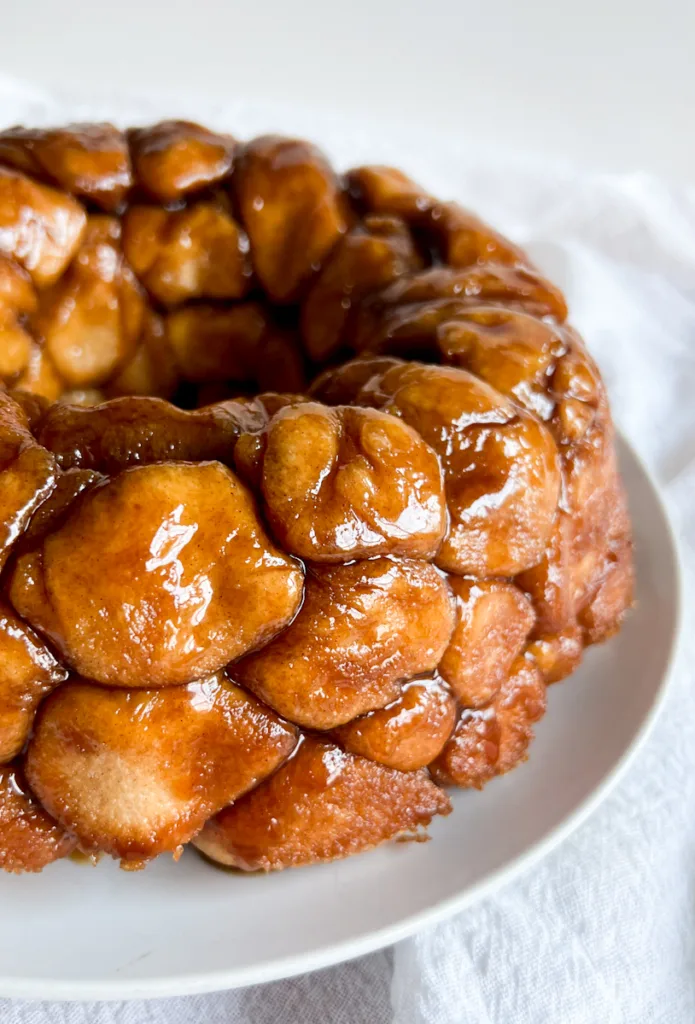 If you have never had sourdough monkey bread before, you are in for a treat. This sweet sourdough recipe is similar to sourdough cinnamon rolls, except easier to make. Bite sized balls of naturally leavened sweet dough are rolled in a cinnamon sugar coating and cooked in a Bundt pan. The cinnamon sugar coating cooks up into a caramel sauce that drenches the cake once its inverted. This shareable pull apart dessert is sure to impress your family and friends.
This dough for the recipe is leavened using sourdough starter. If you're not sure what sourdough starter is, check out my How to Make a Sourdough Starter post to learn all about it. If you are already familiar with sourdough and just starting your fermented journey, take a look at my Beginners Sourdough Bread Recipe.
Sourdough Monkey Bread Ingredients
The Dough Ingredients
Water – When working with sourdough starter I always use filtered water. Tap water contains fluoride which can slow down the fermentation process.
Sourdough Starter – Active Sourdough Starter is needed for the dough to rise. Make sure your starter is fed the night before you plan to bake so it is active and bubbly when you mix the dough.
Sugar – Sugar gives the dough a little extra sweetness. I use raw organic cane sugar, but coconut sugar will also work.
Egg – Egg gives the bread dough a light and tender structure. Use a room temperature egg for best results.
Bread Flour – For this recipe I used organic bread flour. Bread flour will ensure your bread bites are soft and fluffy. If using all-purpose flour you may need to increase the amount of flour in this recipe slightly.
Salt – Salt is added to enhance flavor without making the monkey bread salty. It also acts to strengthen the dough.
Butter – Butter enriches this dough making it soft and tender. I use room temperature unsalted butter when baking, but you can use salted by omitting the salt in this recipe.
The Coating Ingredients
Brown Sugar – Brown sugar coats each piece of dough which allowed them to be pulled apart after baking. The sugar also caramelizes during bake creating a gooey brown sugar sauce.
Cinnamon – A little cinnamon adds a touch of spice, giving this monkey bread a similar flavor to Sourdough Cinnamon Rolls.
The Frosting Ingredients
Powdered Sugar – I use organic powdered sugar when I bake. Organic powdered sugar is lumpy so it will need to be sifted.
Milk – Milk will thin out the frosting. More or less can be added to achieve the desired consistency.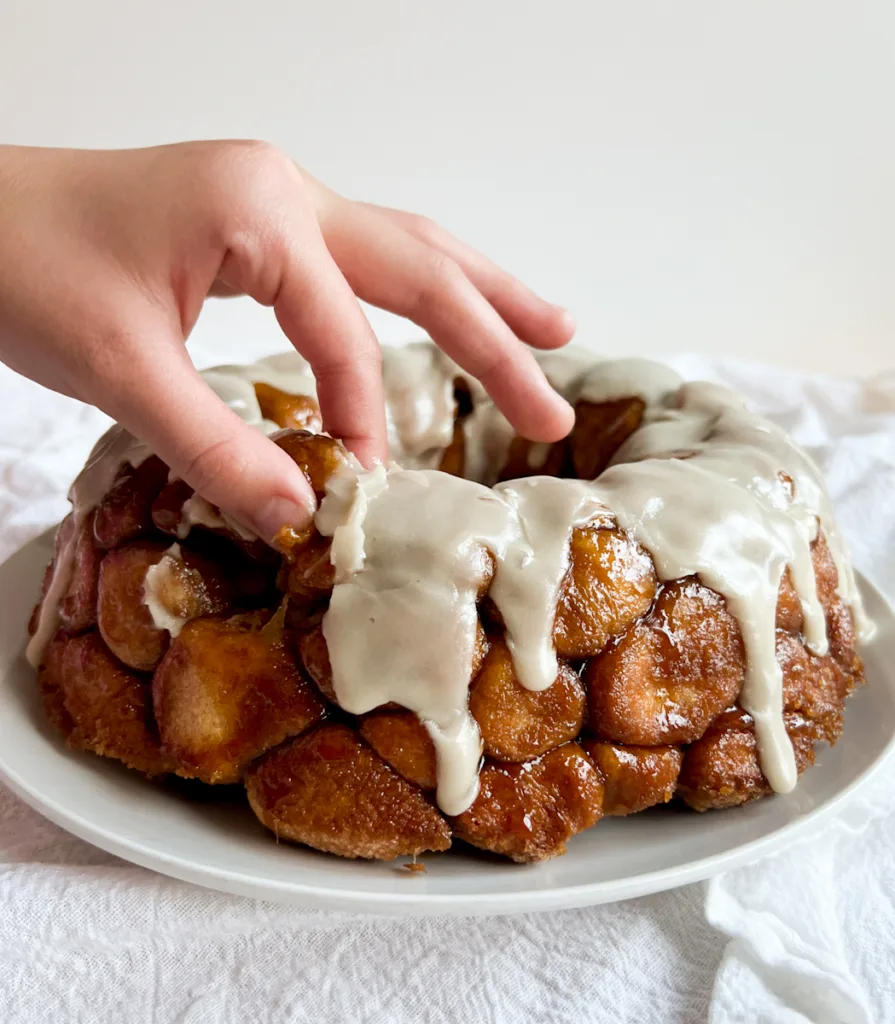 How to Make Sourdough Monkey Bread
Plan Ahead: Sourdough has long rise times. Take a look at my Sample Bakers Schedule before you begin so you have a better idea on when to begin and how to plan ahead.
Step 1: Mix the Dough
Warm the water until it is 120°F(50°C). It will be hot to the touch without burning you, similar to a hot bath. This will increase the overall dough temperature and shorten bulk fermentation so that your dough is ready to bake by dessert time. Skip this step and use room temperature water if you are making your monkey bread for breakfast and doing an overnight bulk fermentation. Take a look at my sample bakers schedule to see a timeline for both options.
In a large bowl whisk together your active sourdough starter and water until the starter is completely dissolved. After that whisk in the sugar and room temperature egg.
Sift in the flour and salt, mixing until a shaggy dough forms. Then add the butter and mix by hand or with a stand mixer until the it is fully incorporated. It is important that the butter be room temperature or this step will be difficult. You can test your butter by pressing your finger into it. If you can push all the way through without resistance your butter is soft enough.
Step 2: Strengthen the Dough
After mixing, cover the dough with a damp cloth and allow it to rest for 30 minutes.
Uncover the dough and knead in a stand mixer on medium speed with a dough hook attachment for about 12 minutes, or until the dough is smooth and elastic and fully pulls away from the sides. If working without a stand mixer strengthen the dough by hand. To do this perform three sets of stretch and folds.
How to Stretch and Fold:
Lightly wet your hands before handling the dough to prevent sticking.
Scoop up an edge of the dough and gently pull it upwards.
Once the dough reaches a point where it resists being pulled go ahead and fold the dough over itself.
Give the bowl a quarter turn and repeat this stretching and folding motion.
You will turn the bowl, stretch and fold until the bowl comes full circle. These four stretch and folds are called a set.
Repeat the process of resting the dough and performing stretch and folds two more times. You will have performed three total sets.
Step 3: Bulk Fermentation
Cover your bowl with a damp cloth to bulk ferment at 72°F(21°C) for 4-5 hours. If using room temperature water bulk ferment for 8-9 hours, or overnight. The dough will need to rise until it is almost double its original size. Rise times will also vary depending on the temperature of your home, add or subtract time if your home is cooler or warmer.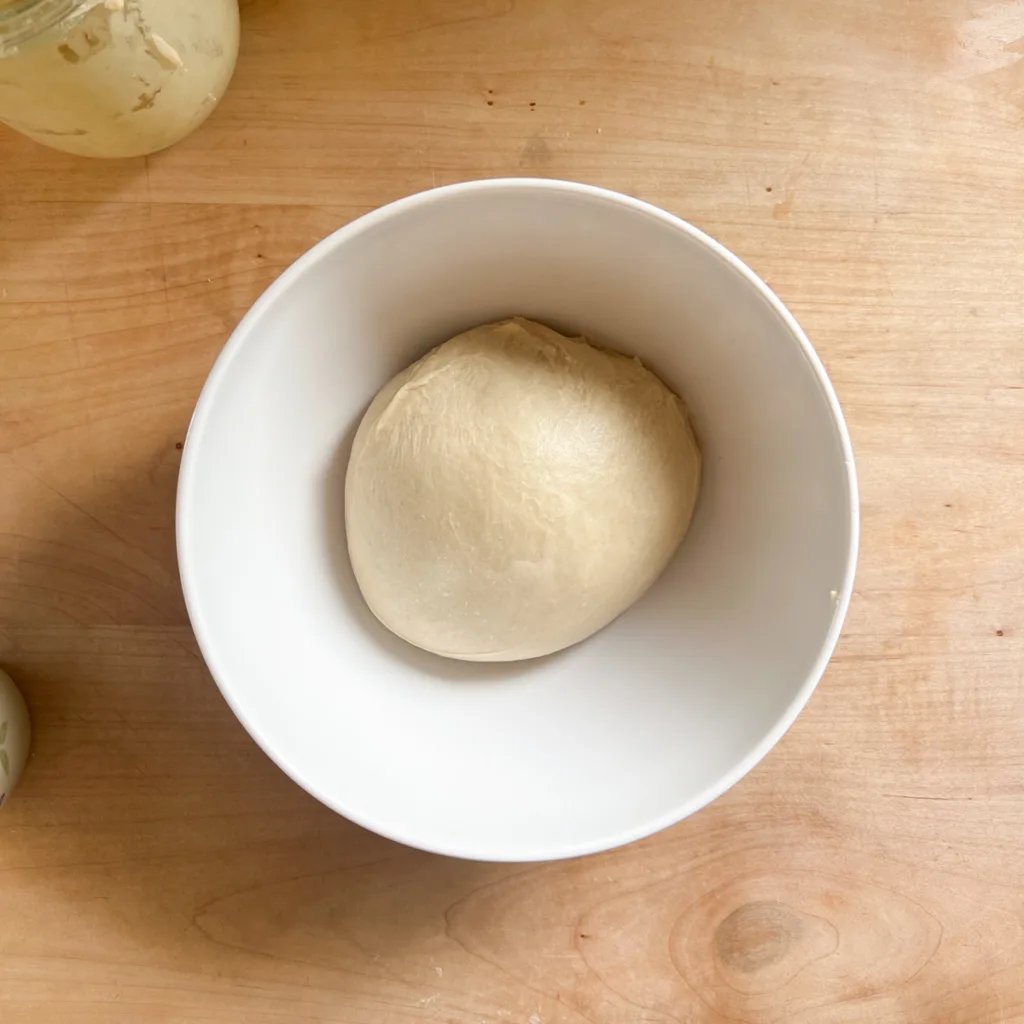 Step 4: Shape and Coat the Dough
Lightly flour your work surface before turning out the dough. Using a bench scraper or non-serrated knife, cut the dough into bite sized pieces. You do not need to be exact when cutting and some variation in size is expected.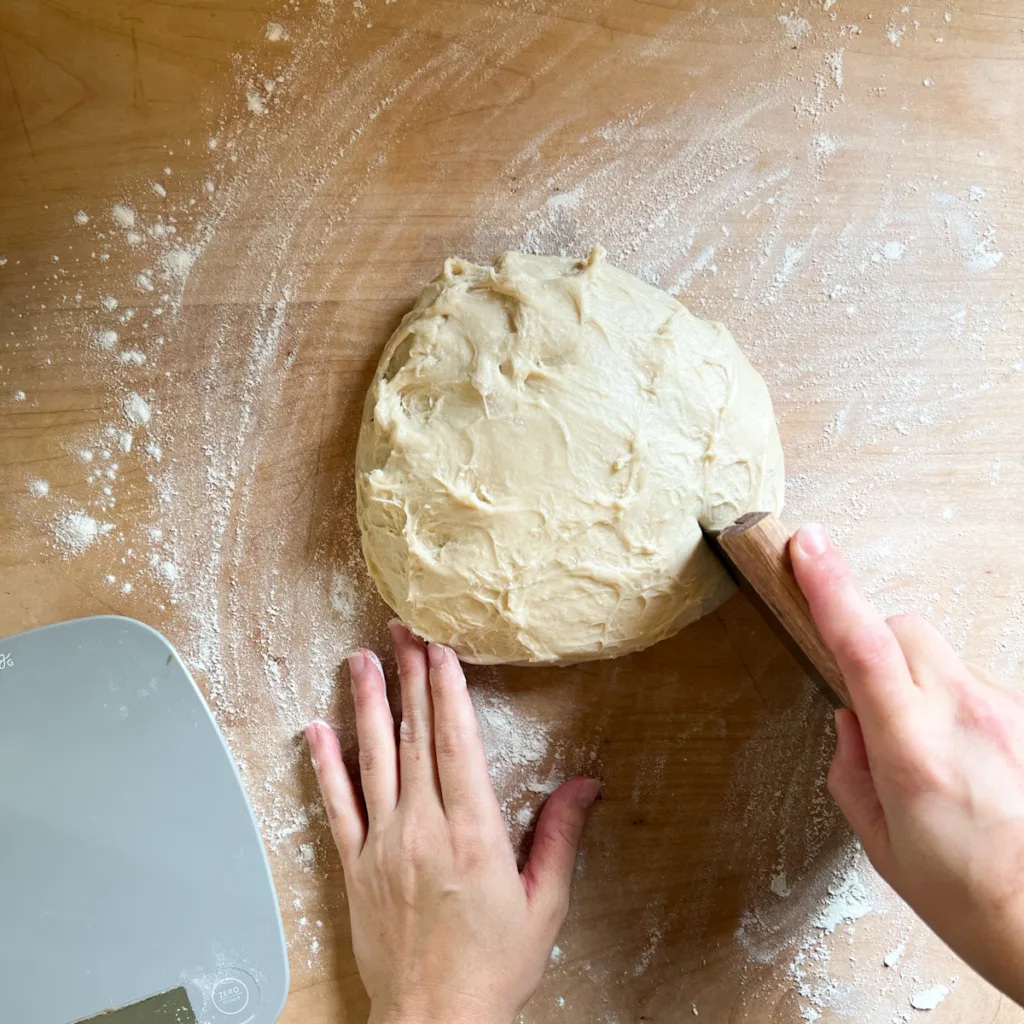 In a small mixing bowl stir together the brown sugar and cinnamon. Take each ball of dough and generously coat it in by gently squeezing it in your hand with some of the brown sugar mixture.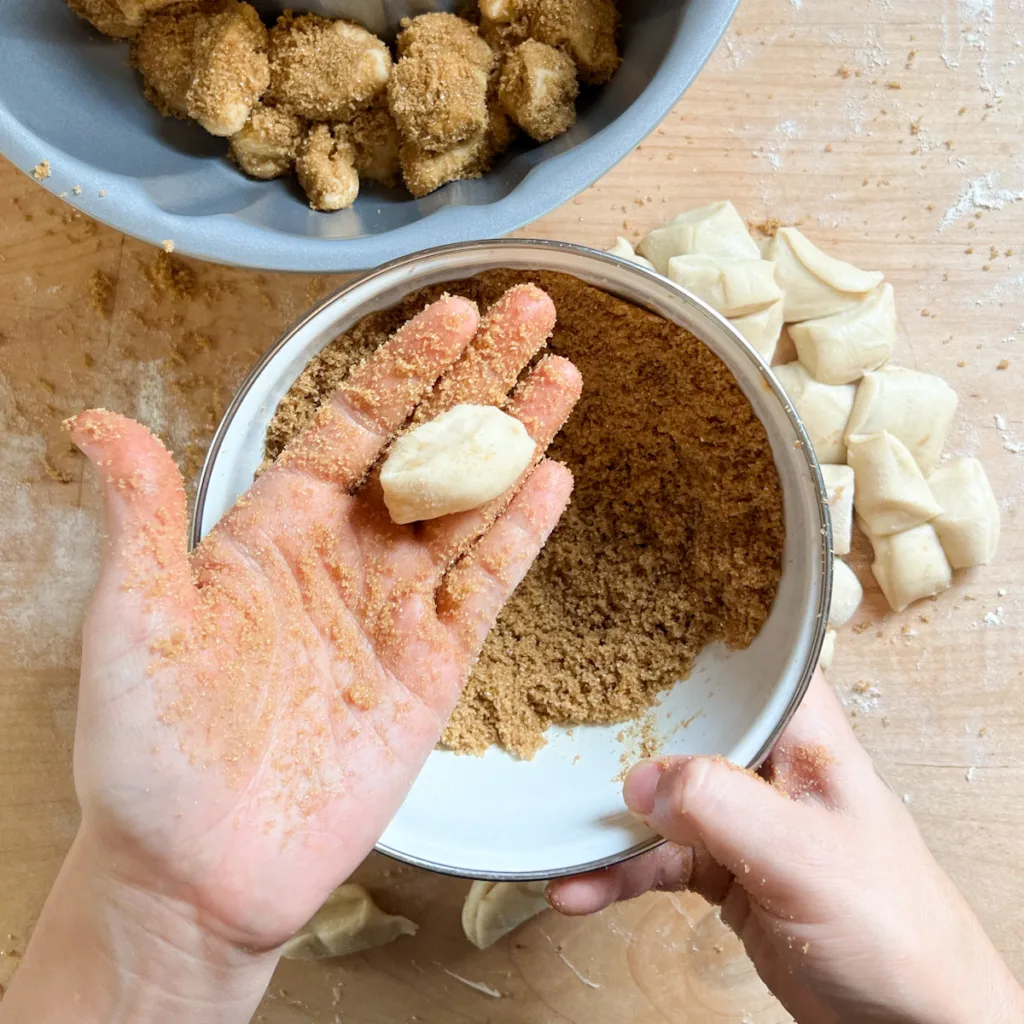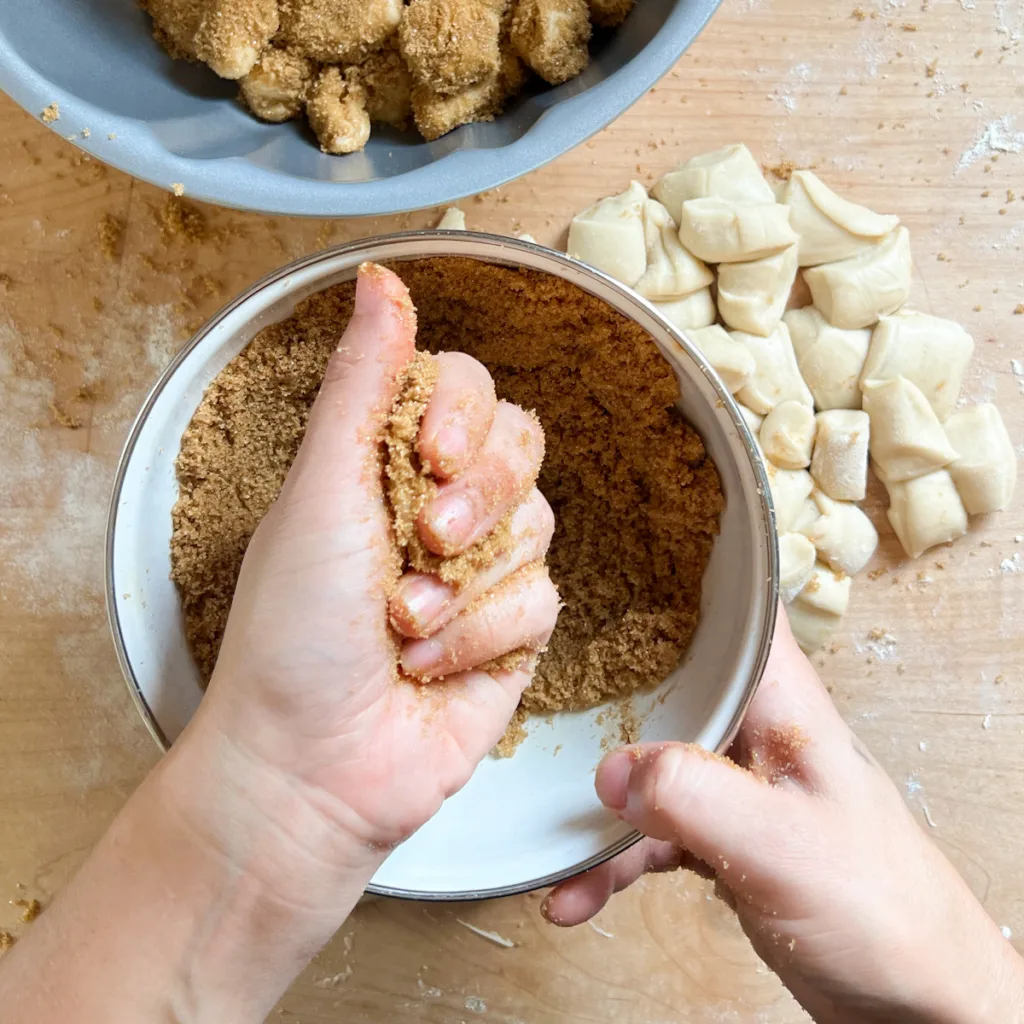 Drop the coated balls of dough into a well buttered 10″ bunt cake pan. Loosely but evenly distribute the pieces. Don't over think this step and try to Tetris them into the pan. This will cause the dough to become packed and over crowded after second rise, resulting in monkey bread that is difficult to pull apart.
Step 5: Second Rise
Cover your bunt pan with a damp cloth an allow the monkey bread to rise at 72°F(21°C) for about two hours. At the end of second rise it will have risen slightly and become poofy. Rise times will also vary depending on the temperature of your home, add or subtract time if your home is cooler or warmer.
Step 6: Bake and Frost
Preheat your oven to 350°F(175°C). Once preheated, place your bunt pan on the lower center rack and bake for 35 minutes.
Allow your monkey bread to cool for 15 minutes before inverting onto a large plate. If frosting your cake, whisk together the powdered sugar and milk, then drizzle it on top of your cake before serving.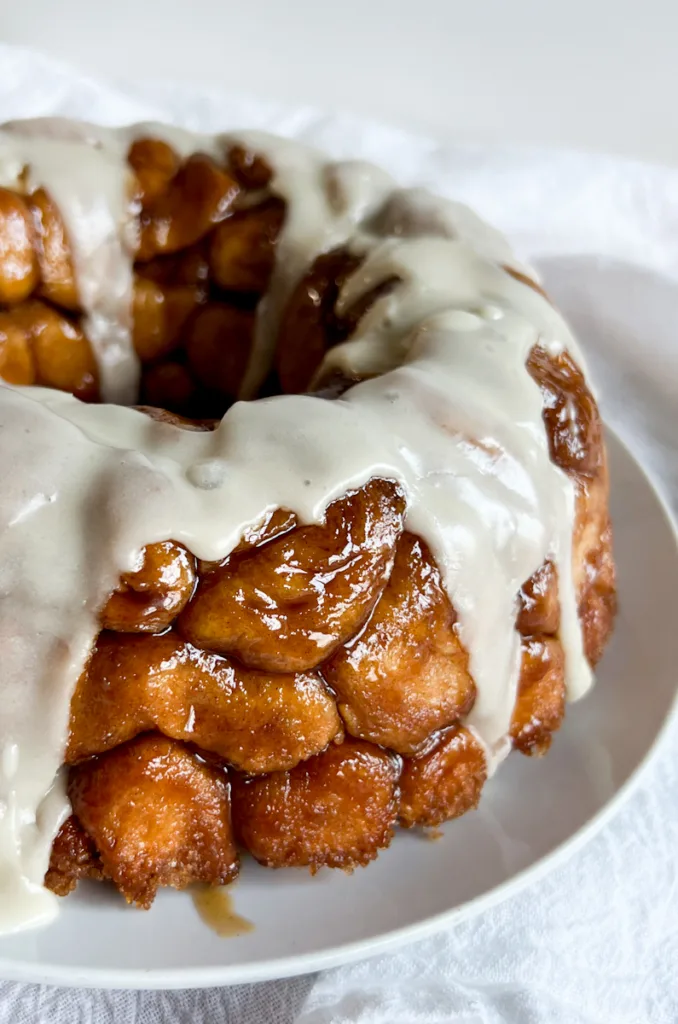 Sample Bakers Schedules
Monkey Bread for Dessert Schedule:
9 PM (the day before): Feed your sourdough starter.
10 AM: Heat the water, mix your dough and cover.
10:30 PM: Strengthen the dough and cover to bulk ferment.
4:30 AM: Assemble the monkey bread.
5 PM: Cover the bundt pan for second rise.
7 PM: Bake the monkey bread.
7:15 PM: Frost and serve.
Monkey Bread for Breakfast Schedule:
9 AM (day 1): Feed your sourdough starter.
9 PM (day 1): Mix your dough and cover.
9:30 PM (day 1): Strengthen the dough and cover to bulk ferment overnight.
6:30 AM (day 2): Assemble the monkey bread.
7 AM (day 2): Cover the bundt pan for second rise.
9 AM (day 2): Bake the monkey bread.
9:15 AM (day 2): Frost and serve.
More Sweet Sourdough Recipes