Buttery pumpkin brioche, ribbons of pumpkin pie spiced filling, pecans, and a simple sugar glaze all come together to make this beautiful braided bread wreath. This sourdough pumpkin brioche wreath is perfect for your next fall brunch.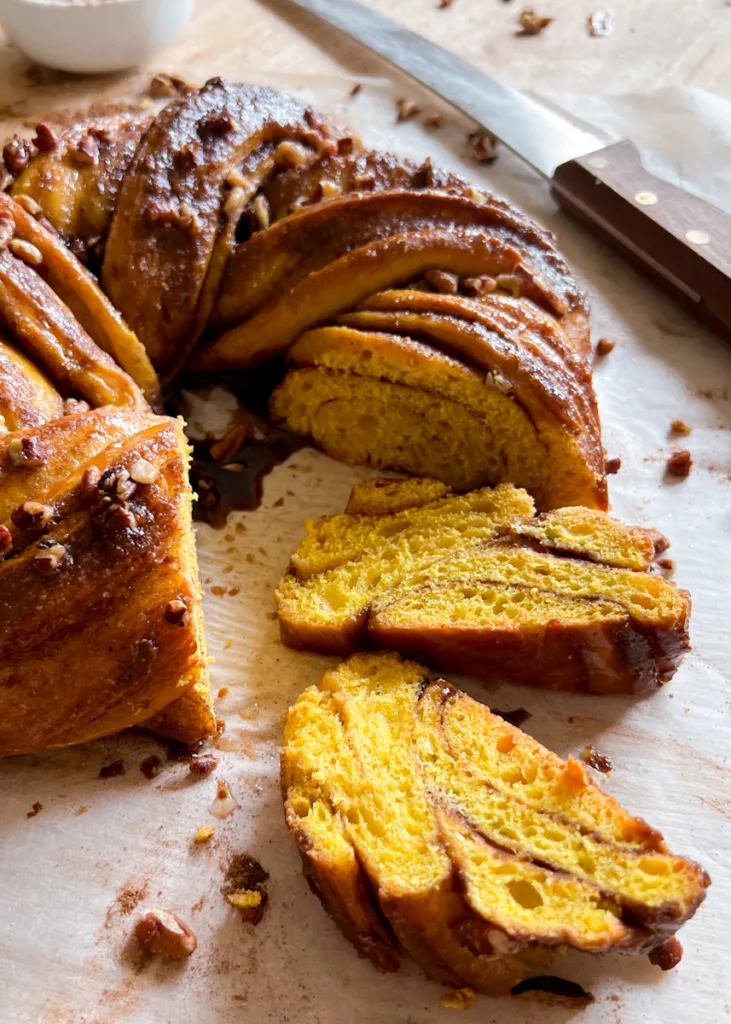 Brioche is a type of bread known for its rich, tender, and slightly sweet flavor. It is a buttery and light bread with characteristics similar to those of pastry. This pumpkin brioche wreath is filled with a warm pumpkin pie spiced brown sugar filling, and topped with a sugar glaze and toasty pecans. All these flavors braided together and shaped into a wreath make it a delicious and stunning fall breakfast treat or dessert.
This sourdough pumpkin brioche wreath is an enriched dough, so it is very forgiving with fermentation and rise times, making it wonderful recipe for seasoned and beginner sourdough bakers alike. To make this recipe you will need a sourdough starter. If you're not sure what sourdough starter is, check out my How to Make a Sourdough Starter post to learn all about it.
Ingredients
Every ingredient plays an important role when making this sourdough pumpkin brioche wreath. This list explains the role of each ingredient when making this recipe, and also offers possible substitutions. See the recipe card below for a full list of ingredients with their amounts.
The Dough Ingredients
Pumpkin Puree – Canned or fresh pumpkin puree makes this braided wreath, well, pumpkin-y. For this recipe make sure not to use pumpkin pie filling. Pre-made pumpkin pie filling has added spices and sugar that will change the results for this recipe.
Sourdough Starter – This recipe uses Sourdough Starter to make the dough rise instead of baker's yeast. Make sure your starter is fed the night before you plan to bake, so it is active and bubbly when you mix the dough.
Eggs – Egg plays a crucial role in enriching the dough and providing this wreath with a light and tender texture. For best results, use room temperature eggs when making the dough.
Granulated Sugar – Granulated sugar makes the dough sweet. It also gives the wild yeast in your starter a boost, helping the dough to rise. I use raw organic cane sugar when baking, but any sugar will work.
Bread Flour –  For this recipe, I used organic bread flour. Bread flour will yield the best results, but If substituting with all-purpose flour, increase the amount of flour called for by 35g.
Salt – Salt is added to enhance flavor and strengthen the dough.
Unsalted Butter – Butter enriches this dough and makes the brioche soft and tender. I use unsalted butter when baking, but you can use salted by omitting the salt in this recipe.
Filling Ingredients
Unsalted Butter – Use room temperature butter when making the filling so that it is easy to spread. You can test your butter to make sure it is soft enough by pressing on it. If you can push all the way through without resistance, the butter is ready.
Brown Sugar – Brown sugar makes the filling for this wreath extra rich, sweet, and sticky. If you don't have brown sugar on hand, you can create your own substitute by adding 1/2 tablespoon of molasses to 1/2 cup of regular cane sugar.
Pumpkin Pie Spice – Pumpkin pie spice pairs nicley with the pumpkin flavored brioche. You can swap out spices based on your taste preferences.
All-Purpose Flour – Flour helps to keep the filling from running during the long second rise.
How to Make a Sourdough Pumpkin Brioche Wreath
Plan Ahead: Sourdough baked goods have long rise times. Take a look at my Sample Bakers Schedule before you begin so you have a better idea on when to start and how to plan ahead.
Step 1: Make the Dough
In a large mixing bowl, whisk together the pumpkin puree, active sourdough starter, room temperature eggs, and granulated sugar. Then, sift in the flour and salt, and mix by hand or with a sturdy spoon until a shaggy dough forms.
Add the room temperature butter, and work the dough until it is fully incorporated, then cover the bowl with a damp cloth or kitchen towel and allow it to rest for 30 minutes.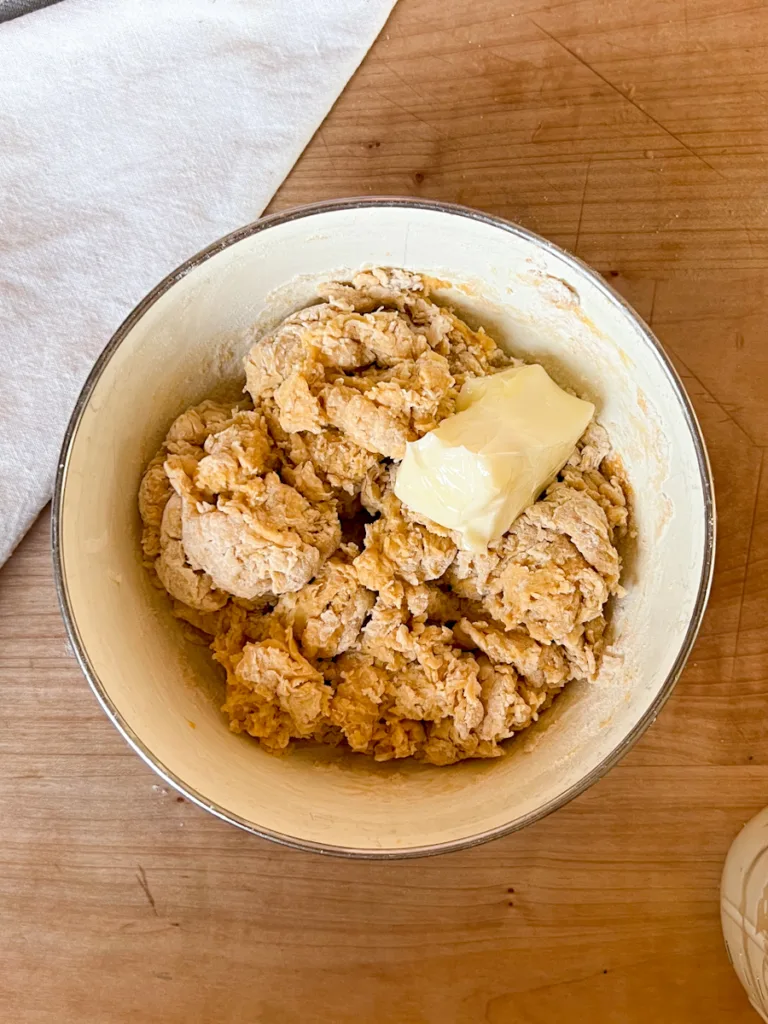 Step 2: Knead the Dough
After the dough has rested, turn it out onto a lightly floured surface and knead it until it becomes smooth and elastic, about six minutes. Alternatively, you can knead the dough in a stand mixer with a dough hook on low speed.
Step 3: Bulk Fermentation
In a covered bowl, allow the dough to rise at 72°F(21°C) for about 4 hours. The dough will need to rise until it is almost double its original size. It's important to note that rise times can vary based on the temperature and humidity in your home, so adjust the time accordingly.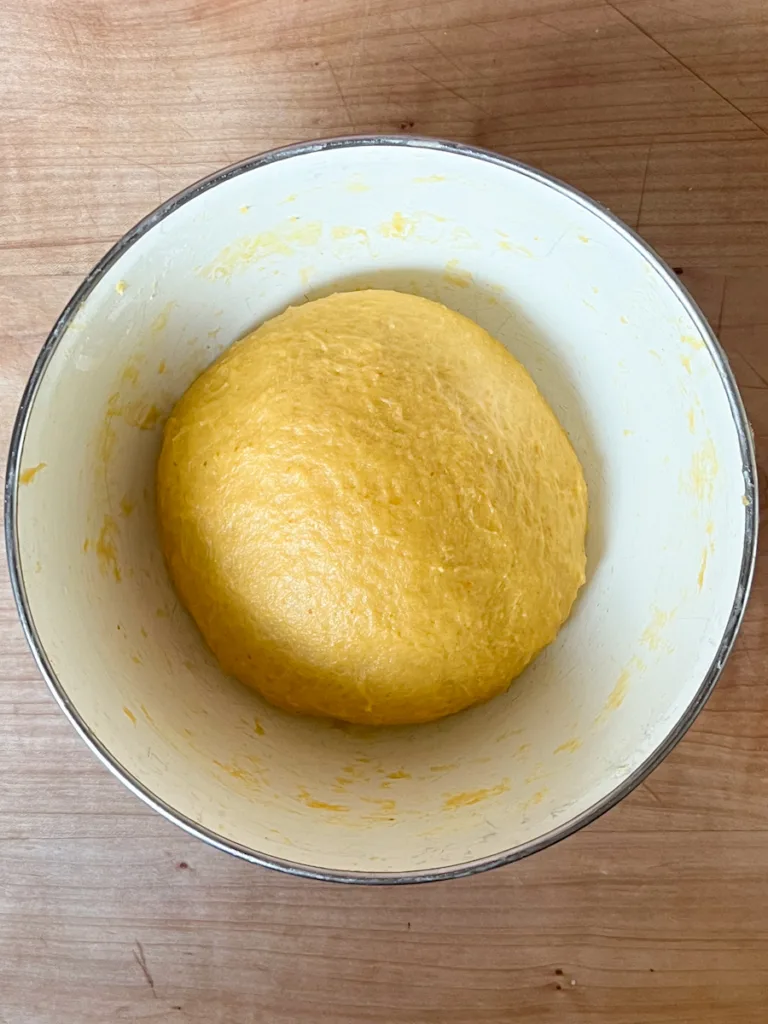 After the room temperature bulk fermentation, place the dough in the refrigerator to cold ferment for 8-16 hours. Cold fermentation enhances the flavor and makes the dough easier to handle during the shaping process.
Step 4: Shaping
In a small bowl, combine the brown sugar, pumpkin pie spice and flour. Stir until fully combined, then set aside.
Before turning out the dough, lightly dust your work surface with flour. Gently pat the dough into a rectangular shape and use a floured rolling pin to roll it out into a 12″x16″ rectangle.
Spread the room temperature butter over the sheet of brioche dough, leaving a one-inch margin along the length of the dough. This margin will help to seal the roll when you roll up the dough.
Next, spread the brown sugar mixture on top of the layer of butter and roll dough up tightly. Start with the end opposite of the margin and roll inwards applying a gentle pressure. Lightly wet the margin with water before sealing, and allow the roll to rest seam side down for a minute to ensure a tight seal.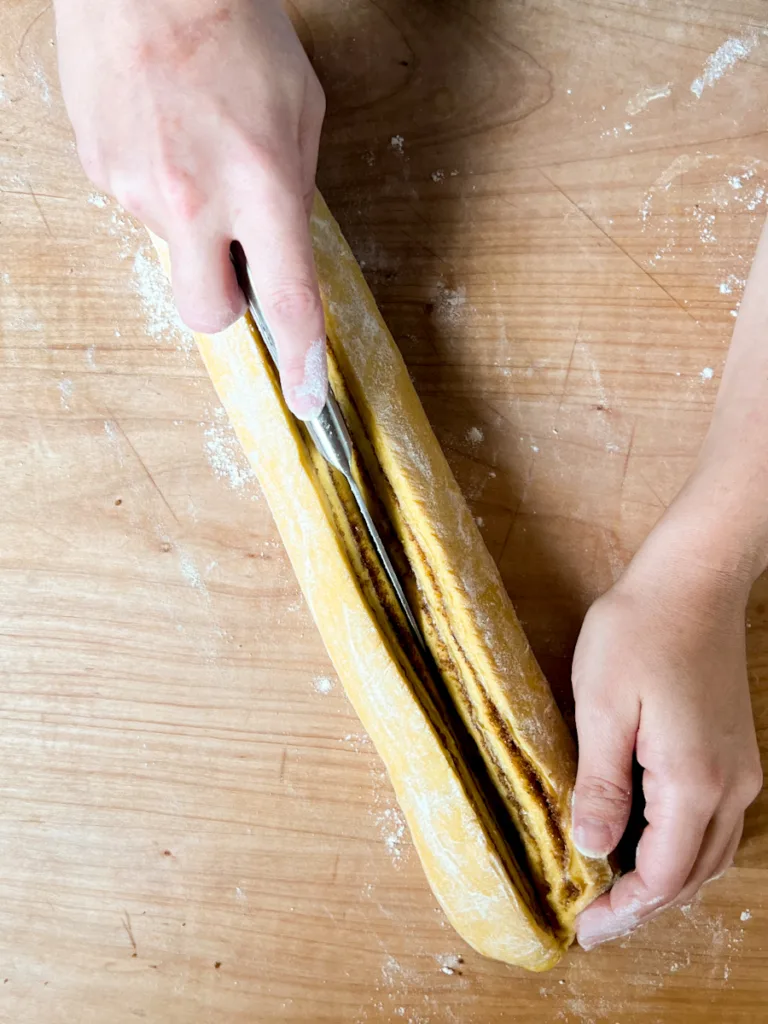 Using a sharp non-serrated knife, slice the dough log in half lengthwise, creating two long, equal-sized strips with the layers of filling exposed.
Cutting Tip: Make gentle, swift, and shallow cuts instead of a single deep cut through the log to ensure cleaner split. Opting for gentle, shallow cuts rather than one deep slice helps keep the layers of dough and filling from squishing together, and makes your braid more visually appealing.
Position the two strips of dough side by side, with the filling facing upward, and pinch the top ends together.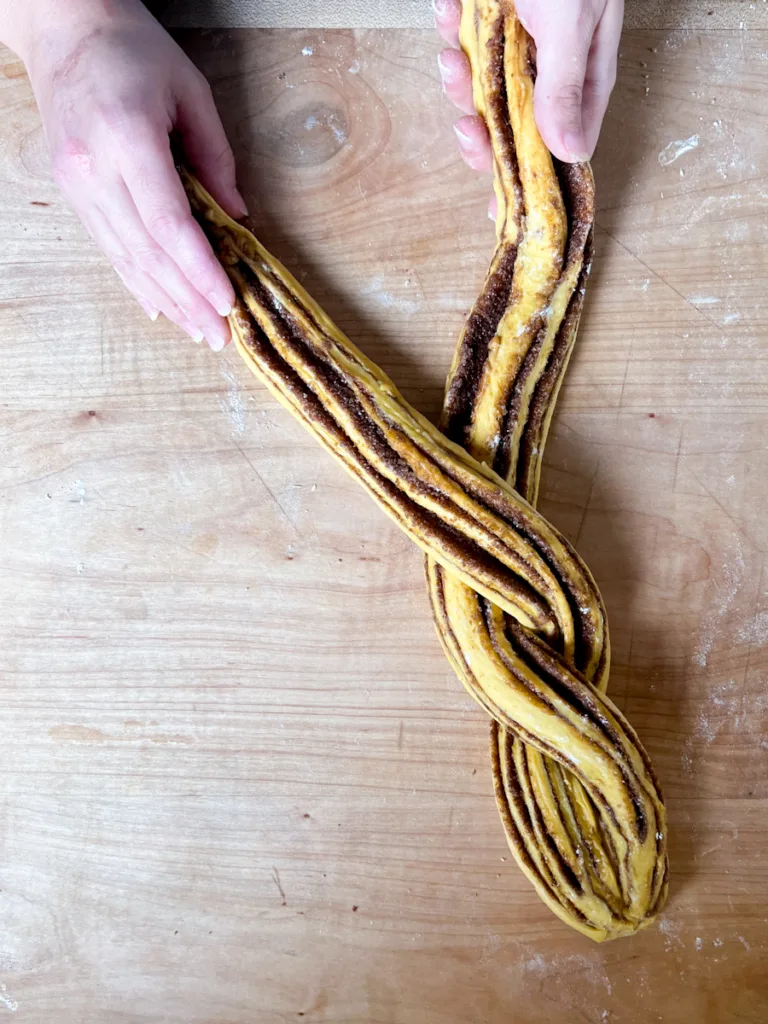 Take the left strip and cross it over the right strip, similar to crossing shoelaces. Then, take the strip that was originally on the right (which is now on the left side) and cross it over the other strip.
Continue crossing the strips, being careful to keep the filling facing upward, until you reach the ends. Pinch the bottom ends of the strips together to seal the braid.
Move the braid to a parchment lined baking sheet or pizza pan, and gently bring the two ends of the braided strip together to form a ring. Overlap the ends slightly and pinch them together to create a seamless connection.
Step 5: Second Rise
Cover the braided wreath, and allow it to rise at a temperature of around 72°F (21°C) for 5 hours. During the second rise, the wreath will increase in size and become visibly poofy. It's important to note that rise times can vary based on the temperature in your home, so adjust the time accordingly.
Step 6: Bake and Glaze
Sprinkle pecans on top of the braid, and bake it on the center rack of a 350°F (177°C) preheated oven for 25-30 minutes.
While the wreath bakes, prepare the glaze. Heat the granulated sugar and water in a small sauce pan on medium heat. Once the sugar is dissolved and the glaze begins to bubble, remove it from the heat.
Once out of the oven brush or pour the glaze on top of the wreath, and allow it to cool for 15 minutes before serving.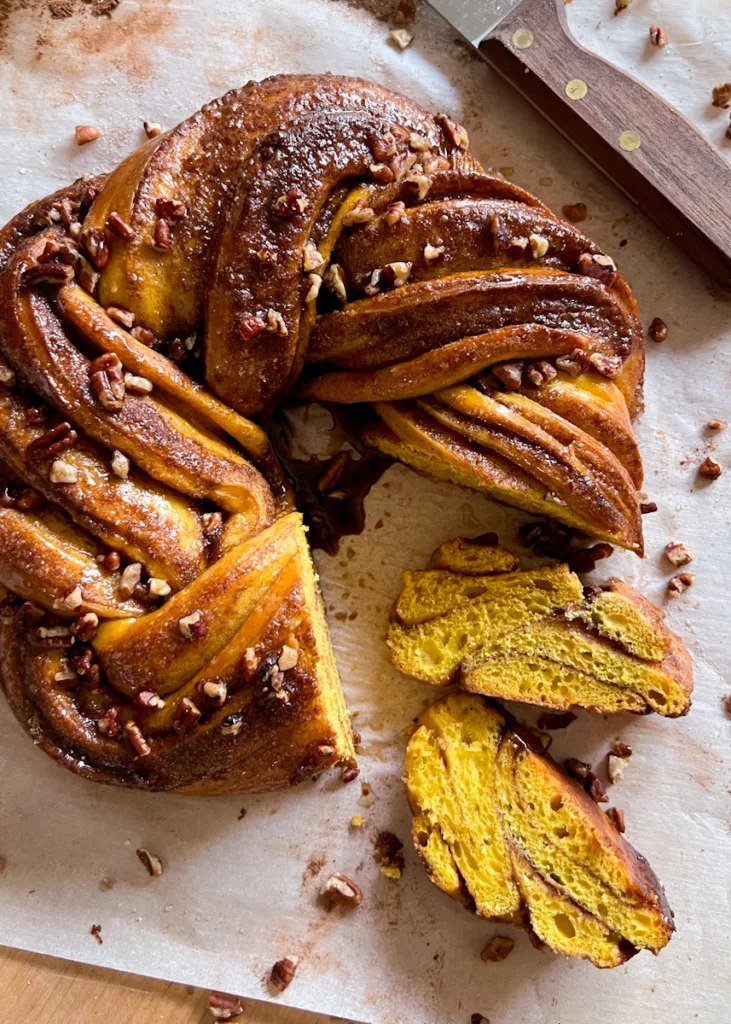 Sample Bakers Schedule
4 PM: Mix the dough together and cover to rest.
4:30 PM: Knead the dough, and cover for bulk ferment.
8:30 PM: Transfer the dough to the refrigerator to cold ferment overnight.
8:30 AM: Fill, braid and shape the dough.
1:30 PM: Bake the pumpkin brioche wreath.
2:15 PM: Glaze and serve or store the wreath.
Sourdough Pumpkin Brioche Braid FAQ
Can I use all-purpose flour instead of bread flour in this recipe?
You can use all-purpose flour in place of bread flour for making this recipe. Bread flour tends to give a slightly chewier texture, while all-purpose flour creates a lighter crumb. If substituting with all-purpose flour, increase the amount of flour called for by 40g.
How do I store my pumpkin brioche wreath?
To store any leftovers, place them in an airtight container at room temperature for up to 3 days or in the refrigerator for up to a week.
Can I make the wreath ahead of time?
To make the wreath and bake it later, cover it tightly and refrigerate for up to 24 hours, or place it in the freezer for up to a week. When you are ready to bake, allow the wreath to come to room temperature and perform the second rise.
What is the best way to reheat leftovers?
You can reheat leftover slices individually in the microwave, or reheat all the leftovers in a 300°F (150°C) preheated oven for 10-15 minutes, or until warmed through.
More Fall Recipes to Try