Nothing says fall quite like pumpkin. These spiced sourdough pumpkin muffins are super soft and incredibly moist. They use leftover sourdough discard to make the batter, making them an extra special fall treat.
I'll admit, I'm pretty basic when it comes to fall. I love everything pumpkin. I also love all things sourdough, so it felt natural to marry the two. Sourdough pumpkin muffins are soft and incredibly moist, making the perfect sourdough discard recipe to be obsessed with this fall. Even better, they are super simple to whip up and can be mixed and ready in only 45 minutes. If you are looking for a new favorite sourdough discard recipe this fall, I think you've found it.
Using Sourdough Discard
These sourdough pumpkin muffins are made with sourdough discard. If you're not sure what sourdough discard is, check out my How to Make a Sourdough Starter post to learn how to make your own sourdough starter. Sourdough discard not only helps give these muffins a little extra body, it adds a slight tang that couples perfectly with the pumpkin flavor. Discard is used in quick bread recipes like this one to add the benefits of fermented grains to the bake, and reduce waste when feeding your sourdough starter.
Sourdough Pumpkin Muffins Ingredients
Every ingredient plays an important role when making these sourdough pumpkin muffins. This list explains the role of each ingredient when making this recipe, and also offers possible substitutions. See the recipe card below for a list of the ingredients with their amounts.
The Batter Ingredients
Pumpkin Puree – Canned or fresh pumpkin puree makes the muffins, well, pumpkin-y. For this recipe make sure not to use pumpkin pie filling. Pre-made pumpkin pie filling has added spices and sugar that will change the results for this recipe.
Eggs – Eggs help give these muffins body and structure. Make sure your eggs are room temperature when making the batter. If you forgot to bring them to room temperature before you started mixing don't worry! Just place your cold eggs in a bowl of hot water for three minutes to bring them to temperature.
Sourdough Discard – Sourdough discard adds a touch of fermented goodness and a slight tang to this recipe. If you don't have a sourdough starter but would like to learn how to make one, check out my How to Make a Sourdough Starter recipe.
Coconut Oil – Oil is needed to ensure the final muffins are moist and gives them lift. I use coconut oil in most of my recipes for health reasons, but any oil will work. Butter can be used as a substitution, but give less rise to the muffins. To use butter in place of the coconut oil, substitute for 1/2 cup, or 8 tablespoons, of unsalted room temperature butter.
Heavy Cream – Heavy cream helps to thin out the batter and add fat that makes the muffins moist.
Sugar – Sugar is what makes these muffins so sweet and yummy! I like to use organic cane sugar when baking.
All-purpose Flour – Flour is the heart and soul of any great muffin or cake! I used unbleached organic all-purpose flour to make these sourdough pumpkin muffins.
Baking Soda – Baking soda lifts the muffins and neutralizes the acids in the sourdough discard.
Salt –  Using salt in sweet recipes helps to enhance the flavor, but don't worry it won't make your muffins salty. I like to use sea salt and celtic salt in most of my baking.
Spices – Cinnamon, nutmeg, and cardamom perfectly spice these muffins.
How to Make Sourdough Pumpkin Muffins
Making sourdough pumpkin muffins is incredibly simple, with only a few steps. The whole process takes about 45 minutes from start to finish. If you have any questions while making these muffins, head over to the FAQ section for some helpful tips!
Step 1: Mix the Batter
Preheat your oven to 350°F (177°C).
In a medium-sized mixing bowl, whisk together the flour, baking soda, salt, cinnamon, nutmeg, and cardamom, until evenly mixed. Then, set the bowl aside.
Combine the pumpkin puree, eggs, sourdough discard, melted coconut oil, and heavy cream in a large mixing bowl. Stir thoroughly until all the liquid ingredients are completely blended.
Add the sugar into the liquid ingredients, mixing until thoroughly combined.
Add the dry ingredients to the wet ingredients, and mix until fully combined and you achieve a thick, lump free batter. Be careful not to over mix the batter.
Step 2: Fill the Muffin Cups
Place paper cups in, or grease, a 12-muffin pan. Fill each cup completely with approximately 1/3 cup of batter.
Step 3: Bake and Enjoy
Place the muffins on the lower center rack of a preheated oven and bake for 25-28 minutes, or until a toothpick inserted into the center comes out clean or with only a few moist crumbs. Avoid over baking to keep them moist.
Let the muffins cool in the pan for 10 minutes before moving them to a cooling rack for complete cooling.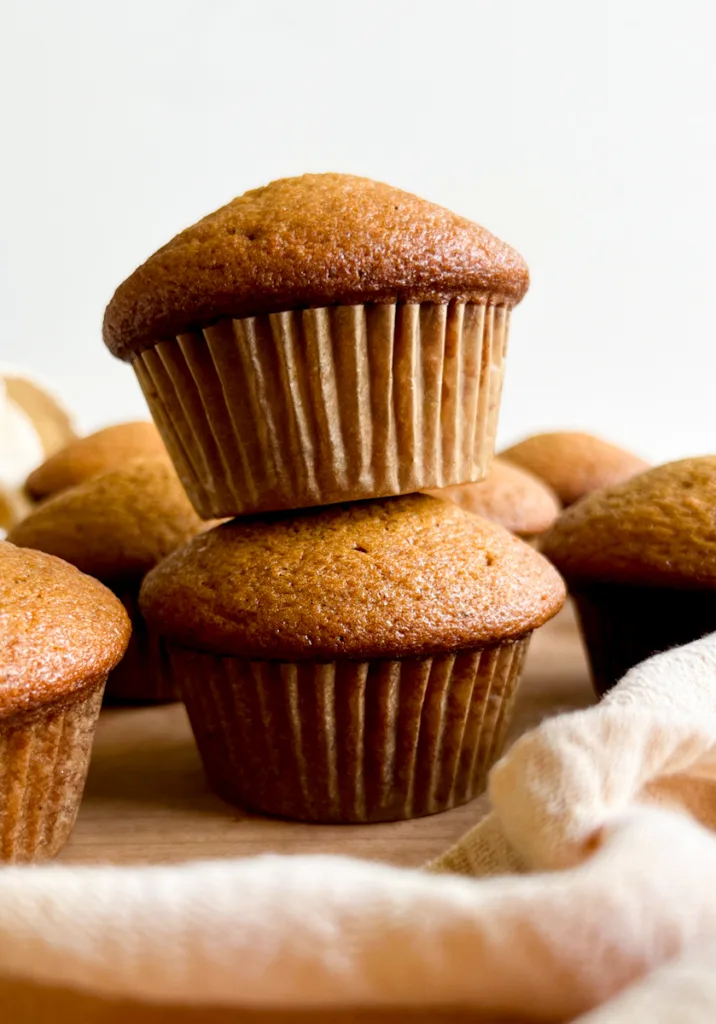 Sourdough Pumpkin Muffins FAQ
Can I make the batter ahead of time?
While it's best to bake the muffins right after preparing the batter, you can ferment the sourdough pumpkin muffin batter for added health benefits. Leave out the baking soda and refrigerate the batter for up to 12 hours, adding in the baking soda before baking. Keep in mind that the texture might slightly change.
Can I use pumpkin pie filling instead of pumpkin puree?
Using pumpkin pie filling instead of pumpkin puree is not recommended for this recipe. Pumpkin pie filling is typically pre-sweetened and spiced, designed specifically for making pumpkin pies. Using it in place of pumpkin puree could result in overly sweet and spiced muffins that might not have the desired flavor and texture.
Can I use active sourdough starter instead of sourdough discard?
You can use active sourdough starter instead of sourdough discard in this recipe. Keep in mind that using active starter might yield slightly different results compared to using discard.
Can I add mix-ins like chocolate chips or nuts?
Absolutely! You can add chocolate chips, nuts, dried fruits, or spices to customize the flavor and texture of your muffins.
How should I store the muffins?
Store cooled muffins in an airtight container at room temperature for up to 2-3 days. For longer storage, refrigerate them for up to a week or freeze for up to 2 months, bringing them to room temperature before serving.
More Fall Discard Recipes to Try