Tender cake, tart apples, and a warm custard drizzle make Sourdough Irish Apple Cake the perfect St. Patrick's Day dessert. This version of traditional Irish Apple Cake, also known as Kerry Apple Cake, is a wonderful way to use up extra sourdough discard.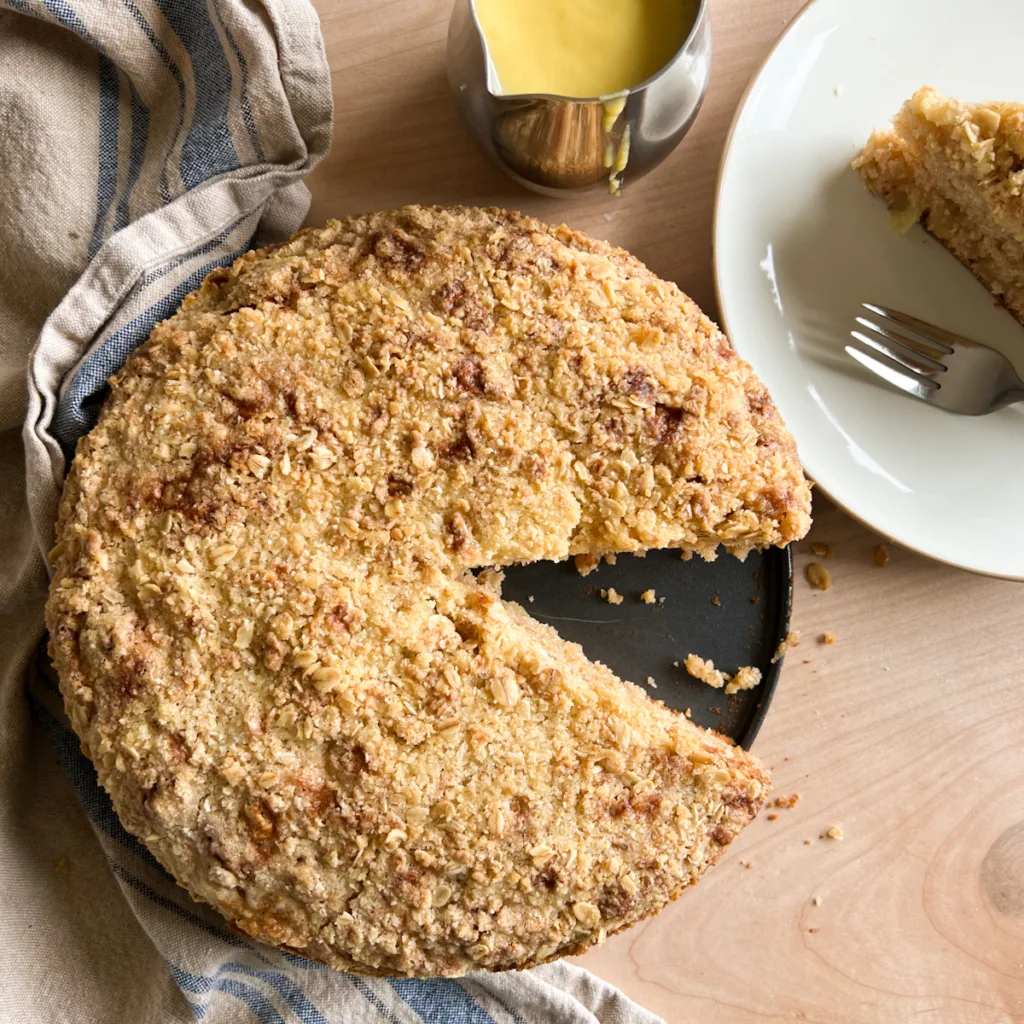 I have a special fondness for apple desserts, and Irish apple cake may be my favorite of them all. It's a tender cake that can be served warm or cold, and makes a wonderful breakfast or dessert. It has the cozy goodness of a warm apple pie and the delicate crumb of a spiced coffee cake. Serve it with fresh cream or a drizzle of warm custard.
Known as Kerry Apple Cake in Ireland, this dessert is a staple in many Irish homes. It's typically made with bramley apples during the apple harvest season. This version of the classic Irish cake uses sourdough discard for a bit of fermented goodness, and Granny Smith apples.
Ingredients
The Cake
Flour – Unbleached all-purpose flour is perfect for this recipe.
Spices – Cinnamon, ginger, cardamom, and nutmeg add a warm flavor.
Baking Powder – Needed to leaven the cake. Choose an aluminum free baking powder.
Eggs – Bring your eggs to room temperature for a fluffier cake.
Butter – Use melted butter for this recipe.
Sourdough Discard – Use 100% hydration sourdough discard.
Sugar – Raw unrefined sugar or coconut sugar work best.
Apples – I use granny smith apples for their tartness and stability while baking. Honeycrisp apples also work and will add more sweetness to the cake.
The Streusel Topping
Rolled Oats – Used to give the streusel some body and texture.
Flour – Unbleached all-purpose flour binds the streusel together.
Sugar – Raw unrefined sugar and coconut sugar both work well.
Butter – Use cold salted butter to ensure a good crumb.
The Custard Sauce
Egg Yolks – Egg yolks are what make custard creamy and rich in flavor.
Sugar – Raw unrefined sugar or coconut sugar will work.
Milk – Use whole milk. We love raw milk in our home!
Vanilla – Real vanilla adds extra flavor to the custard.
How to Make Sourdough Irish Apple Cake
Step 1: Make the Batter
In a large mixing bowl sift together the flour, cinnamon, ginger, cardamom, nutmeg, and baking powder. In a separate bowl whisk together the eggs, melted butter, sourdough discard, and sugar. Add the dry ingredients to the wet ingredients a little at a time, mixing until everything is incorporated and no lumps remain.
Note: Your batter will be thick but don't worry, the apples add moisture while your cake bakes.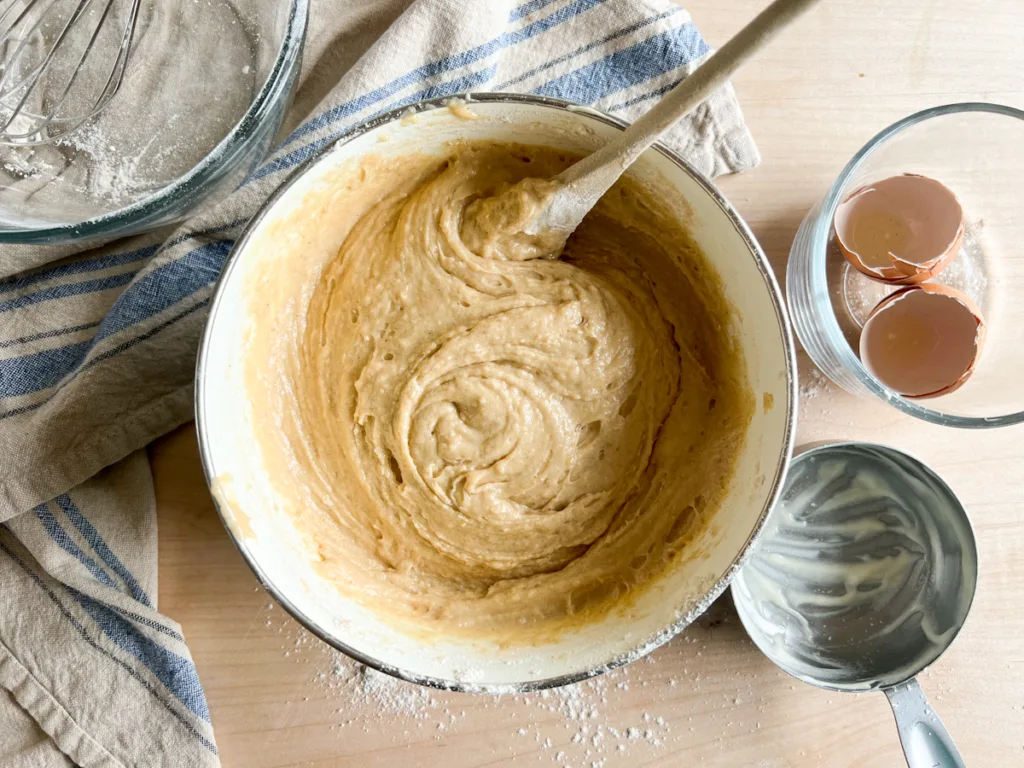 Step 2: Peel & Add the Apples
While the cake batter rests, slice your apples. Its important that your apple slices are the same size to ensure they all cook evenly. Once your apples are sliced fold them into the cake batter.
How to Slice Apples for Baking:
Use a pairing knife or vegetable peeler to peel your apples.
Once the apples are peeled, cut each apple into fourths and then remove the core.
Cut each fourth or apple in half lengthwise, this will give you eighths.
Slice each eighth crosswise into 1/4 inch pieces.
Step 3: Make the Streusel
In a small mixing bowl stir together the rolled oats, flour, and sugar until everything is evenly incorporated. Using a fork or pastry blender, cut the butter into your dry ingredients until the largest bits of butter are no larger than a pea. Toss the mixture with a fork or by hand to ensure all the butter if fully coated in the flour mixture.
Step 4: Bake
Pour your batter into a well greased 9″ springform pan. Spread the batter until it is level and top evenly with the streusel mixture.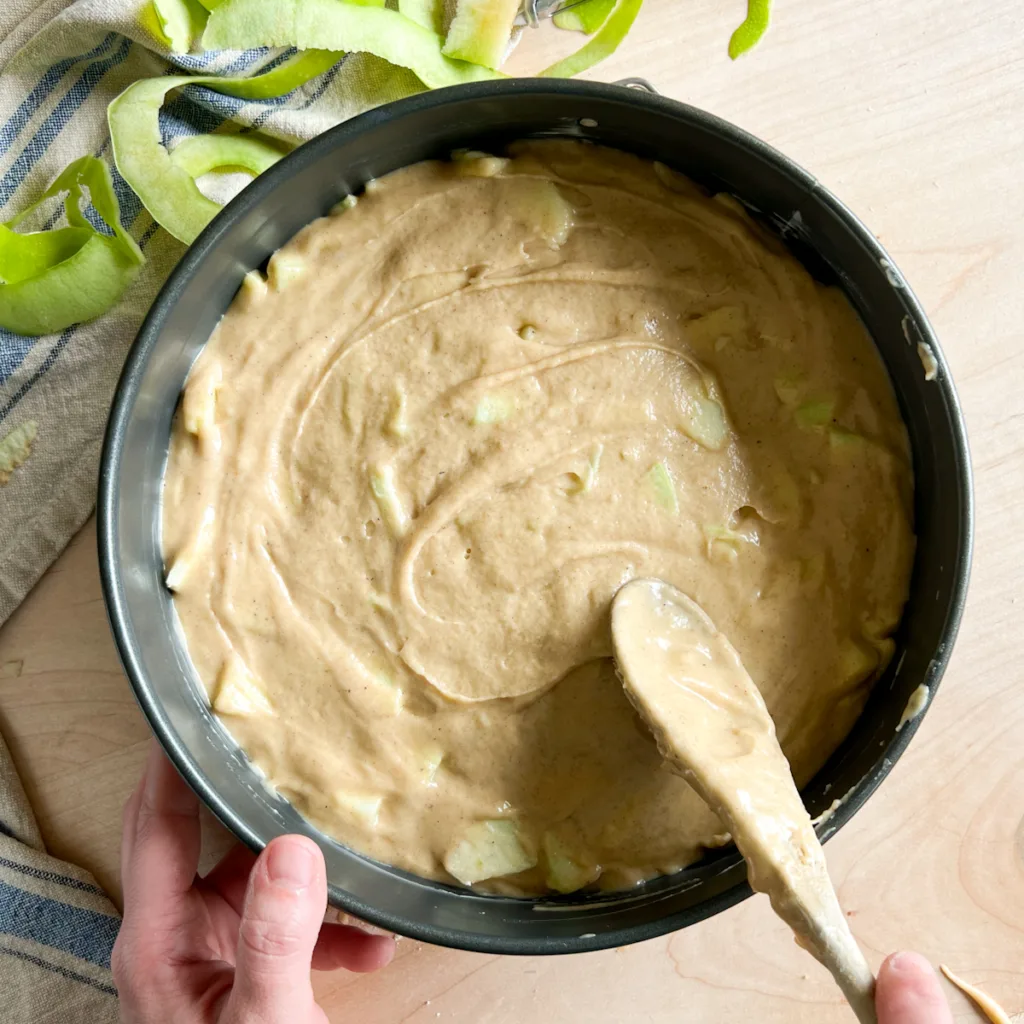 Bake on the center rack of a 350°F(180°C) preheated oven for 60 minutes. A toothpick inserted into the center of the cake will come out clean when it is fully cooked.
Step 5: Make the Custard
In a small bowl whisk together the egg yolks, sugar, milk, and vanilla. Add the mixture to a small sauce pan and turn the burner on medium-low heat. Whisk continuously to prevent curdling as the custard heats. Your custard is ready when it thickens to the consistency of a gravy, about 6 -10 minutes.
Once your custard has thickened, remove it from the heat and immediately transfer it to a gravy boat or jar to prevent overcooking.
Slice your your sourdough Irish Apple Cake and top with warm custard sauce before serving.
Tips for Making Custard:
Low and Slow – The trick to making custard is to not cook the eggs too quickly. Start with a low heat. If your custard isn't thickening after 10 minutes gradually increase the heat.
Don't Preheat – Add your custard sauce to the pan before turning on the heat. Heating your pan first will turn your custard into scrambled eggs.
Keep Stirring – Stir your custard continuously as it cooks, making sure to scrape the bottom frequently. If the custard overcooks at the bottom of the pan you will have a lumpy sauce.
Fixing Custard – If your custard does overcook and gets lumpy, don't worry. Use an immersion blender, or traditional blender, to smooth everything out again.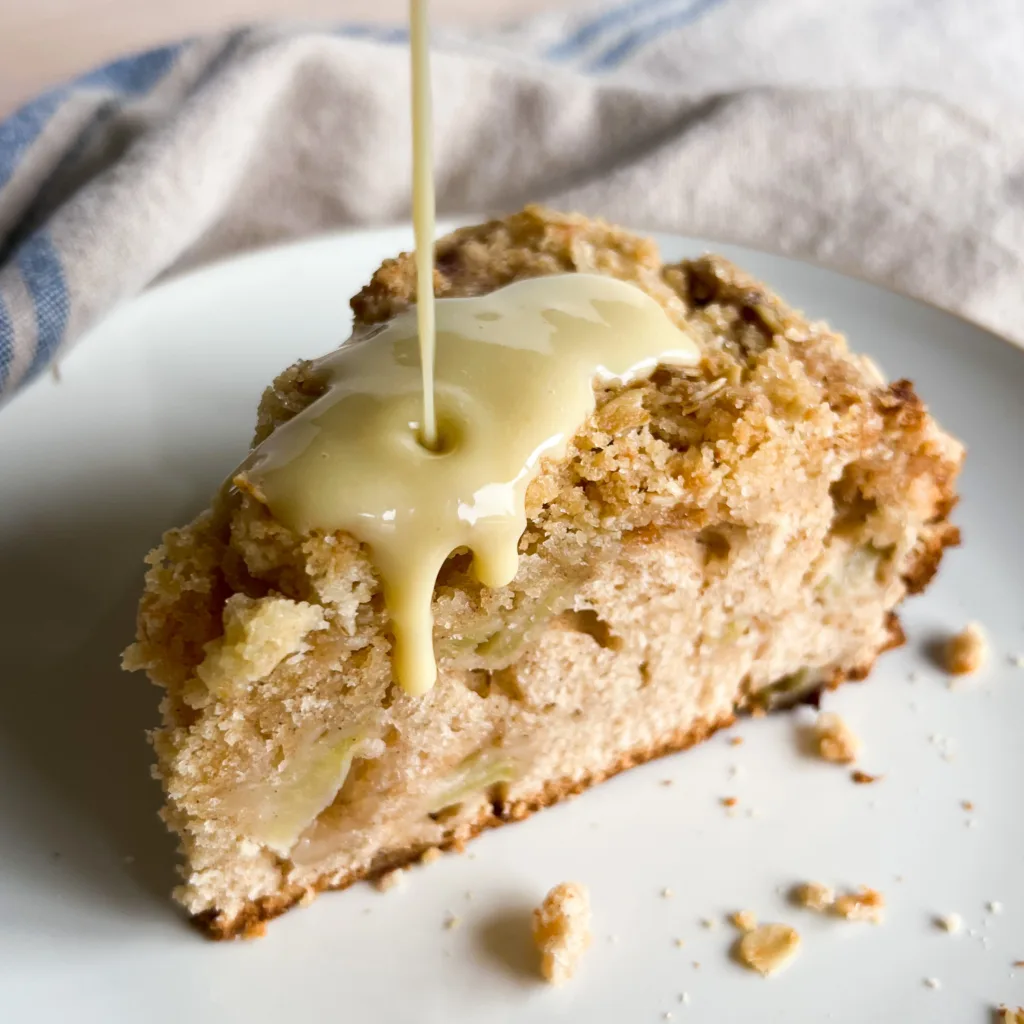 More Recipes to Try