Homemade chicken and dumplings is a classic comfort food. This Chicken and sourdough dumplings recipe takes it to the next level with a creamy and flavorful bone broth soup, and pillowy dumplings made from sourdough discard.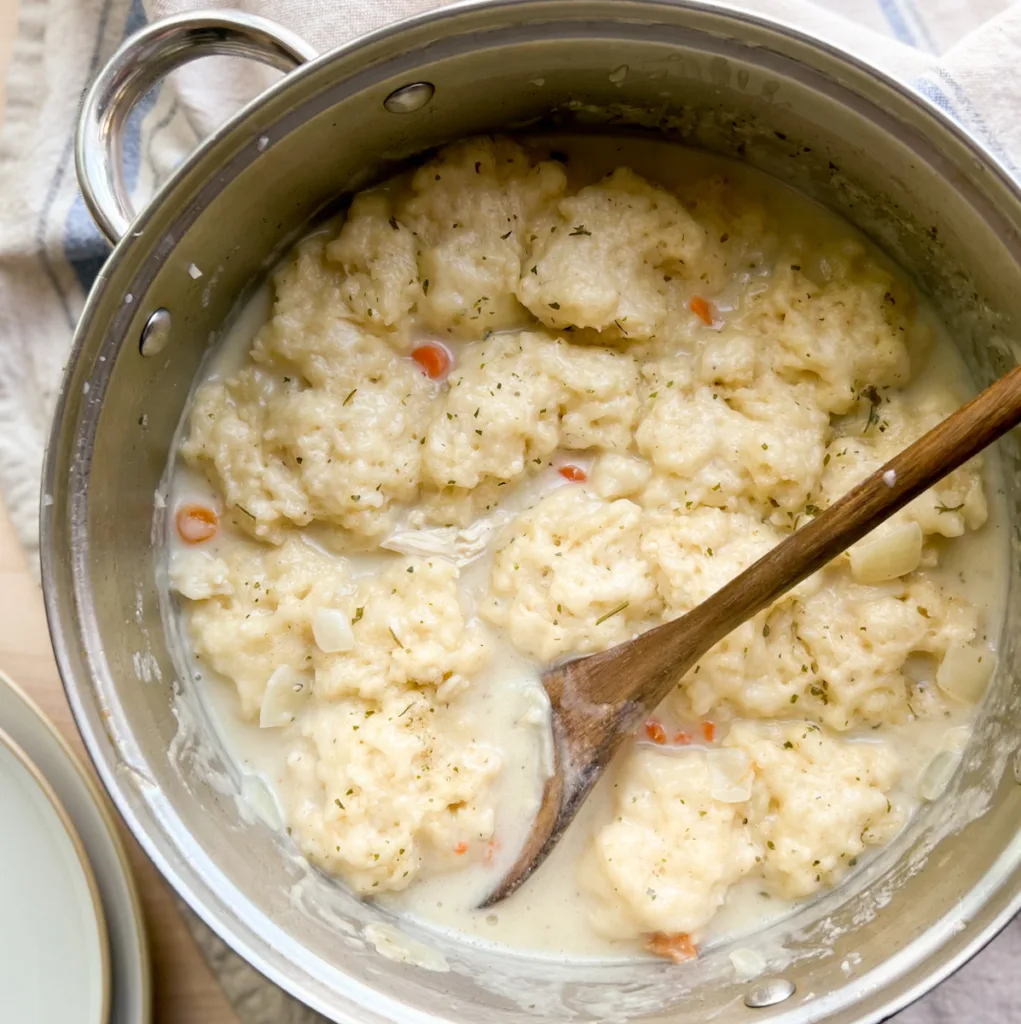 There's nothing quite like a warm and comforting homemade dinner. This Chicken and Sourdough Dumplings recipe is the perfect choice for chilly evenings and lazy Sundays. The soup is rich and creamy, while the dumplings are steamed to a fluffy perfection.
What makes this recipe even more nourishing is the use of chicken bone broth. Packed with collagen, as well as essential minerals such as phosphorus, magnesium, and potassium, the bone broth adds an extra dose of goodness. The dumplings incorporate sourdough discard, which not only aids digestion but also provides a boost of antioxidants and prebiotics. For an even more nourishing meal, consider using raw milk!
Ingredients
The Soup:
Olive Oil – For cooking the chicken and veggies.
Chicken Breast – Thinly sliced into 1″ strips.
Onion – Roughly chopped into 1/2″ pieces.
Garlic – Fresh garlic peeled and minced.
Carrots – Washed and chopped into bite size pieces.
Chicken Bone Broth – Bone broth adds flavor and nutrition.
Milk – We love raw milk in our home.
All-Purpose Flour – Used to thicken the soup.
Salt – Sea salt, Celtic salt, or pink salt.
Pepper – Freshly cracked pepper makes a nice addition.
Dried Parsley – Sprinkle extra on top of the dumplings before steaming for a nice pop of color.
Dried Sage and Thyme – Sage adds a beautiful flavor to this dish.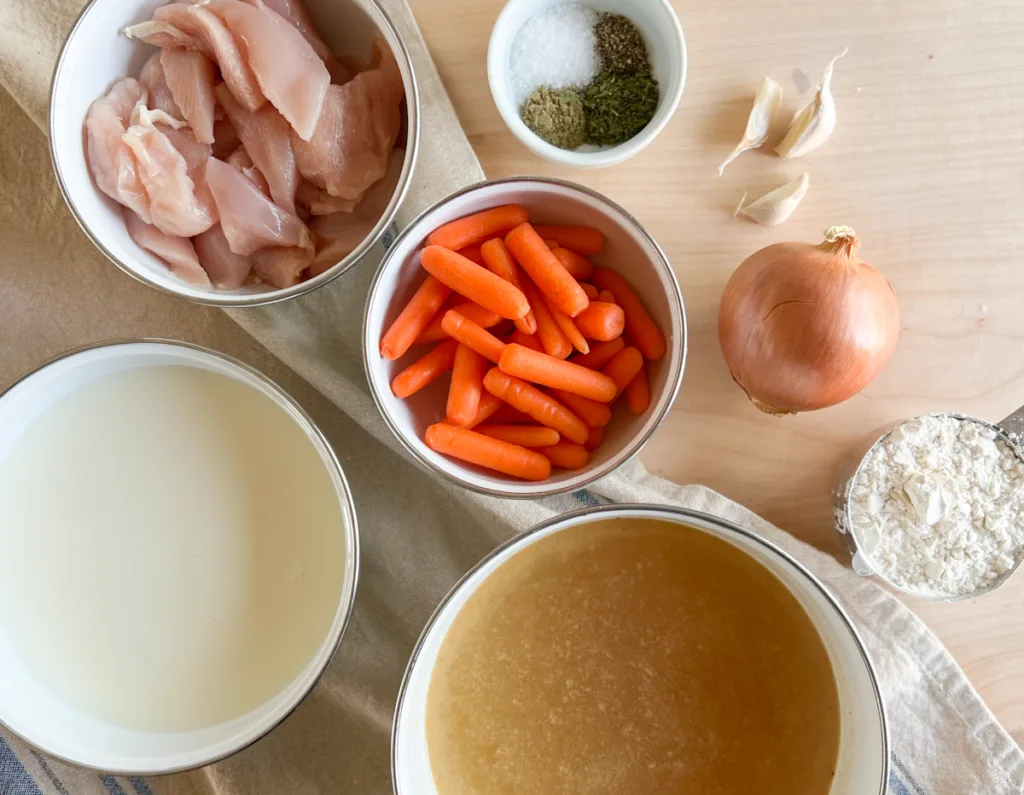 The Dumplings
Sourdough Discard – You can use sourdough discard or active sourdough starter.
Milk – Milk or water will work for making the dumplings.
All-Purpose Flour – If using whole wheat or bread flour add another tablespoon of milk.
Baking Powder – Choose an aluminum-free baking powder.
Salt – Sea salt, Celtic salt, or pink salt.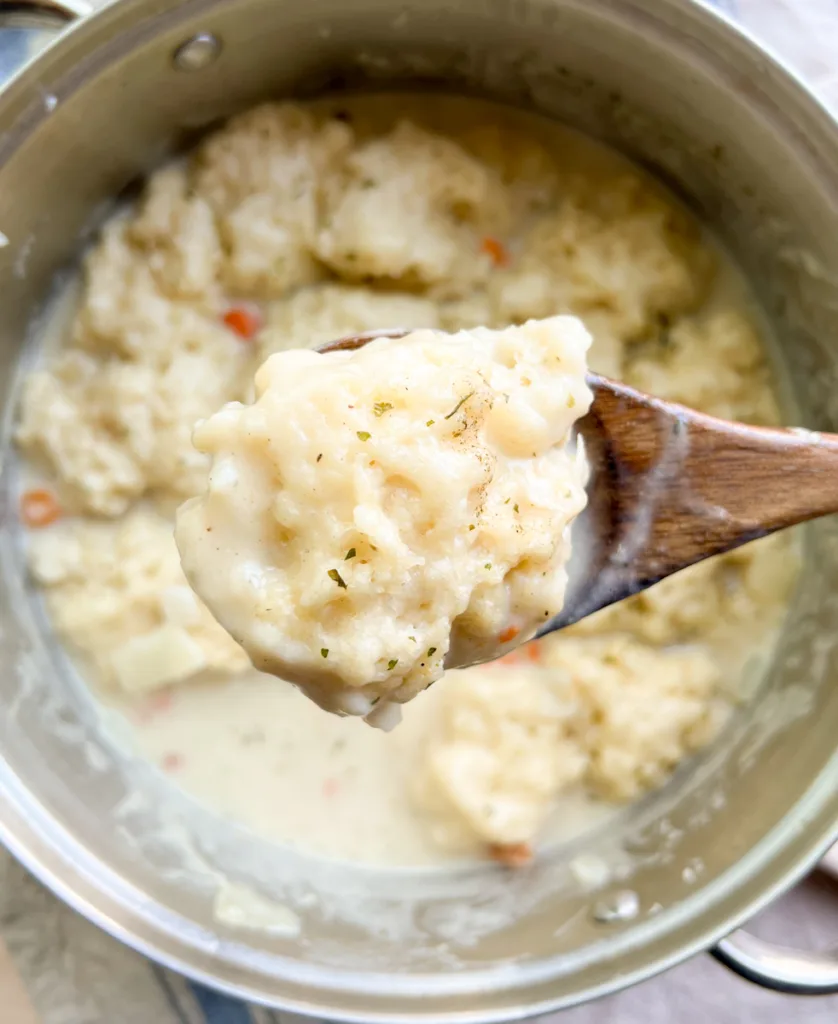 How to Make Chicken and Sourdough Dumplings
Step 1: Prep Your Ingredients
Slice your chicken breast into thin strips. Aim for about 1/2″ wide and 1″ long. The more uniform your strips the more evenly they will cook. Wash and dry the carrots and slice them into 1/2″ pieces. Peel the onion and roughly chop it. Then peel and mince the garlic. Set everything aside.
Step 2: Make Your Soup
In a large pot heat the olive oil over medium heat. Be sure to use a pot with a fitted lid, you will need it later on. Add in your chicken, carrots and onions. Cook until the onions are translucent and the chicken is just starting to color, about 5 minutes. Then add in your garlic and cook until fragrant, about 2 minutes. The chicken will not be fully cooked before adding the broth, but don't worry, it will continue to cook in the soup.
Turn your heat to medium high and add in your chicken bone broth. Allow this to come to a low boil. While waiting for your broth to heat, whisk together the milk and flour in a bowl until no lumps of flour remain. Once the broth is heated stir your flour and milk mixture into the pot and stir until thickened. Reduce the heat to medium low and stir in your salt, pepper, parsley, and sage.
Too thick or thin? To make your soup thinner just pour in more broth a little at a time until the desired consistency is achieved. For a thicker soup, pull 1/2 cup of the liquid from the pot and whisk in 1 tablespoon of flour until it is lump free. Add this back to the pot and repeat if necessary until the desired consistency is achieved.
Step 3: Make Your Dumplings.
While your soup cooks, go ahead and mix your dumplings. In a small mixing bowl stir together your sourdough discard, milk, and salt. Once fully combined mix in your flour and baking powder. You may need to finish incorporating the flour by hand.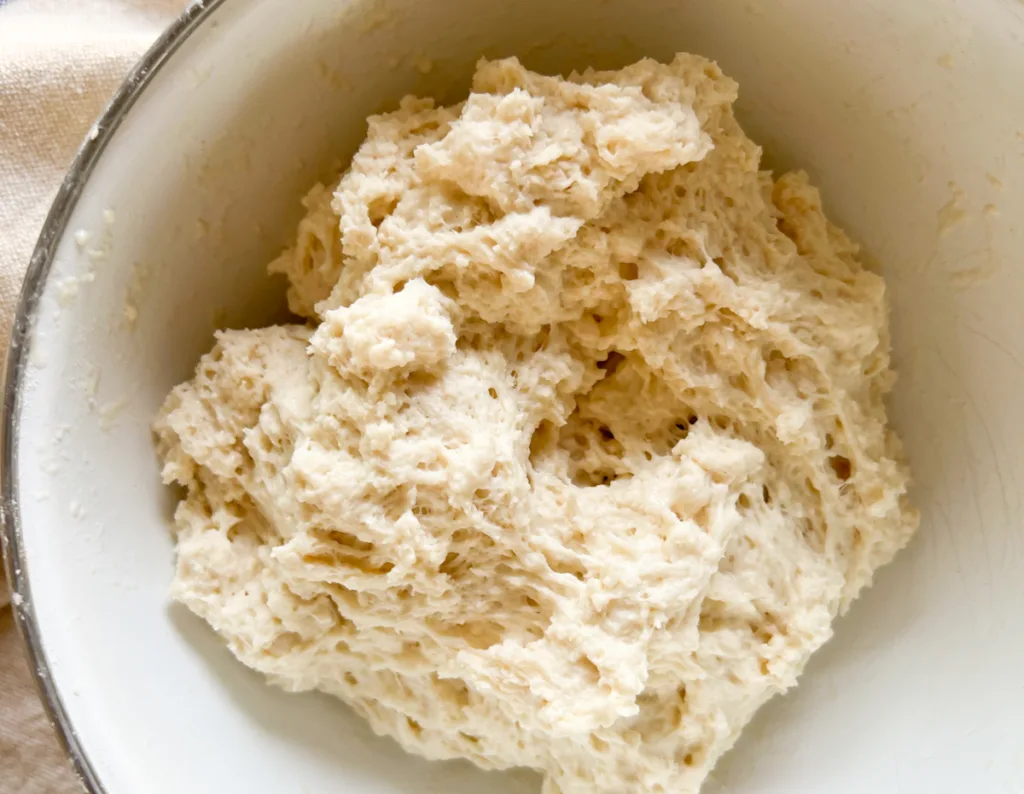 When your dough is fully mixed rip it into 1″-2″ pieces and drop them into the soup. Be sure to evenly space your dumplings allowing them room to expand. Sprinkle the top of your dumplings with dried parsley and cover the pot with a lid. Reduce the heat to the lowest setting to prevent the bottom from burning, and cook for 13 minutes. Do not remove the lid, even if tempted. The dumplings need the trapped steam to cook fully.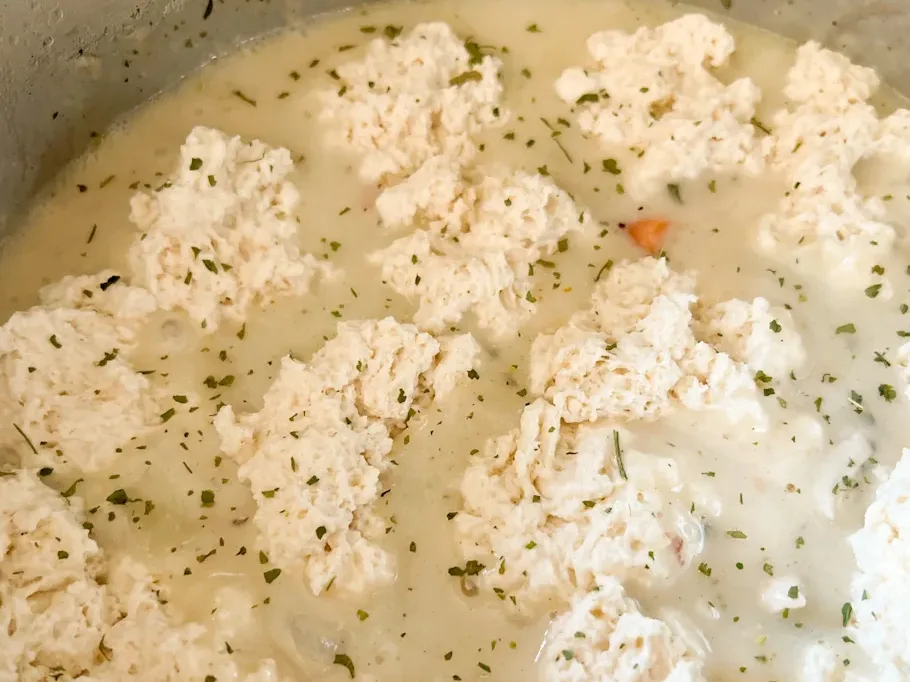 Mix It Up
Chicken and sourdough dumplings is fantastic the way it is, but if you are looking to mix things up try;
Adding Veggies: Try adding peas or corn into the soup.
Replacing the Chicken: Try replacing the chicken with diced ham.
Adding Some Heat: Add in some red pepper flakes to give your soup a little kick.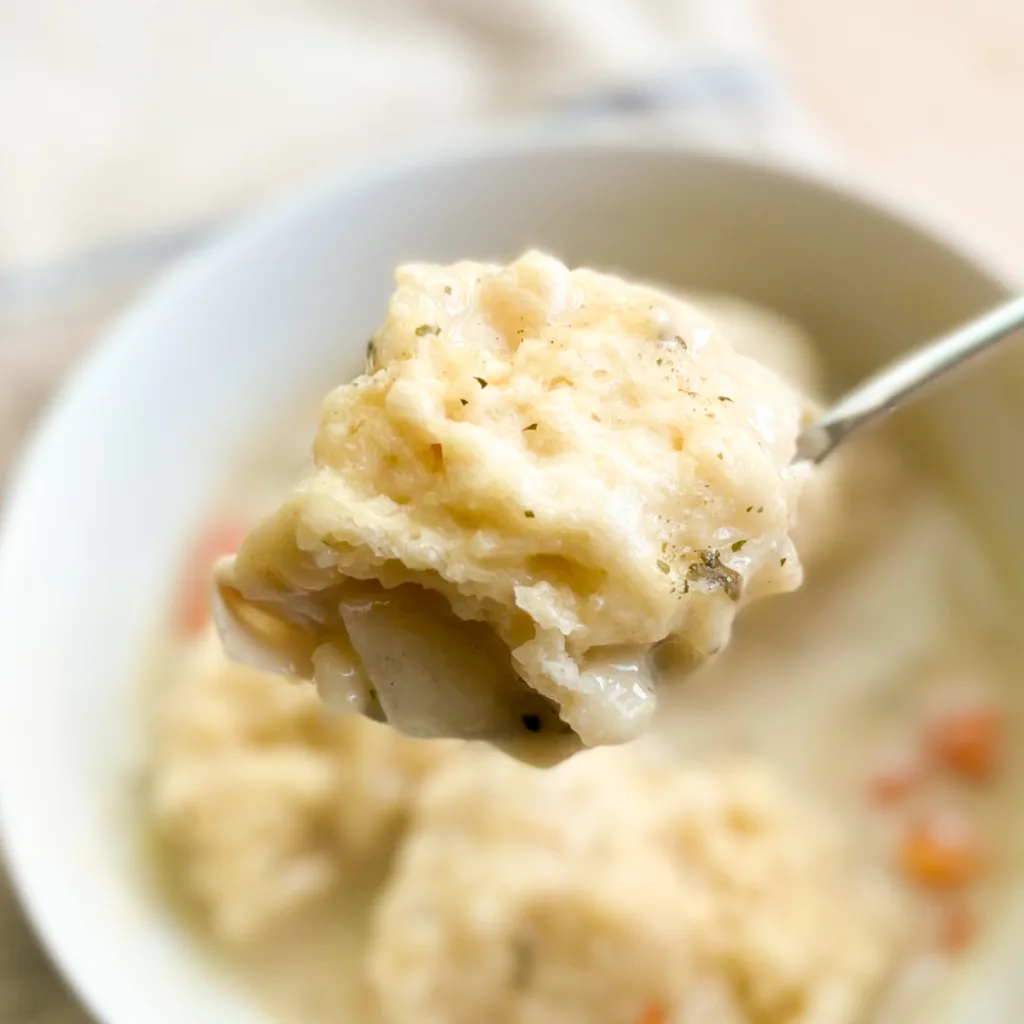 More Sourdough Discard Recipes