This recipe gives a tangy twist to classic snickerdoodle cookies. Sourdough snickerdoodle cookies are remarkably soft, chewy, and sweet. Made with sourdough discard, these cookies have the benefits of long fermented grains.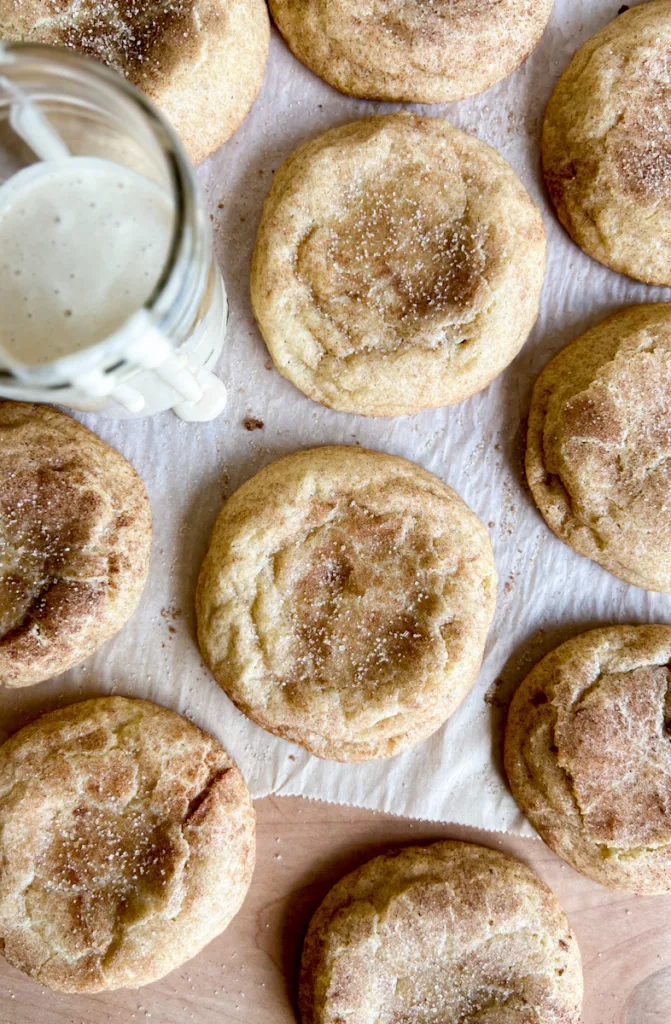 These sourdough snickerdoodles are a favorite in our household, especially for my daughter. They have the perfect texture—soft, chewy, and delightfully thick. What I love most is how unbelievably simple they are to whip up, with no need for any chilling time. You can have freshly baked cinnamon sugar coated snickerdoodles with an addictively tangy sourdough bite in as little as 30 minutes.
This sourdough snickerdoodle cookie recipe is perfect for the holidays. Pair them with other sourdough treats like sourdough chocolate chip cookies, sourdough cut-out sugar cookies, and soft sourdough gingerbread cookies to make the perfect holiday cookie lineup.
These cookies are made with sourdough discard. If you're not sure what sourdough discard is, go take a look my How to Make a Sourdough Starter post to learn how to make your own sourdough starter. Sourdough discard helps to make these cookies oh so chewy, and adds a slight tang that makes them irresistible.
Sourdough Snickerdoodle Cookies Ingredients
Making sourdough snickerdoodle cookies is incredibly simple, and requires only a few simple ingredients. In fact, you may have everything you need on hand!
Sugar – Sugar makes your cookies sweet, but also plays a crucial role in achieving their texture. The presence of sugar contributes to the chewiness of the cookies and helps promote the spreading action as they bake.
Butter – You have the flexibility to use either salted or unsalted butter for this recipe. Whichever option you prefer, it's important to ensure that your butter is at room temperature.
Sea Salt – Salt helps to enhance the flavors in the cookies. If you're using salted butter, you can skip adding additional salt.
Eggs – Eggs act as a binding agent, helping to hold the ingredients together and providing structure to the cookie dough.
Sourdough Discard – Sourdough discard is added to this recipe to add a distinct and tangy sourdough taste. This recipe calls for 100% hydration sourdough discard, but will also work with active sourdough starter.
Baking Soda – Baking soda in this snickerdoodle recipe helps to make the cookies thick, chewy, and tender.
Cream of Tarter – Cream of tarter gives snickerdoodle cookies their classic tang and texture. This recipe calls for less cream of tartar then a traditional snickerdoodle cookie recipe because the sourdough discard adds quite a bit of tanginess and reacts with the baking soda to achieve their chewy texture.
All-Purpose Flour – I highly recommend using unbleached all-purpose flour for this recipe. Unbleached flour is a great choice as it retains more natural nutrients and has a slightly higher protein content compared to bleached flour. This can result in better texture and structure for your cookies.
Cinnamon Sugar – A mixture of ground cinnamon and cane sugar is used to coat the cookie dough before bake, and give these cookies their hallmark snickerdoodle spice.
Tips for Making Sourdough Snickerdoodle Cookies
Use Room Temperature Butter – Using cold butter will yield dense cookies that don't spread properly, while melted butter will cause your cookies to spread too much, resulting in thin cookies. So, achieving the perfect texture and thickness relies on having your butter at the right temperature. To test if the butter is ready, simply press your finger into it. If it easily goes through without resistance, it's good to go.
Measure the Flour – To avoid hard crumbly cookies, make sure your flour is measured out correctly. To do this, spoon the flour into the measuring cup and level it off, ensuring it doesn't become packed, or weigh the flour for exact measurements.
Don't Over Mix – Over-mixing cookie dough can lead to excessive gluten development, resulting in tough and overly chewy cookies. It's important to mix the dough until the ingredients are just combined to avoid overworking the gluten.
Don't Over Cook – When you take the cookies out of the oven, they may appear undercooked. Don't panic! It's important to resist the temptation to cook them longer. The cookies will continue to cook for a few minutes after being removed from the oven. Allow them to cool for 10-15 minutes, before transferring them to a cooling rack to finish cooling. They will fully set up and achieve their desired texture during this time.
Coat the Cookies Generously – Be sure to generously coat the cookie dough with the cinnamon sugar mixture. Feel free to adjust the amount of cinnamon in the coating according to your personal taste preference.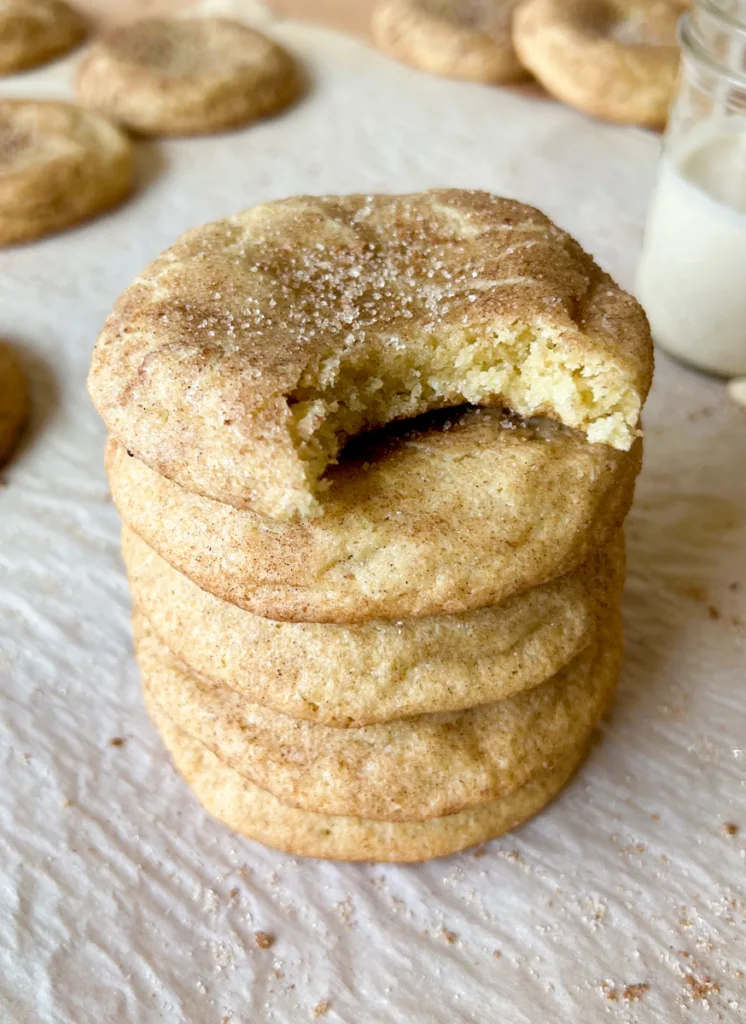 How to Make Sourdough Snickerdoodle Cookies
Making sourdough snickerdoodle cookies is simple. You won't need any specialized equipment, and the dough can be prepared in under 30 minutes. The best part is that this dough doesn't need to be chilled; it can be baked immediately after being mixed. To find a full list of ingredients and their measurements, take a look at the recipe card below:
Make the Cookie Dough
Preheat your oven to 350°F.
In a medium-sized mixing bowl, whisk together the flour, baking soda, salt, and cream of tartar, until evenly mixed. Then, set the bowl aside.
With an electric mixer or stand mixer, cream together the sugar and room temperature butter in a large mixing bowl until they are fully light and fluffy, scraping down the sides as needed, about 5 minutes.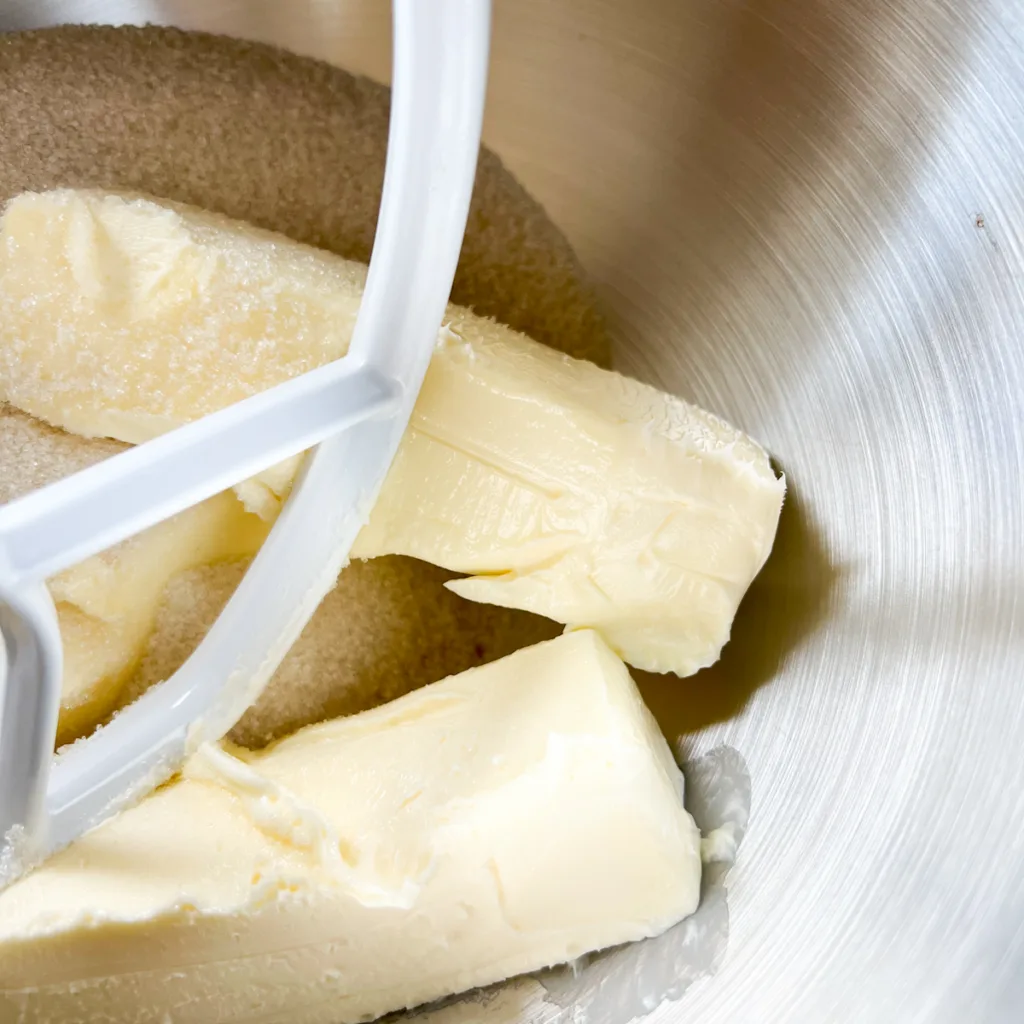 Add the egg, egg yolk, and sourdough discard to the bowl. Beat the mixture until until it is creamy and well combined, about one minute.
Add the dry ingredients to the wet mixture, and stir until a tacky dough forms.
Roll the Cookies
In a small bowl prepare the cinnamon-sugar coating by whisking together the cane sugar and ground cinnamon.
Then, scoop and roll the cookie dough into 2-inch balls. For uniform cookies, you can weigh each portion of cookie dough out to 55g. The dough will be quite soft, flouring your hands and working quickly will help to prevent sticking.
Generously coat each cookie dough ball by rolling it in the cinnamon-sugar mixture, and space them 3 inches apart on a parchment-lined baking sheet.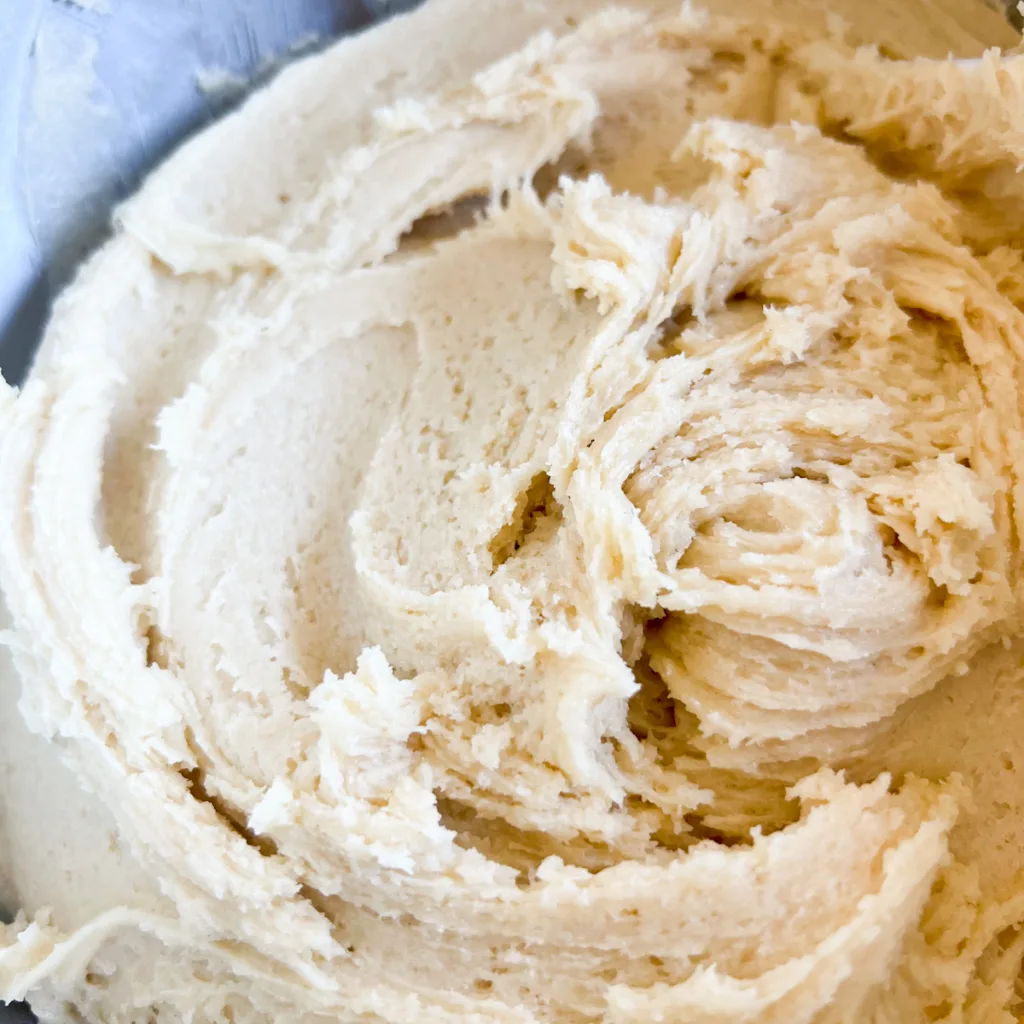 Bake the Cookies
Bake the cookies in batches on the center rack of your oven for 9-11 minutes. It's important to note that the cookies may appear underdone when you take them out of the oven. Resist the temptation to cook them longer.
Once you remove the cookies from the oven, let them cool for at least 10 minutes before transferring them to a cooling rack to finish cooling. Allowing them to fully cool will help them set and achieve a perfectly soft and chewy texture.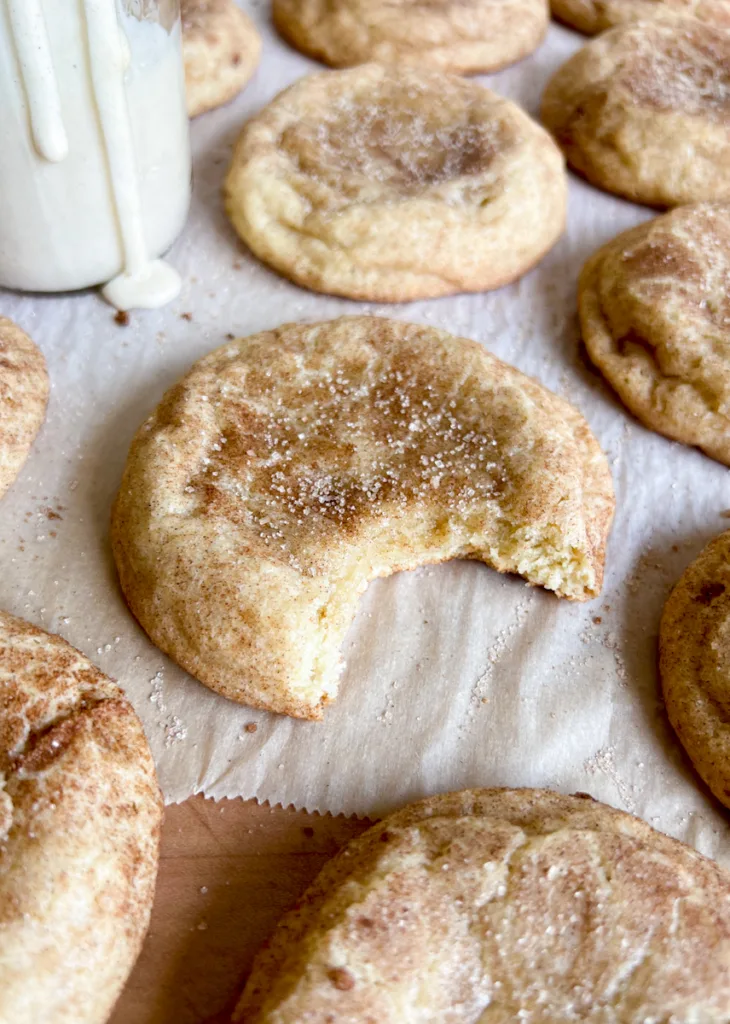 Sourdough Snickerdoodle Cookies FAQ
What if I don't have cream of tarter?
If you don't have cream of tartar, you can omit it from the recipe, just be sure to use discard instead and not active starter. Sourdough discard has enough acidic byproduct to react with the baking soda and give these snickerdoodles their classic chewy texture and tangy bite.
Can I use active sourdough starter?
Feel free to substitute active sourdough starter for sourdough discard in this recipe. Since active starter has more aeration so it will measure differently. Weigh your active starter for best results.
Do I need to chill the cookie dough?
You can bake these cookies immediately after mixing the dough. However, if you prefer, you can chill the dough to make it easier to handle. The decision to chill or not is entirely up to you!
Can I save the cookie dough and bake it later?
The cookie dough can be stored in the refrigerator for up to three days, and baked directly from being chilled. To freeze, wrap the cookie dough tightly and store it in the freezer for up to three months. Then when you're ready to bake, transfer the wrapped dough to the refrigerator and let it thaw overnight.
How do I store baked sourdough snickerdoodle cookies to keep them fresh?
Once the cookies have cooled completely, transfer them to an airtight container. Store the cookies at room temperature for up to three days or in the refrigerator for up to a week.
More Cookies and Discard Recipes