These chocolate chip coffee cookies are a dream come true for coffee lovers. Coffee flavored cookies with an irresistible brown sugar chew, and loads of chocolate chips in every bite, make the ultimate morning treat.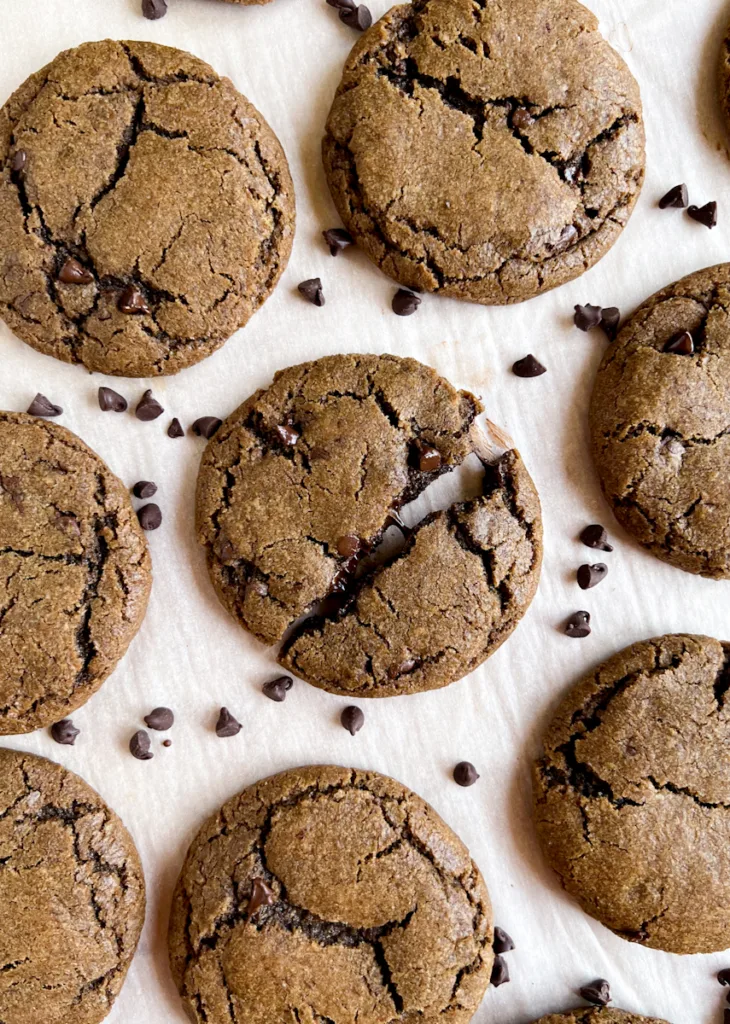 If you're a coffee lover, these coffee-flavored cookies are a must-try. They are not just any cookies, but soft, chewy, and irresistibly sweet cookies, with a healthy kick of coffee. The combination of rich brown sugar and chocolate creates a perfect balance to complement the robust coffee flavor. Plus, each chocolate chip coffee cookie packs as much caffeine as a quarter cup of coffee! That means you can enjoy them as a delightful breakfast or as a tasty pick-me-up throughout the day. Coffee cookies are the perfect excuse to skip the coffee machine and head straight for the cookie jar.
Your kitchen is going to smell absolutely amazing when you bake these cookies! The smell of freshly baked cookies and freshly brewed coffee all at once. It's a truly wonderful smell that will have everyone's mouths watering and noses in the air, eagerly waiting for a taste.
Chocolate Chip Coffee Cookie Ingredients
Making chocolate chip coffee cookies doesn't require any special or out of the box ingredients. In fact, you may have everything you need on hand!
All-Purpose Flour – I highly recommend using unbleached all-purpose flour for this recipe. Unbleached flour is a great choice as it retains more natural nutrients and has a slightly higher protein content compared to bleached flour. This can result in better texture and structure for your cookies.
Instant Coffee Grounds – For the best flavor in your coffee cookies, I recommended to choose a high-quality brand of instant coffee. You can use a light, medium, dark or decaf roast, based on your taste preferences and desired caffeine level.
Baking Soda and Powder – A combination of baking powder and baking soda in this coffee cookie recipe helps to make the cookies thick and chewy.
Sea Salt – Salt helps to enhance the flavors in the cookies. If you're using salted butter, you can skip adding additional salt.
Brown Sugar – Brown sugar not only adds a caramel-like sweetness to your cookies, but also plays a crucial role in achieving their texture. The presence of brown sugar contributes to the chewiness of the cookies and helps promote the spreading action as they bake.
Butter – You have the flexibility to use either salted or unsalted butter for this recipe. Whichever option you prefer, it's important to ensure that your butter is at room temperature.
Vanilla – Much like salt, vanilla helps to enhance the flavors of all the other ingredients in your cookies. For the best results use real vanilla extract rather than imitation vanilla.
Eggs – Eggs act as a binding agent, helping to hold the ingredients together and providing structure to the cookie dough.
Chocolate Chips – Coffee and chocolate pair perfectly together. I like to use mini chocolate chips so that they are more evenly distributed through out my cookies.
Tips for Making Chocolate Chip Coffee Cookies
Use Instant Coffee Grounds – When making this recipe, make sure to use instant coffee and not regular ground coffee. Instant coffee dissolves into the dough, giving your cookies a rich coffee flavor without any gritty pieces of ground coffee. Choose a high quality instant coffee for the best flavor and texture.
Don't Cream the Butter and Sugar – Creaming the butter and sugar together incorporates more air into the cookie dough, which will result in a texture that leans towards a cake-like consistency.
Use Room Temperature Butter – Using cold butter will yield dense cookies that don't spread properly, while melted butter will cause your cookies to spread too much, resulting in thin cookies. So, achieving the perfect texture and thickness relies on having your butter at the right temperature. To test if the butter is ready, simply press your finger into it. If it easily goes through without resistance, it's good to go.
Don't Over Mix – Over-mixing cookie dough can lead to excessive gluten development, resulting in tough and overly chewy cookies. It's important to mix the dough until the ingredients are just combined to avoid overworking the gluten.
Don't Over Cook – When you take the cookies out of the oven, they may appear undercooked. Don't panic! It's important to resist the temptation to cook them longer. The cookies will continue to cook for a few minutes after being removed from the oven. Allow them to cool for 10-15 minutes, before transferring them to a cooling rack to finish cooling. They will fully set up and achieve their desired texture during this time.
How to Make Chocolate Chip Coffee Cookies
Making chocolate chip coffee cookies is simple. You won't need any specialized equipment, and the dough can be prepared in under 30 minutes. The best part is that this dough doesn't need to be chilled; it can be baked immediately after being mixed. To find a full list of ingredients and their measurements, take a look at the recipe card below:
Make the Cookie Dough
Preheat your oven to 350°F.
In a medium-sized mixing bowl, whisk together the flour, instant coffee grounds, baking soda, baking powder and salt, until they are evenly mixed. Then, set the bowl aside.
Using a sturdy spatula or mixing spoon, stir together the brown sugar and room temperature butter in a large mixing bowl until they are fully combined, scraping down the sides as needed. Be cautious not to cream the mixture, as this could result in a more cake-like texture.
Add the vanilla, egg, and egg yolk to the bowl. Whisk everything together until well combined.
Add the dry ingredients to the wet mixture, and stir until a slightly crumbly dough forms. Then, gently fold in the chocolate chips until they are evenly distributed throughout the cookie dough.
Roll the Cookies
Scoop and roll the cookie dough into 2-inch balls and space them 3 inches apart on a parchment-lined baking sheet. For uniform cookies, you can weigh each portion of cookie dough out to 50g.
Bake the Cookies
Bake the cookies in batches on the center rack of your oven for 9-11 minutes. It's important to note that the cookies may appear underdone when you take them out of the oven. Resist the temptation to cook them longer.
Once you remove the cookies from the oven, let them cool for at least 10 minutes before transferring them to a cooling rack to finish cooling. Allowing them to fully cool will help them set and achieve a perfectly chewy texture.
Chocolate Chip Coffee Cookies FAQ
How much caffeine is in each cookie?
The amount of caffeine in each cookie may vary depending on the brand and roast of instant coffee used. On average, it can range from 12mg to 24mg of caffeine per cookie. Please keep in mind that these figures are approximate and can differ based on specific coffee brands and variations.
Can I use decaf coffee?
You can use decaf instant coffee instead of regular instant coffee. This way, you can still have delicious coffee flavored cookies without the caffeine content. It's a great option to ensure that the cookies are suitable for all ages to enjoy!
Can I save the cookie dough to bake it later?
The cookie dough can be stored in the refrigerator for up to three days, and baked directly from being chilled. To freeze, wrap the cookie dough tightly and store it in the freezer for up to three months. Then when you're ready to bake, transfer the wrapped dough to the refrigerator and let it thaw overnight.
How do I store baked coffee cookies to keep them fresh?
Once the cookies have cooled completely, transfer them to an airtight container. Store the cookies at room temperature for up to three days or in the refrigerator for up to a week.

More Cookies and Treats