Scalloped potatoes are the ultimate comfort food. When you throw in ranch and ham, it gives this classic dish the perfect upgrade! Cheesy Ranch Scalloped Potatoes with Ham is the perfect holiday dish or for any ol' occasion.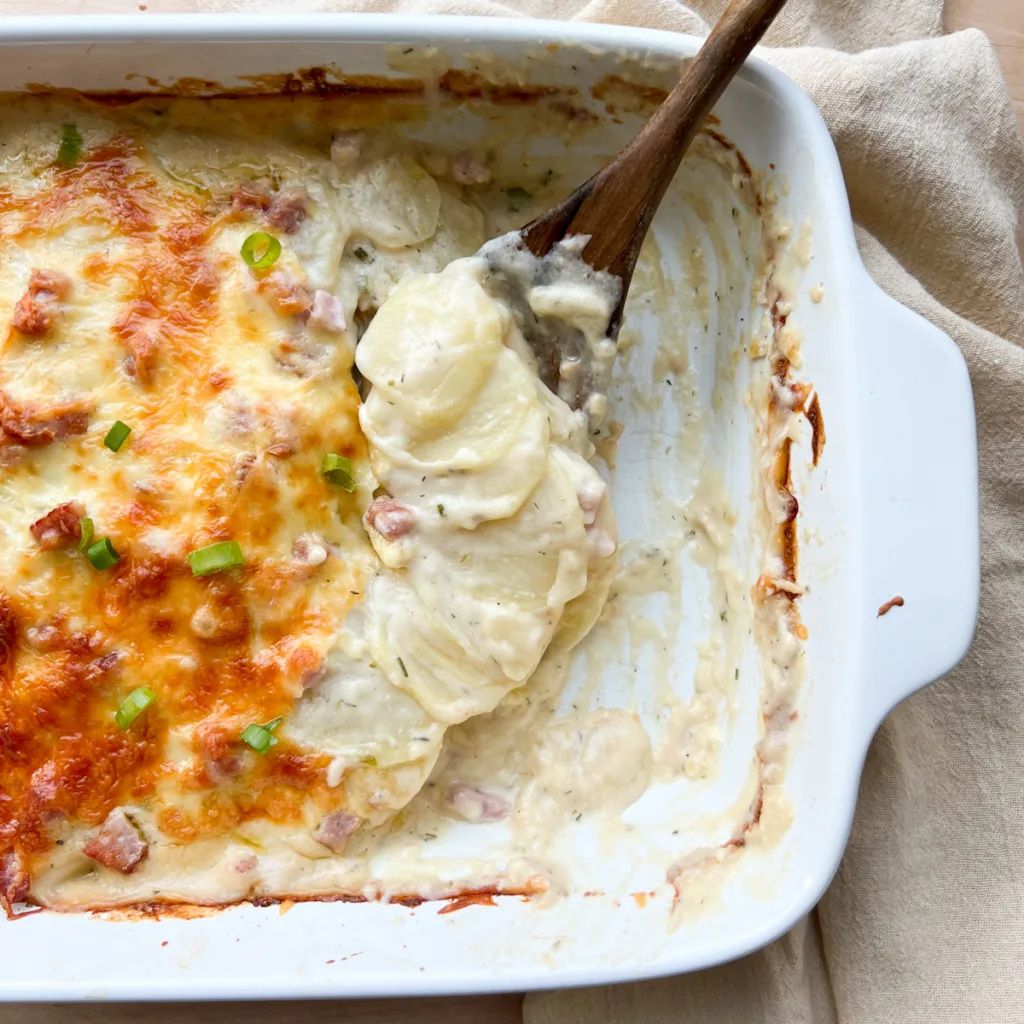 This recipe is creamy, dreamy, and the perfect way to use leftover Thanksgiving or Easter ham. Honestly, It's perfect for any time of year or any occasion! I especially love serving this as a holiday brunch casserole. The secret ingredient here is ranch dressing. Added ranch really takes these homemade scalloped potatoes to a whole new level. This is a family-friendly meal idea that everyone is sure to love!
Ingredients
Potatoes – I love using good ol' russet potatoes, but golden potatoes are an easy substitute.
Butter – Unsalted butter is used to make a roux that will thicken the cream sauce.
Flour – I used unbleached all-purpose flour.
Milk – Whole milk adds a creaminess to the sauce.
Chicken Bone Broth – Chicken Bone broth adds both flavor and nutrition!
Ranch – Homemade Ranch is easy to make and perfect to use in this recipe.
Salt and Pepper – Salt and pepper the sauce until it matches your taste.
Cheese – Freshly shredded cheddar and mozzarella add all the cheesy goodness to this dish.
Ham – Use pre-cooked ham diced into small bite sized pieces. Leftover Easter ham works perfectly!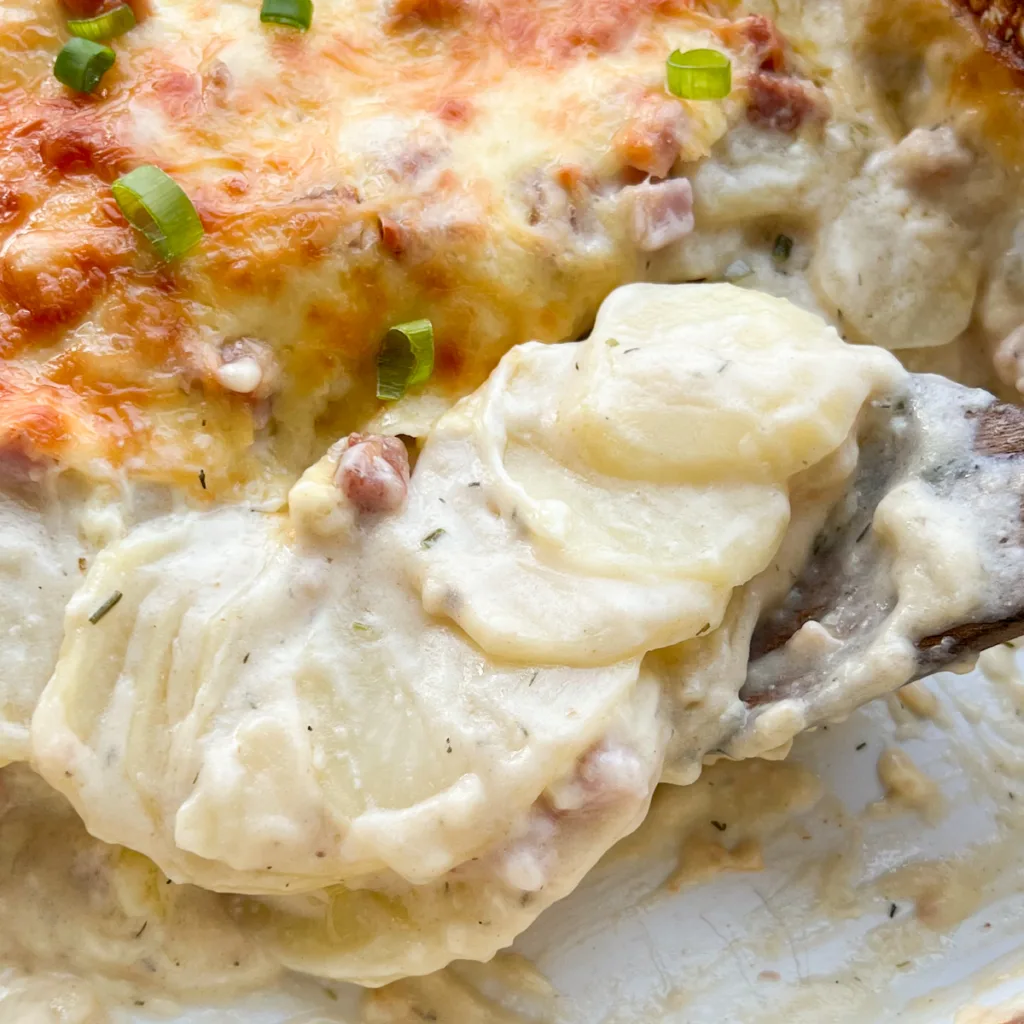 What's the Difference Between Au Gratin Potatoes and Scalloped Potatoes?
Au gratin potatoes are a dish of thinly sliced potatoes with a cheese sauce poured over top before being baked to bubbly perfection. Scalloped potatoes typically consist of thinly sliced potatoes that are layered with a cream sauce made from butter, flour, and milk. This scalloped potatoes with ham and cheese recipe brings the best of both worlds. Since this dish is layered like classic scalloped potatoes, I chose to call it that. Though you could honestly call it whichever you prefer!
How to Make Cheesy Ranch Scalloped Potatoes and Ham
Step 1: Prep the Ingredients
Wash and peel the potatoes before thinly slicing them. Aim for a thickness of about 1/8″.
Dice the pre-cooked ham into 1cm pieces.
Shred the cheddar and mozzarella if not using pre-shredded cheese and toss them together in a large bowl so that both cheeses are thoroughly mixed.
Step 2: Make the Sauce
In a large sauce pan over medium heat, melt the butter fully. Add in the flour and whisk until fully combined to make the roux. Cook on medium heat for a few minutes or until it begins to turn slightly golden in color.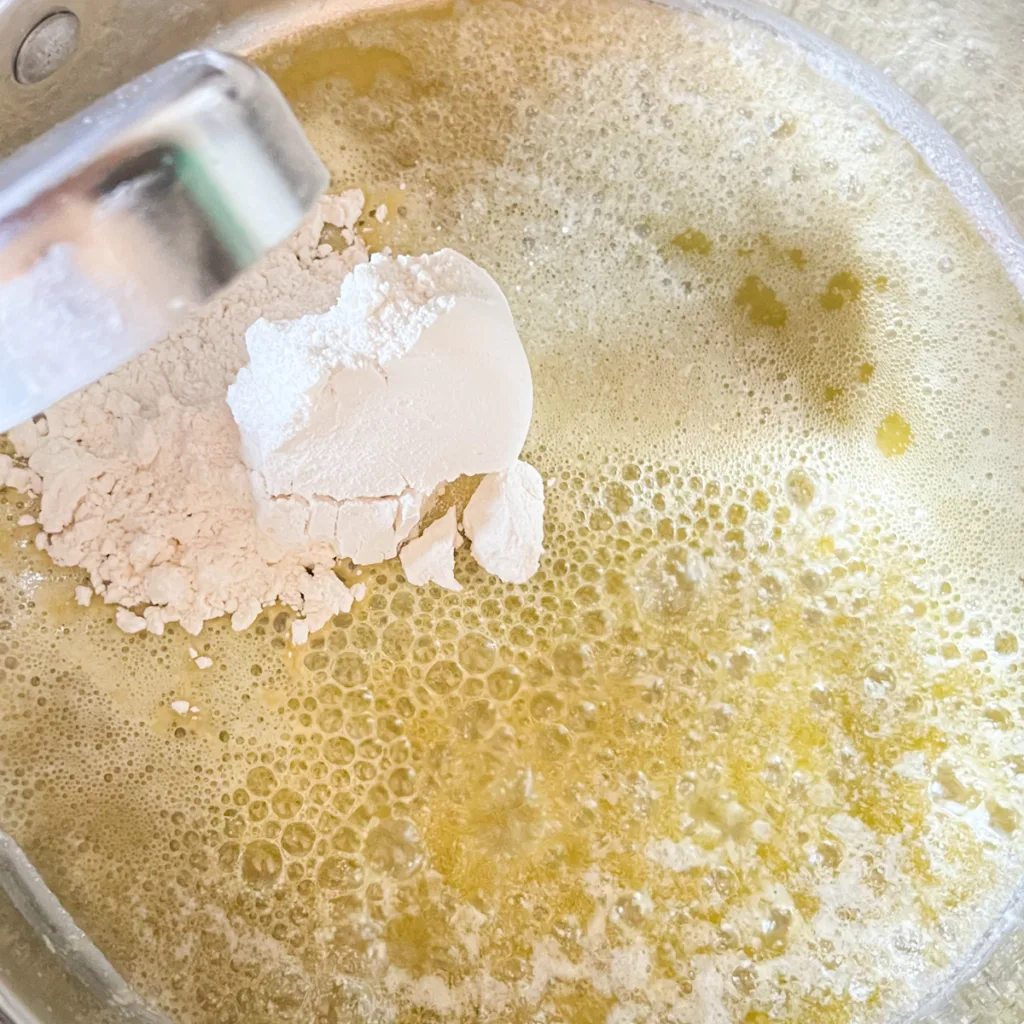 Reduce the heat to medium low and slowly pour in the milk and chicken broth while continuously stirring. Once the cream sauce is bubbly and the consistency of a thick gravy, fully stir in the ranch dressing, salt, and pepper.
Taste the sauce and add more salt and pepper to taste, then remove it from the heat.
Step 3: Layer the Casserole
Preheat your oven to 350°F(180°C) and lightly butter a 9″x13″ casserole dish.
Arrange half of the sliced potatoes in an even layer at the bottom of the casserole dish. Lay them out so that they are all partially overlapping each other.
Then evenly top the first layer of potatoes with half of the cream sauce.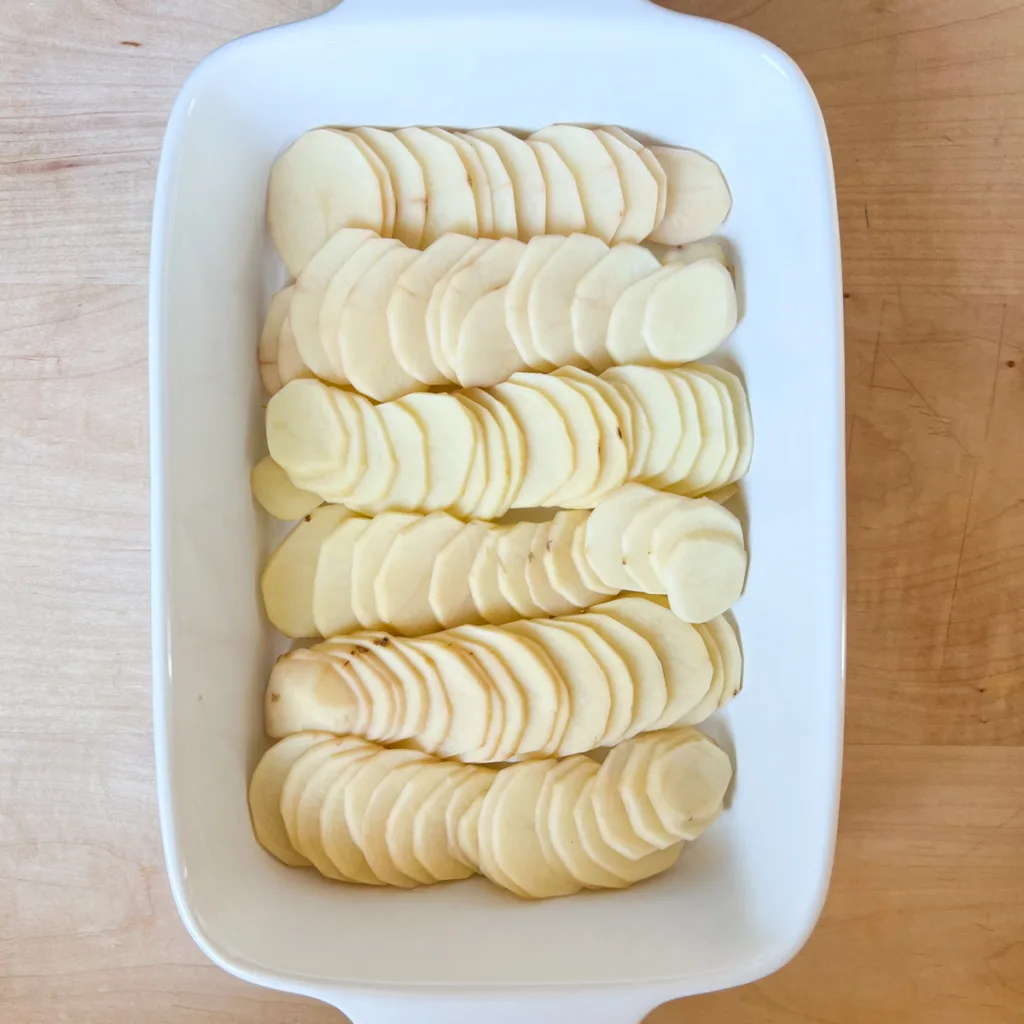 Sprinkle half of the ham that you pre diced on top of the cream sauce.
Next, evenly spread half of the mixed cheese for the next layer.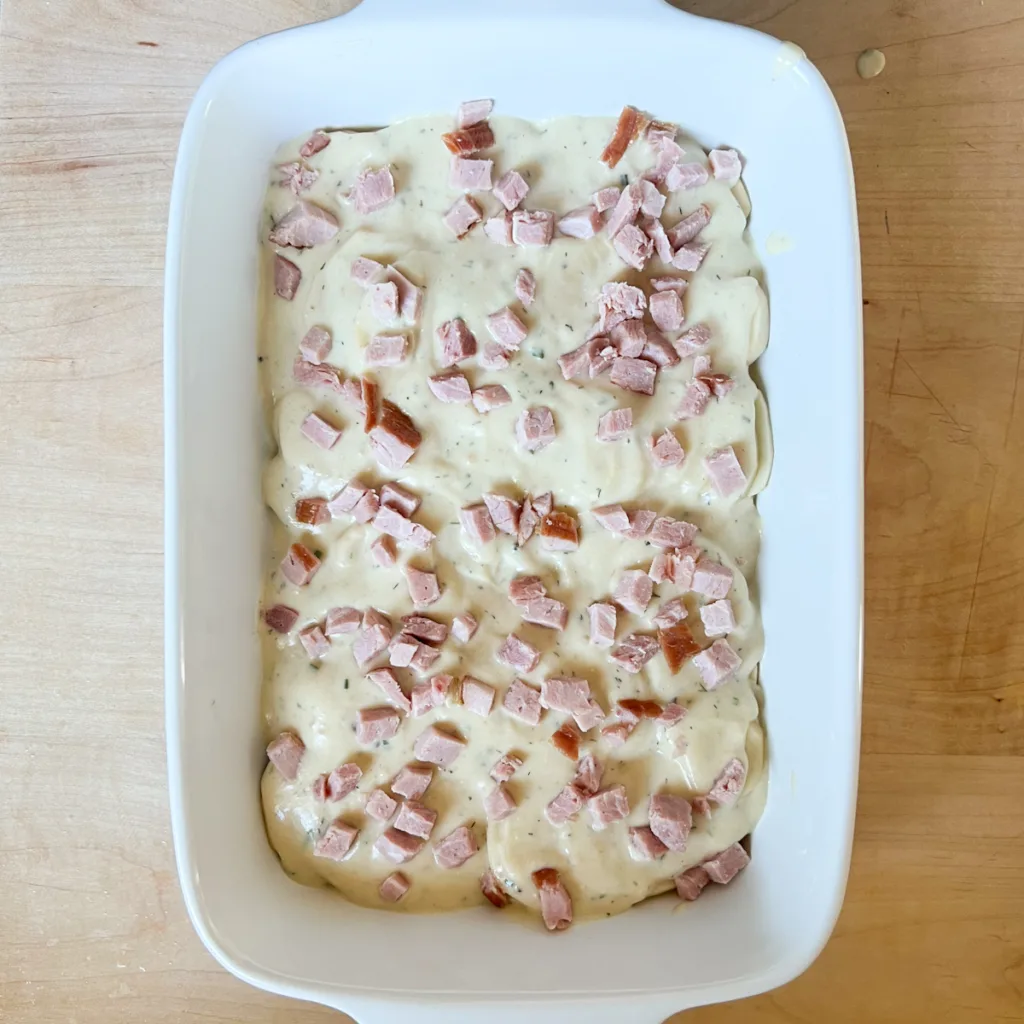 Repeat these layers with the remaining half of your ingredients.
Step 4: Bake
Place the casserole dish on the second to bottom rack of your pre-heated oven and bake for 45-50 minutes.
Allow the dish to cool for 15 minutes before serving.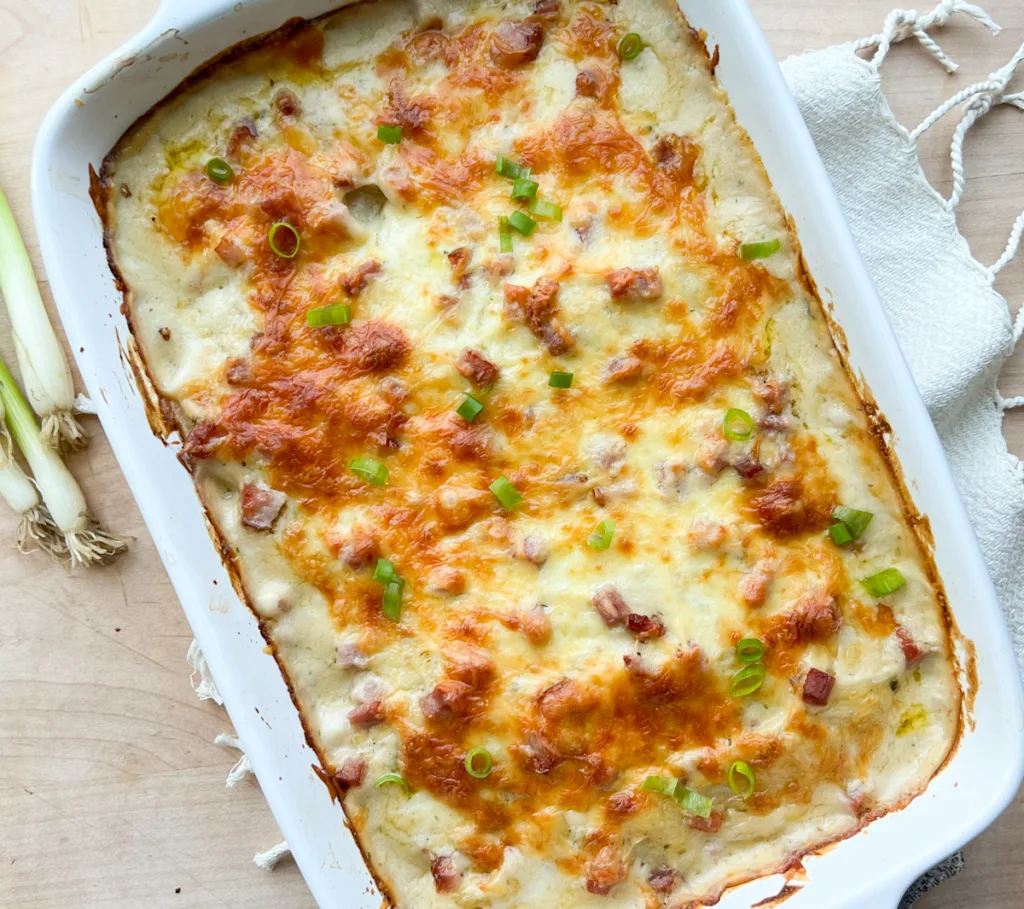 More Dinner Recipes