Freshly grated carrots, warm spices, a pillowy interior, all topped with a thick layer of cream cheese frosting. No, I'm not talking about carrot cake, I'm talking about sourdough carrot cake cinnamon rolls! Two of my all time favorite spring treats combined to make the ultimate Easter breakfast or brunch recipe.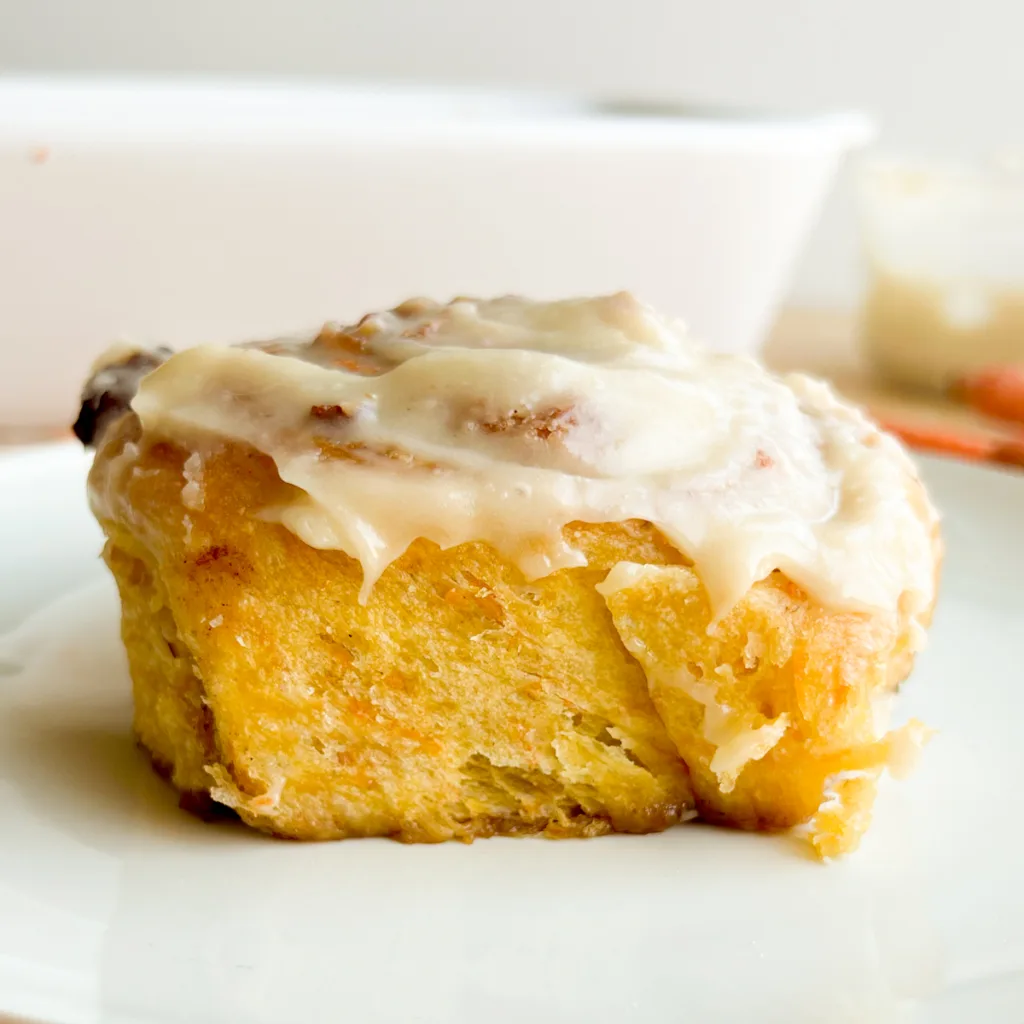 These Sourdough Carrot Cake Cinnamon Rolls are pillow soft and gooey, as any good cinnamon roll should be, but they are also filled with the lovely warm flavors of carrot cake. The dough for this recipe is filled with finely grated carrots, making these rolls extra soft and adding an oh so sweet orange tint. The filling is spiced to carrot cake perfection and filled with walnuts. The whole thing is topped with a rich vanilla cream cheese frosting. These rolls really make the perfect easter breakfast or brunch.
This recipe uses sourdough starter instead of conventional bakers yeast, so they will require a longer rise time. Check out my sample bakers schedule to get an idea for when to start and plan ahead.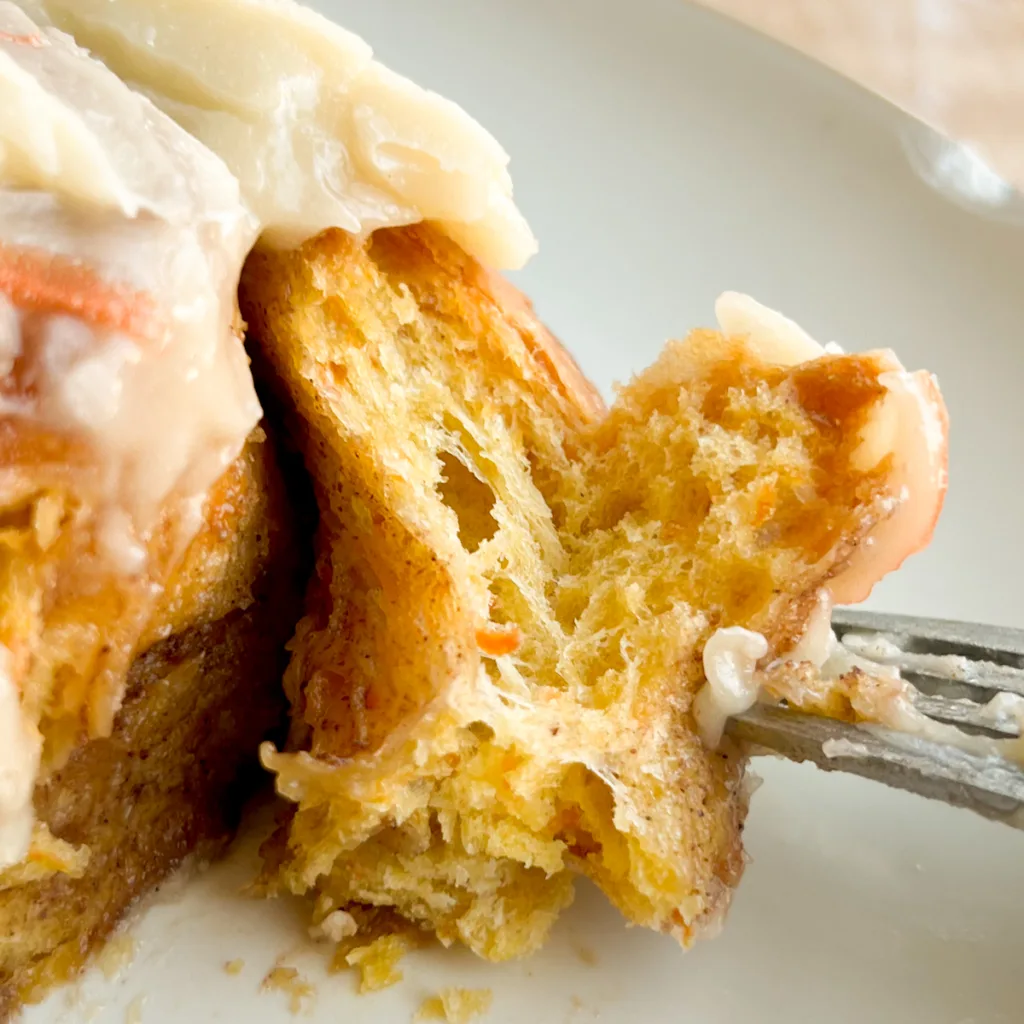 Ingredients
The Dough:
Whole Milk – We love raw milk in our home.
Sourdough Starter – Fed the morning before you plan to bake so it is active and bubbly.
Sugar – Raw organic sugar is what I use, but coconut sugar works as well.
Egg – A large egg at room temperature.
Bread Flour – Bread flour gives best results, but all-purpose can be used..
Salt – Salt is added to strengthen the dough.
Butter – I use unsalted, but if you have salted you can omit the salt in this recipe.
The Filling:
Butter – Room temperature. You can test your butter by pressing on it. If you can push all the way through without resistance, your butter is ready.
Sugar – Raw organic sugar is what I use, but coconut sugar will work as well.
Molasses – If you don't have molasses in your pantry substitute brown sugar in place of the regular sugar.
Cinnamon, Nutmeg, and Ginger – My favorite carrot cake spices!
Walnuts and Raisins – These are optional add ins. If adding walnuts make sure they are chopped.
The Frosting:
Cream Cheese – Because you cant have cinnamon rolls or carrot cake without cream cheese frosting.
Butter – I used room temperature unsalted butter.
Powdered Sugar – Organic powdered sugar is lumpy so it will need to be sifted.
Vanilla – A little vanilla adds a lovely flavor to the frosting.
Grated Carrots – I topped my rolls with grated carrots for a decorative flare.
How to Make Sourdough Carrot Cake Cinnamon Rolls
Tip: Take a look at my Sample Bakers Schedule before you begin so you have a better idea on when to begin and how to plan ahead.
Step 1: Mix the Dough
In a large bowl whisk together your active sourdough starter and milk until the starter is completely dissolved.
Then whisk in the finely grated carrots, vanilla, sugar and egg.
Add in the flour, spices, and salt until a shaggy dough forms.
Melt the butter and allow it to cool until it is no longer hot to the touch. Add it to the dough and mix until it is fully incorporated.
Step 2: Strengthen the Dough
After mixing, cover the dough with a damp cloth and allow it to rest for 30 minutes.
After the rest period, uncover the dough and perform a set of stretch and folds. Stretching and folding will strengthen the dough.
How to Stretch and Fold:
Lightly wet your hands before handling the dough to prevent sticking.
Scoop up an edge of the dough and gently pull it upwards.
Once the dough reaches a point where it resists being pulled go ahead and fold the dough over itself.
Give the bowl a quarter turn and repeat this stretching and folding motion.
You will turn the bowl, stretch and fold until the bowl comes full circle. These four stretch and folds are called a set.
Repeat this process of resting the dough and performing stretch and folds two more times. You will have performed three total sets.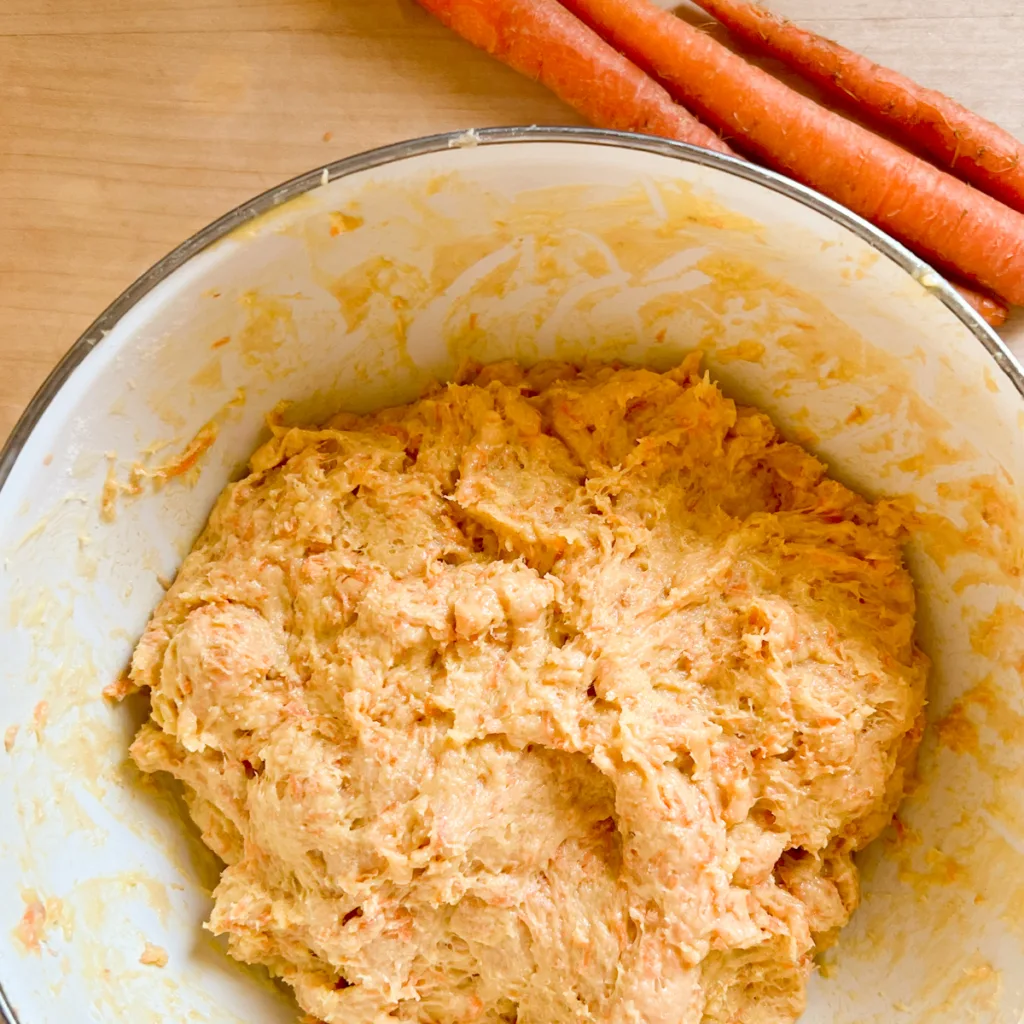 Using a stand mixer? Skip the stretch and folds: If you own a stand mixer you can rest the dough for 30 minutes after mixing, and then run the mixer on medium-low with a dough hook attachment for about 10 minutes, or until the dough is smooth and elastic and fully pulls away from the sides.
Step 3: Bulk Ferment
Cover your bowl with a damp cloth to bulk ferment at 70°F(21°C) for 9-11 hours, or overnight. The dough will need to rise until it is almost double its original size. Rise times will vary depending on the temperature of your home, add or subtract time if your home is cooler or warmer.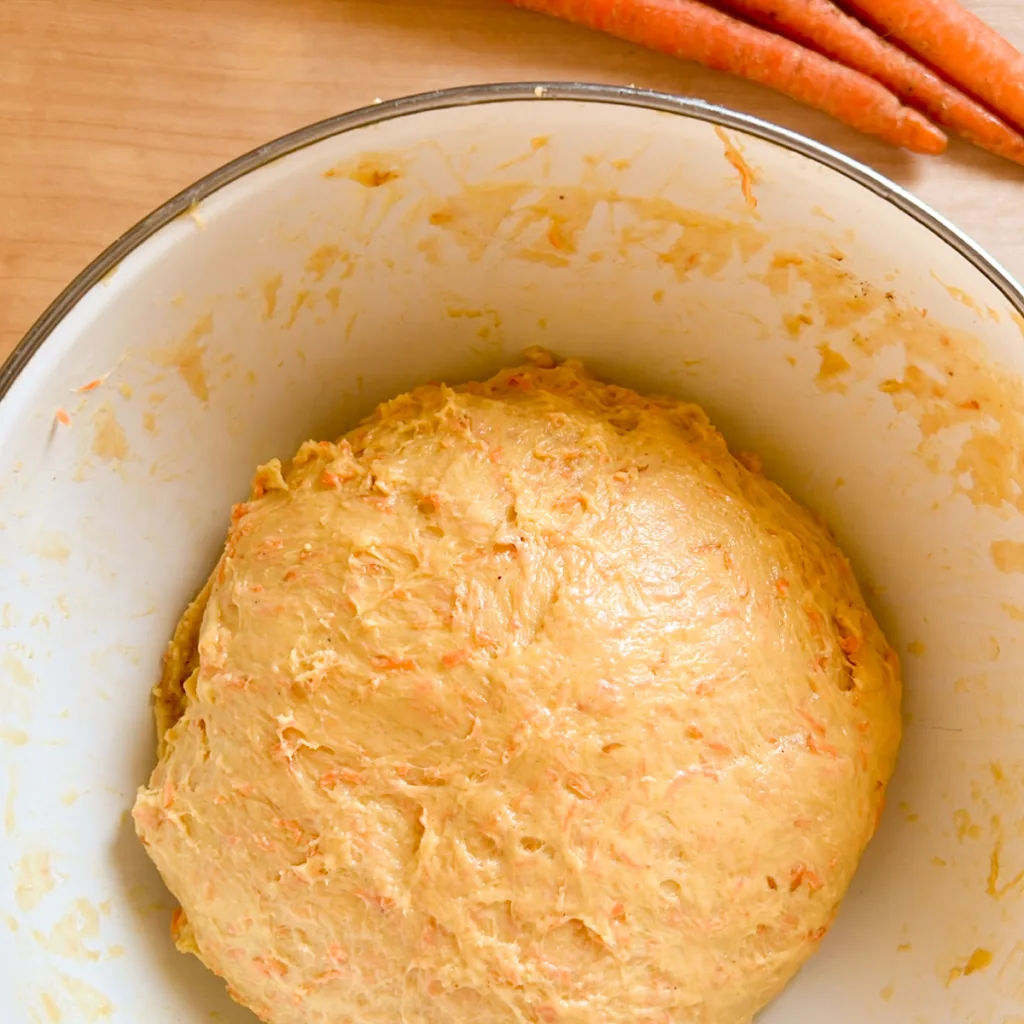 Step 4: Roll the Dough
Lightly flour your work surface before turning out the dough. Pat the dough into a rectangular shape, and use a floured rolling pin to roll the dough into a 13″x15″ rectangle.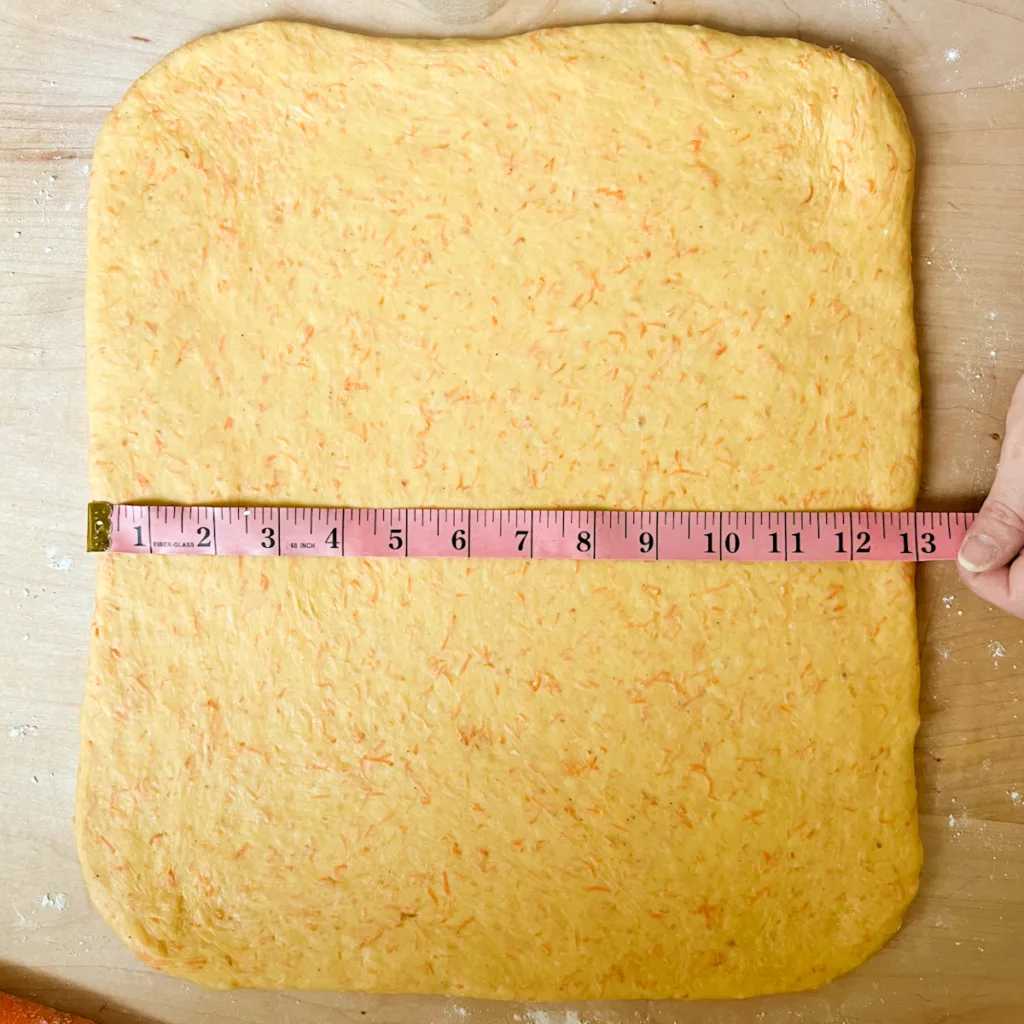 Step 5: Make the Filling
Mix the sugar, molasses, and spices in a bowl to make the filling and set aside.
Tip: If you don't have molasses substitute the regular sugar with brown sugar.
Spread the room temperature butter onto the sheet of dough leaving a one-inch margin crosswise. This margin is to help seal the rolls once you roll up the dough.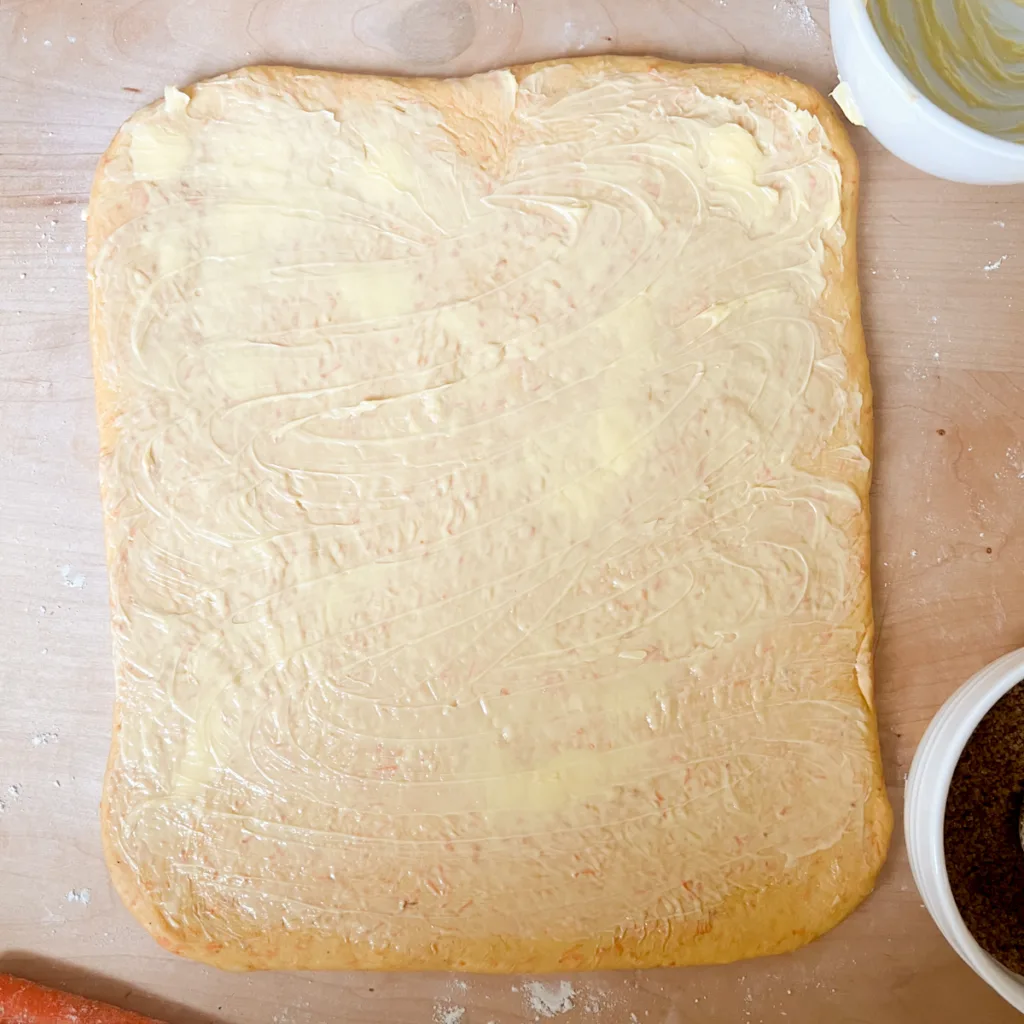 Is your butter soft enough? You can test your butter by pressing your finger into it. If you can push all the way through without resistance your butter is soft enough.
Add the spiced sugar mixture and spread it evenly on top of the layer of butter. Add chopped pecans, walnuts, or dried fruit if you like.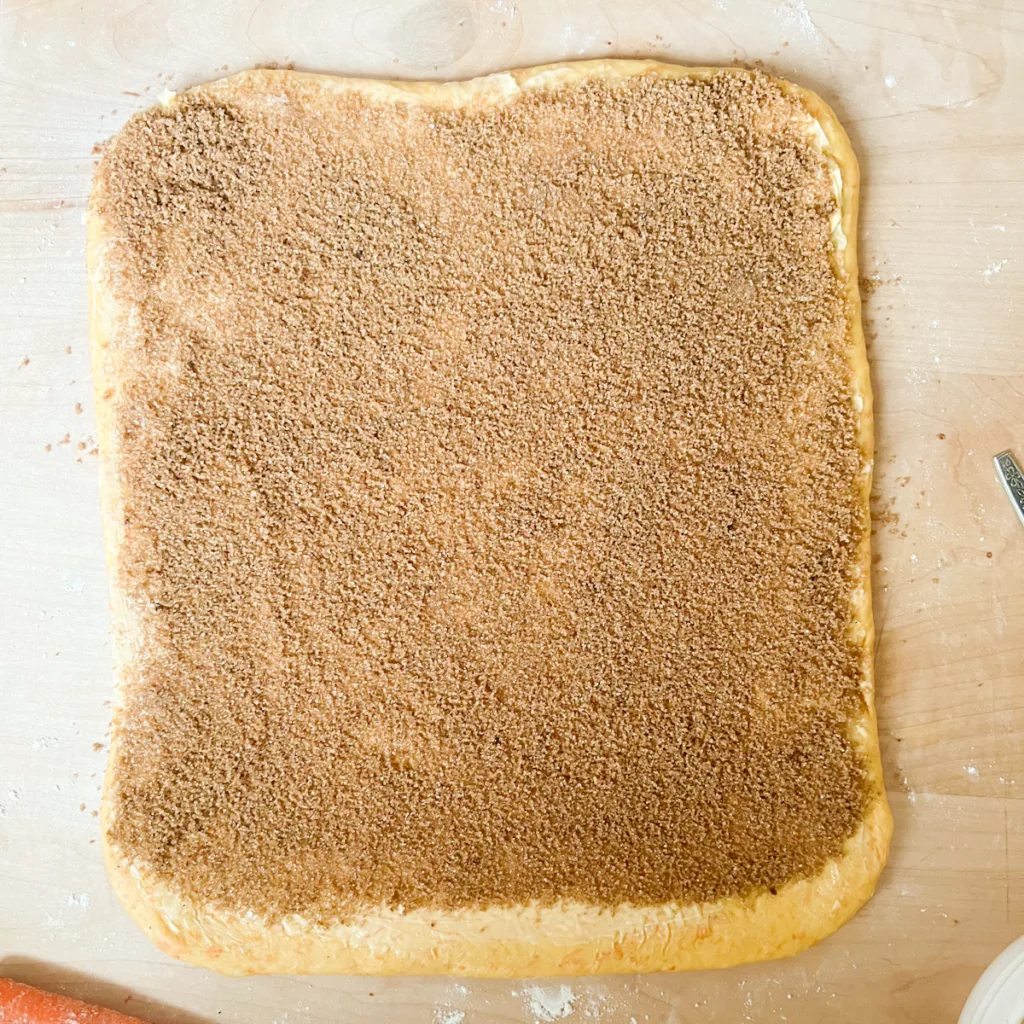 Step 5: Roll and Cut
Now that the filling is spread roll the dough up tightly. Start with the end opposite of the margin and roll inwards applying a gentle pressure.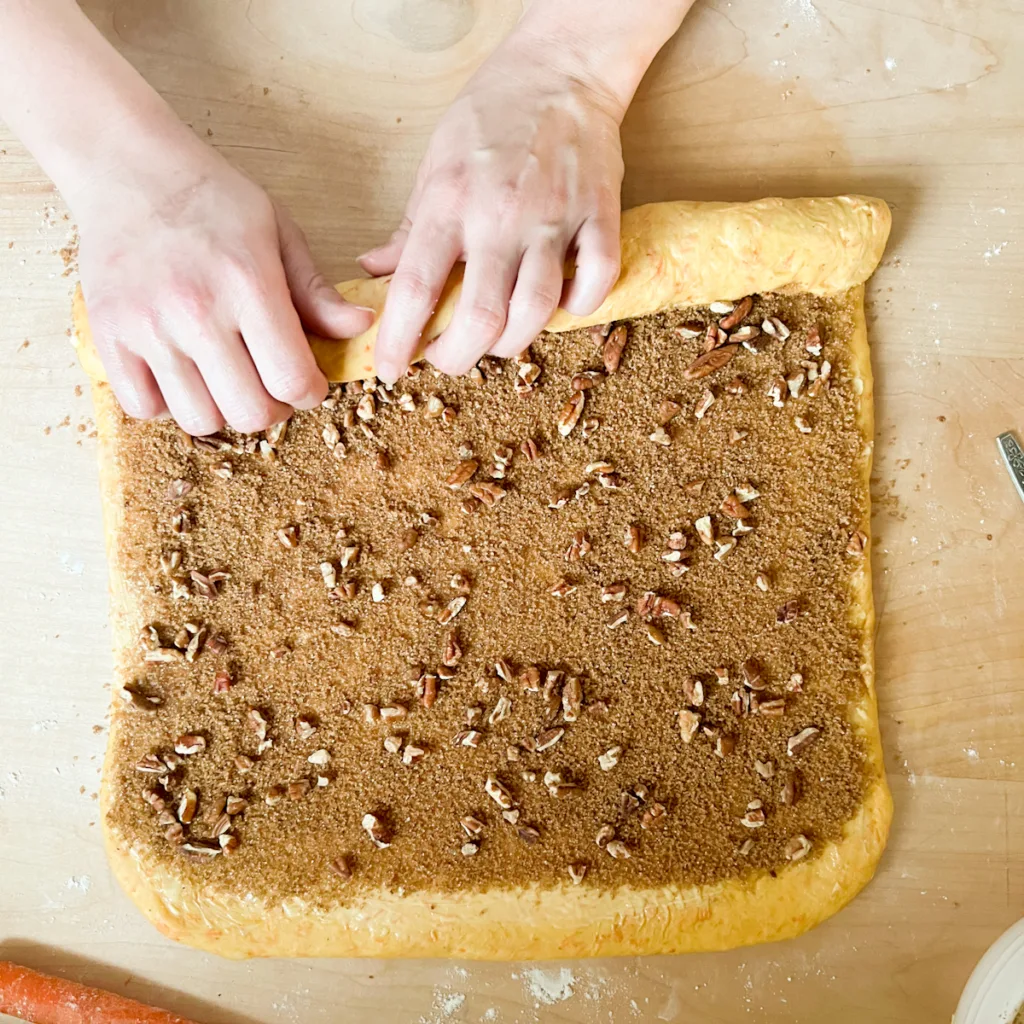 Lightly wet your margin with water before sealing and allow your roll to rest seam down for a minute to ensure a tight seal.
Using a non-serrated knife cut your log into eight equally sized rolls.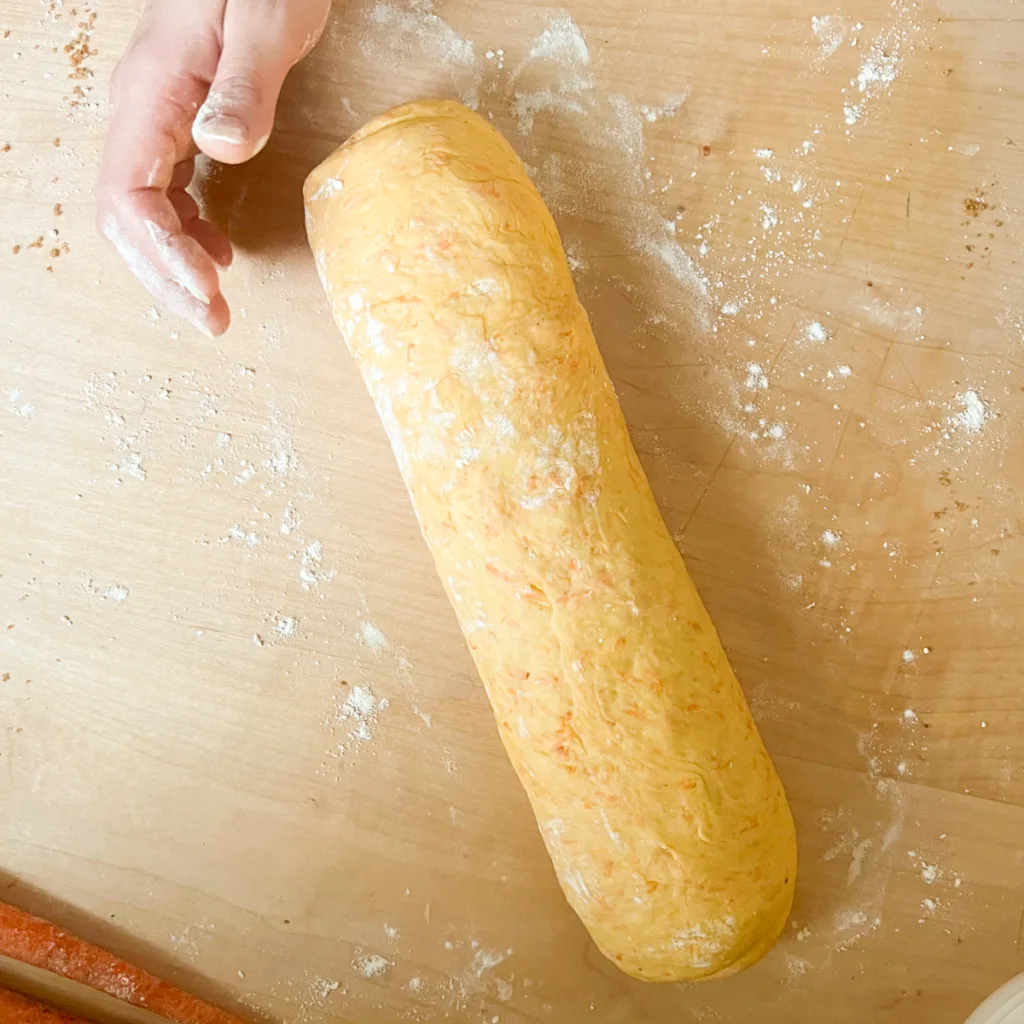 Tip: Wetting your knife every few cuts will prevent the dough from pulling and give you a clean cut.
Step 6: Second Rise
Place your cut rolls into 9″x13″ pan and cover with a damp cloth. Allow them to rise at 70°F(21°C) for for 2 hours, or until they are about half of their original size. Rise time will depend on the temperature of your home.
Tip: To speed up the second rise you can preheat your oven and place your pan on top of the stove. The heat the oven gives off will allow your rolls to rise much quicker.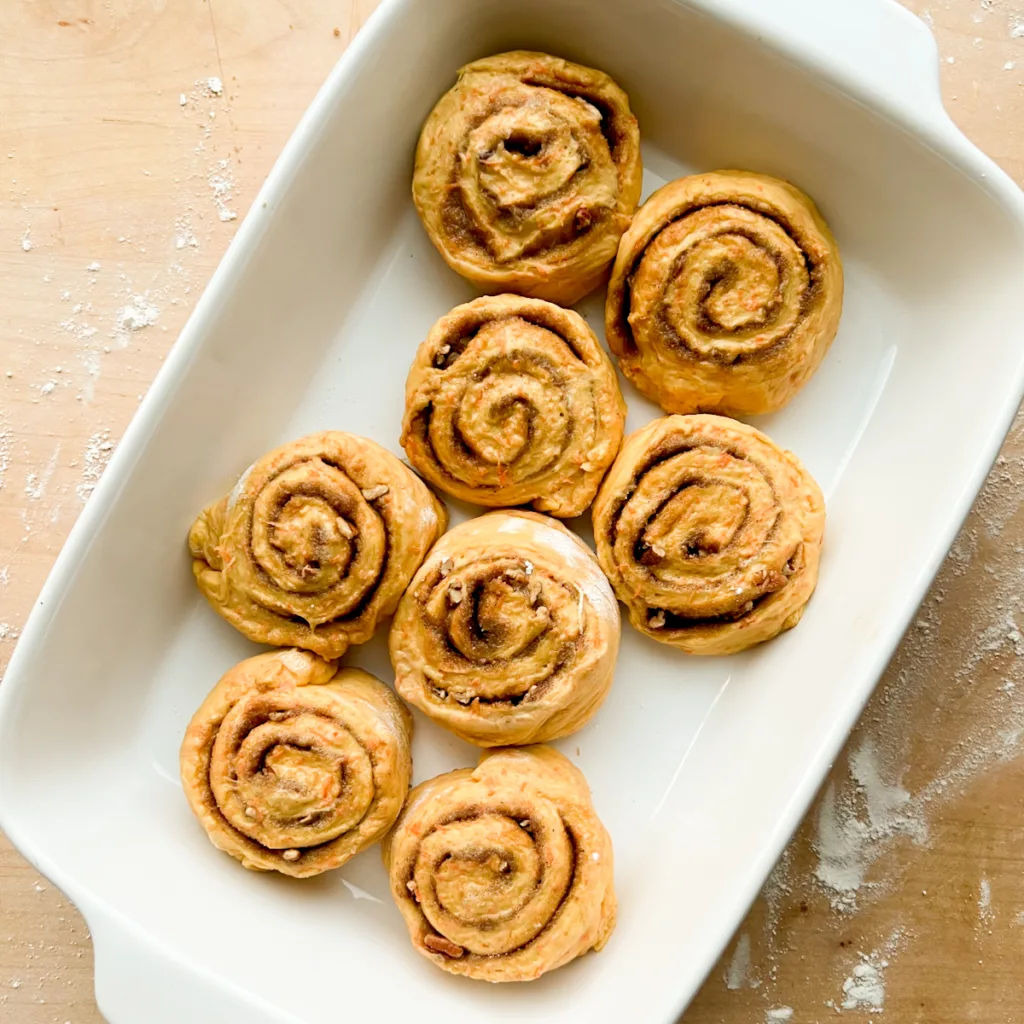 Wanting to bake later? Cover and place your pan of rolls in the fridge for up to 24 hours or in the freezer for up to a week. When you are ready to bake allow your rolls to come to room temperature and perform the second rise.
Step 7: Bake and Frost
Place your rolls in the center rack of a 350°F preheated oven for 25-30 minutes. While your rolls bake make the frosting. Whip together the softened cream cheese, butter, vanilla, and powdered sugar. Once out of the oven allow your sourdough carrot cake cinnamon rolls to cool for 15 minutes before frosting. Serve and enjoy!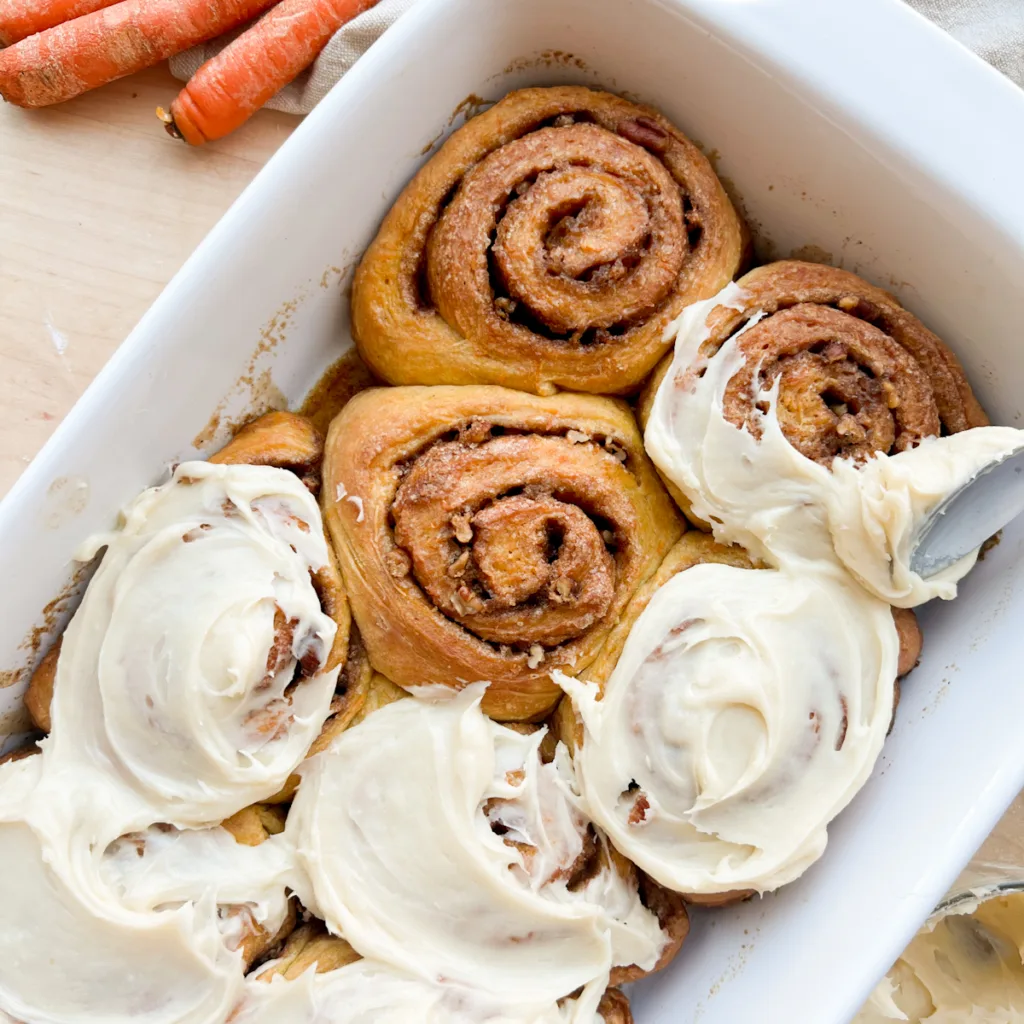 Sample Bakers Schedule
8 AM (day 1): Feed your sourdough starter.
7 PM (day 1): Mix your dough and cover.
7:30 PM (day 1): Perform a set of stretch and folds.
8 PM (day 1): Perform a second set of stretch and folds.
8:30 PM (day 1): Perform a third set of stretch and folds and cover to rise overnight.
6:30 AM (day 2): Roll and cut your dough.
7 AM (day 2): Cover pan for second rise.
9:30 AM (day 2): Bake.
10:15 AM (day 2): Frost and serve.
More Sourdough Recipes