This double layer chocolate walnut cake with chocolate buttercream is tall, moist, and loaded with walnuts and chocolate flavor. It's a moist and indulgent cake to make and share with family and friends.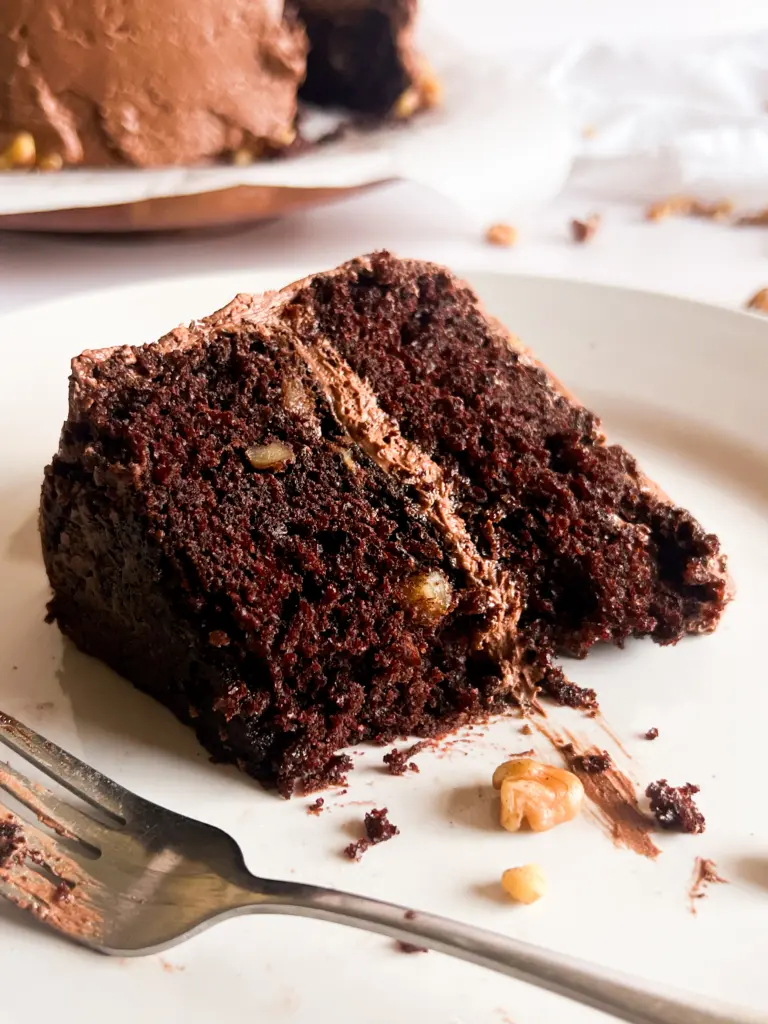 Why I Love This Recipe
For my sons most recent birthday he requested a blueberry chocolate cake, and you better believe that mom delivered! It was such a hit that when my dads birthday came up I decided to make it again, but this time with walnuts, my dads favorite. This chocolate walnut cake uses the same cake batter recipe and the same frosting, so I knew it would be perfect. Once again this cake was a crowd pleaser!
This two layer cake is incredibly light, moist and fluffy. It has rich chocolate flavor and a an indulgent chocolate buttercream frosting. Pair it with a tall glass of milk and there is no way you can resist seconds.
Ingredients
Every ingredient plays an important role when making this chocolate walnut cake. This list explains the role of each ingredient when making this recipe, and also offers possible substitutions. See the recipe card below for a list of the ingredients with their amounts.
Ingredients for the Cake
All-purpose Flour – The heart and soul of any great cake, flour is the main structure-building ingredient in the cake. All-purpose flour provides the necessary structure and texture to the cake. I used unbleached organic all-purpose flour to make this chocolate walnut cake.
Granulated Sugar – Sugar is what makes this cake so sweet and yummy! It also helps to create a light and airy texture by interacting with the fats and liquids. I like to use organic cane sugar when baking.
Cocoa Powder – You can't make a chocolate cake without the chocolate! Unsweetened cocoa powder provides the rich chocolate flavor and color to the cake. Use unsweetened non-dutch cocoa powder for best results.
Baking Soda – Baking soda helps lift the cake and neutralizes the acids in the cocoa powder and coffee. It contributes to the cake's rise and also helps with browning.
Baking Powder – Baking powder also helps to leaven this recipe by producing carbon dioxide gas when it reacts with moisture and heat in the oven. This results in a light and fluffy texture. For best results be sure to use both baking soda and baking powder.
Salt – Salt enhances the overall flavor of the cake. It balances out the sweetness and other flavors, making them more pronounced.
Milk – Milk adds moisture to the cake, contributing to its tenderness. It also helps in creating a smoother batter. For best results use full fat milk.
Coconut Oil – Oil is needed to ensure the final cake is moist because cocoa powder is very drying. I use coconut oil in most of my recipes for health reasons, but any neutral oil will work. Don't use butter as a substitute in this recipe.
Egg – Eggs help give the cake body and structure. Make sure your eggs are room temperature when making the batter. If you forgot to bring them to room temperature before you started mixing don't worry! Just place your cold eggs in a bowl of hot water for three minutes to bring them to temperature.
Vanilla Extract – Vanilla extract enhances the flavor of the cake and rounds out the chocolate taste. Choose real vanilla over imitation to ensure the best flavor and cleanest ingredients.
Coffee – Hot coffee enhances the chocolate flavor of this cake and also helps to dissolve the cocoa powder. If you don't consume caffeine try using a decaf coffee or hot water as a substitute.
Walnuts – The secret ingredient in this recipe, walnuts add a wonderful flavor and texture to this deeply rich chocolate cake.
Ingredients for the Frosting
Unsalted Butter – When making frosting, use room temperature butter. To check if your butter is soft enough press your finger into it. If you can push through it without any resistance it is ready.
Powdered Sugar – Powdered sugar is necessary for any frosting recipe. Sift the powdered sugar to ensure your frosting is lump free.
Cocoa Powder – Cocoa powder makes this buttercream rich and chocolaty.
Vanilla – Vanilla adds a nice depth to the flavor of the frosting.
Milk – Milk thins out the frosting enough to make it creamy and spreadable. You can adjust the amount of milk called for to achieve a consistency you like best.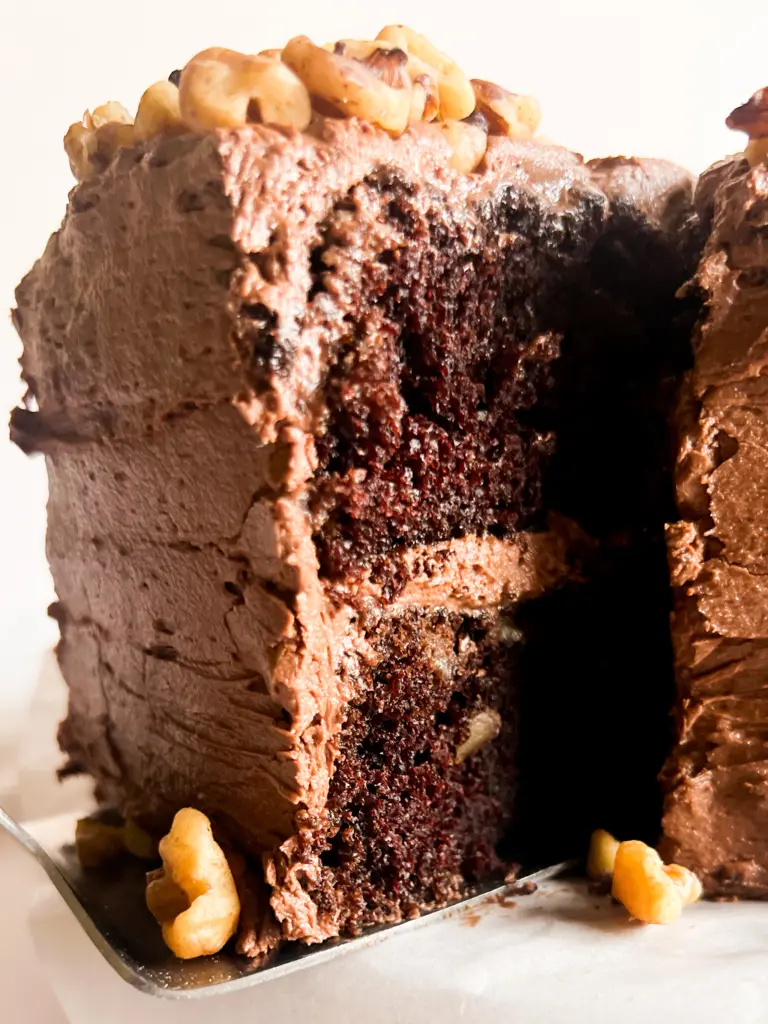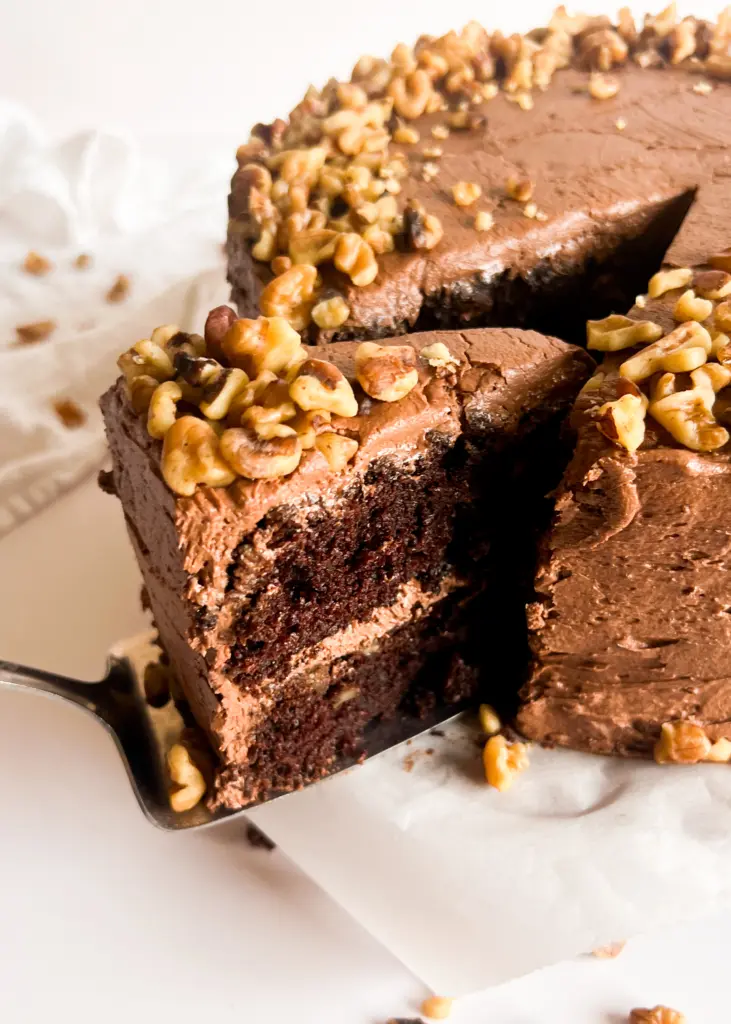 Tips for Making This Cake
Use room temperature ingredients – When making this cake use room temperature eggs and milk. Room temperature ingredients will bind together better than cold ingredients, resulting in a lighter and taller final product.
Use fresh ingredients – The combination of baking soda and baking powder in this recipe is necessary to leaven the cake and neutralize the acids brought in from the coffee and cocoa powder. Make sure your baking soda and baking powder are fresh for the best results.
Use non-dutch cocoa powder – Dutch cocoa powder is not as acidic as non-dutch cocoa powder because of the way it is processed. Using dutch processed cocoa powder in this recipe can result in a sunken or flat cake, because it won't react with the baking soda to lift your cake. If uncertain organic cocoa powder is a safe choice.
Don't over mix the batter – Over mixing the batter can can cause too much gluten development, resulting in a cake that is tough and rubbery. Avoid over mixing to keep your chocolate cake light and tender.
Don't overbake the cake – Overbaking can cause your cake to come out dry.
How to Store Chocolate Walnut Cake
This chocolate walnut cake will stay moist for days if stored properly. Because of the dairy in the batter it is best to keep the leftovers chilled and not store it at room temperature. Keep the frosted cake in an airtight container in the refrigerator for up to a week and bring the cake to room temperature before serving for the best texture.
If you want to make this cake ahead of time you can freeze it. To do this tightly wrap the cake rounds in plastic wrap after they have completely cooled and place it in the freezer for up to 3 months. When you are ready to frost the cake, pull it out of the freezer and allow it to thaw fully before frosting.
More Cake Recipes