This recipe gives a tangy sourdough discard twist on classic ginger-molasses cookies. These soft sourdough gingerbread cookies are fluffy, tender, and have that lovely gingerbread bite we all know and love. They really are the ultimate sourdough discard Christmas cookie recipe.
Why I Love This Recipe
These homemade sourdough gingerbread cookies have the perfect texture—thick, chewy, and incredibly soft. I've never met a child who was fond of gingerbread, but my kids devour these cookies. The have a deep molasses flavor, with the perfect amount of sweetness, and a slight ginger bite that makes gingerbread so delicious. What I love most about this recipe, besides them being incredibly delicious, is how simple these cookies are to make. There is no need to cream the sugar and butter, no need for any chilling, and it's a one-bowl recipe. It's so simple that you can have freshly baked sourdough gingerbread cookies in as little as 30 minutes.
This sourdough discard gingerbread cookie recipe is perfect for Christmas. Pair them with other sourdough discard cookies like sourdough chocolate chip cookies, sourdough cut-out sugar cookies, sourdough oatmeal cookies and soft sourdough snickerdoodles to make the perfect holiday cookie lineup.
Ingredients
Making sourdough gingerbread cookies is incredibly simple, and requires only a few simple ingredients. You may have everything you need already on hand! See the recipe card below for a full list of ingredients with their amounts.
Granulated Sugar – Sugar makes the cookies sweet, but also plays a crucial role in achieving their texture. The presence of sugar contributes to the chewiness of the cookies and helps promote the spreading action as they bake.
Butter – You have the flexibility to use either salted or unsalted butter for this recipe. Whichever option you prefer, it's important to ensure that your butter is at room temperature.
Salt – Salt helps to enhance the flavors in the cookies. If you're using salted butter, you can skip adding additional salt.
Egg – Egg act as a binding agent, helping to hold the ingredients together and providing structure to the cookie dough.
Sourdough Discard – Sourdough discard is added to this recipe to add a distinct and tangy sourdough taste. This recipe calls for 100% hydration sourdough discard, but will also work with active sourdough starter.
Baking Soda – Baking soda in this cookie recipe helps to make the cookies thick, chewy, and tender.
All-Purpose Flour – I highly recommend using unbleached all-purpose flour for this recipe. Unbleached flour is a great choice as it retains more natural nutrients and has a slightly higher protein content compared to bleached flour. This can result in better texture and structure for your cookies.
Spices and Molasses – Ginger, cinnamon, nutmeg, cloves, and molasses work together to give your cookies their distinct gingerbread flavor.
Tips for Making Discard Cookies
Use Room Temperature Butter – Using cold butter will yield dense cookies that don't spread properly, while melted butter will cause your cookies to spread too much, resulting in thin cookies. So, achieving the perfect texture and thickness relies on having your butter at the right temperature. To test if the butter is ready, simply press your finger into it. If it easily goes through without resistance, it's good to go.
Measure the Flour – To avoid hard crumbly cookies, make sure your flour is measured out correctly. To do this, spoon the flour into the measuring cup and level it off, ensuring it doesn't become packed, or weigh the flour for exact measurements.
Don't Over Mix – Over-mixing cookie dough can lead to excessive gluten development, resulting in dry cakey cookies. It's important after the sourdough discard and flour have been added to mix the dough until the ingredients are just combined to avoid overworking the gluten.
Don't Over Cook – When you take the cookies out of the oven, they may appear slightly undercooked. Don't panic! It's important to resist the temptation to cook them longer. The cookies will continue to cook for a few minutes after being removed from the oven. Allow them to cool for 10-15 minutes, before transferring them to a cooling rack to finish cooling. They will fully set up and achieve their desired texture during this time.
Coat the Cookies Generously – Be sure to generously coat the cookie dough with the cinnamon sugar mixture. Feel free to adjust the amount of cinnamon in the coating according to your personal taste preference.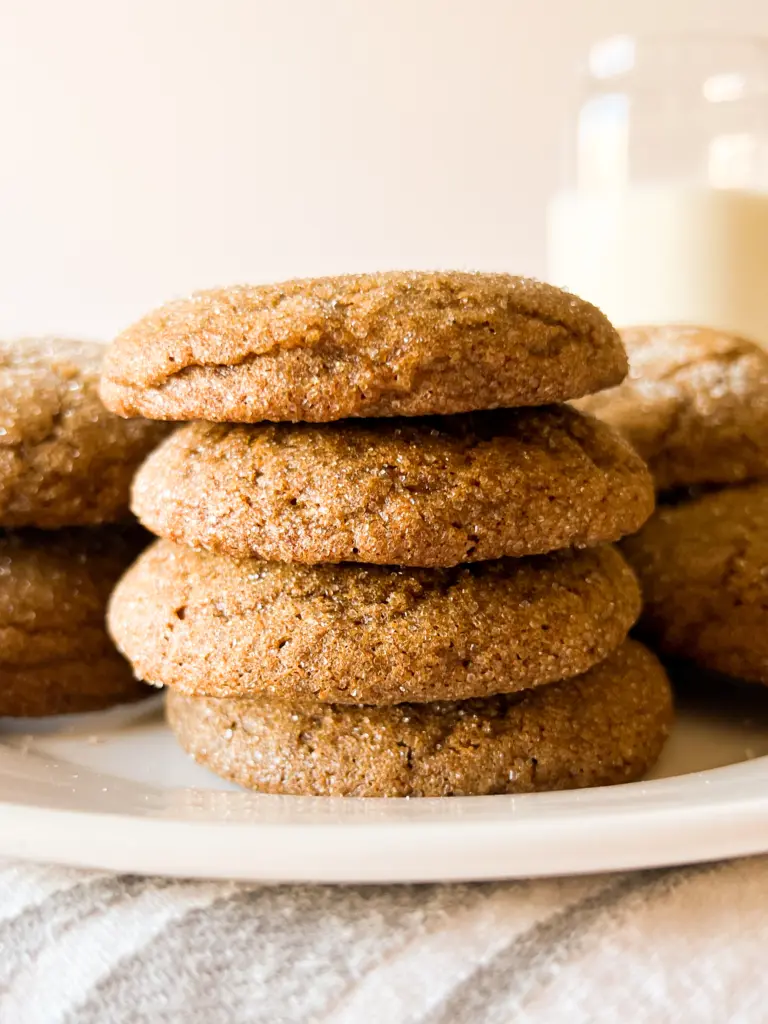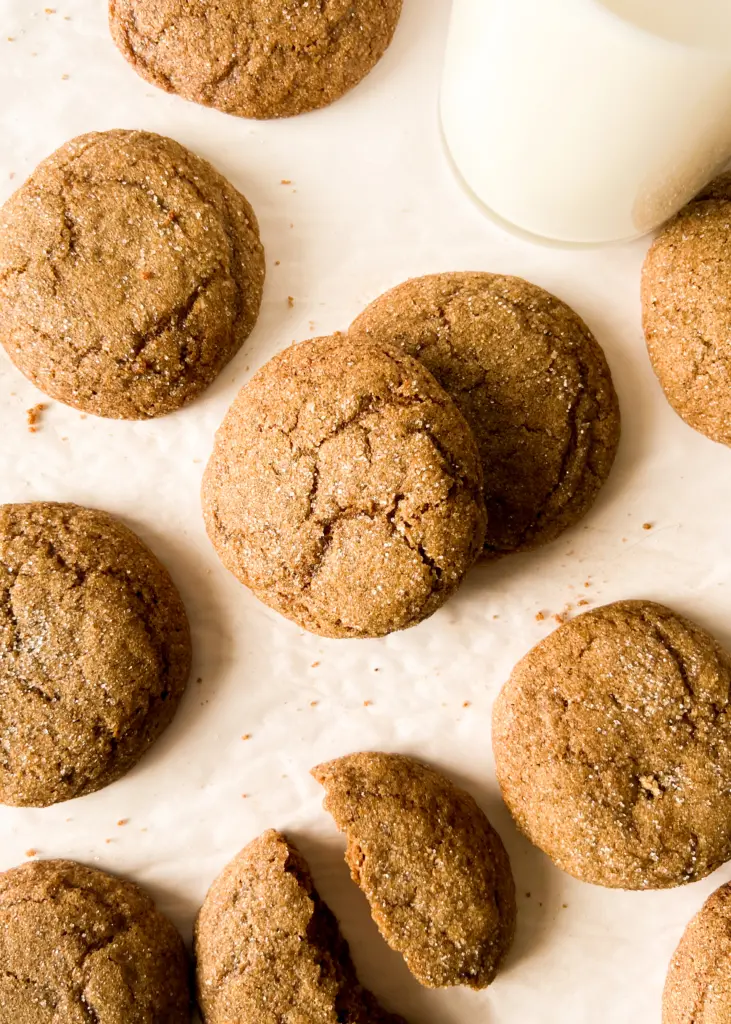 Sourdough Gingerbread FAQ
Can I use active sourdough starter?
Feel free to substitute active sourdough starter for sourdough discard in this recipe. Active starter has more aeration so it will measure differently. Weigh your active starter for best results.
What if I don't have molasses?
Molasses is a key ingredient in this recipe, but if you don't have any on hand there is a fix. Replace the sugar called for in this recipe with dark brown sugar, since brown sugar is just molasses and sugar combined, and add 3 tablespoons of maple syrup to the batter. The consistency of your cookies will change slightly, but they will still be delicious!
Do I need to chill the cookie dough?
You can bake these cookies immediately after mixing the dough. However, if you prefer, you can chill the dough to make it easier to handle. The decision to chill or not is entirely up to you!
How can I ensure that the cookies turn out soft and chewy, not overly hard or crumbly?
To achieve soft and chewy cookies, avoid overbaking. Remove them from the oven when they appear slightly underdone, as they will continue to set while cooling. Also, don't overmix the dough; gently combine the ingredients for the best texture.
Can I save the cookie dough and bake it later?
The cookie dough can be stored in the refrigerator for up to three days, and baked directly from being chilled. To freeze, wrap the cookie dough tightly and store it in the freezer for up to three months. Then when you're ready to bake, transfer the wrapped dough to the refrigerator and let it thaw overnight.
How do I store baked sourdough gingerbread cookies to keep them fresh?
Once the cookies have cooled completely, transfer them to an airtight container. Store the cookies at room temperature for up to three days or in the refrigerator for up to a week.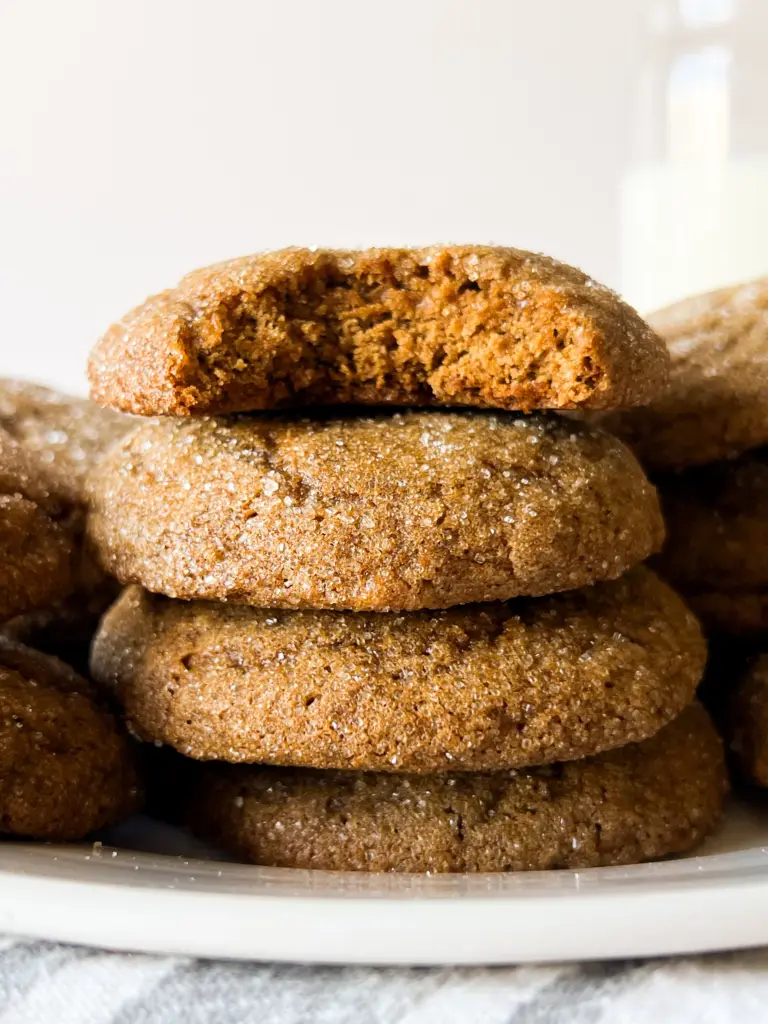 More Sourdough Discard Cookie Recipes