The air is crisp, and that means soup season! What better way to serve your favorite fall soups than in a sourdough bread bowl? These bread bowls have a chewy crust and a tight crumb, making them ideal for holding even the thinnest of soups. Take your soup recipe and make it so much better with these sure to impress sourdough bread bowls.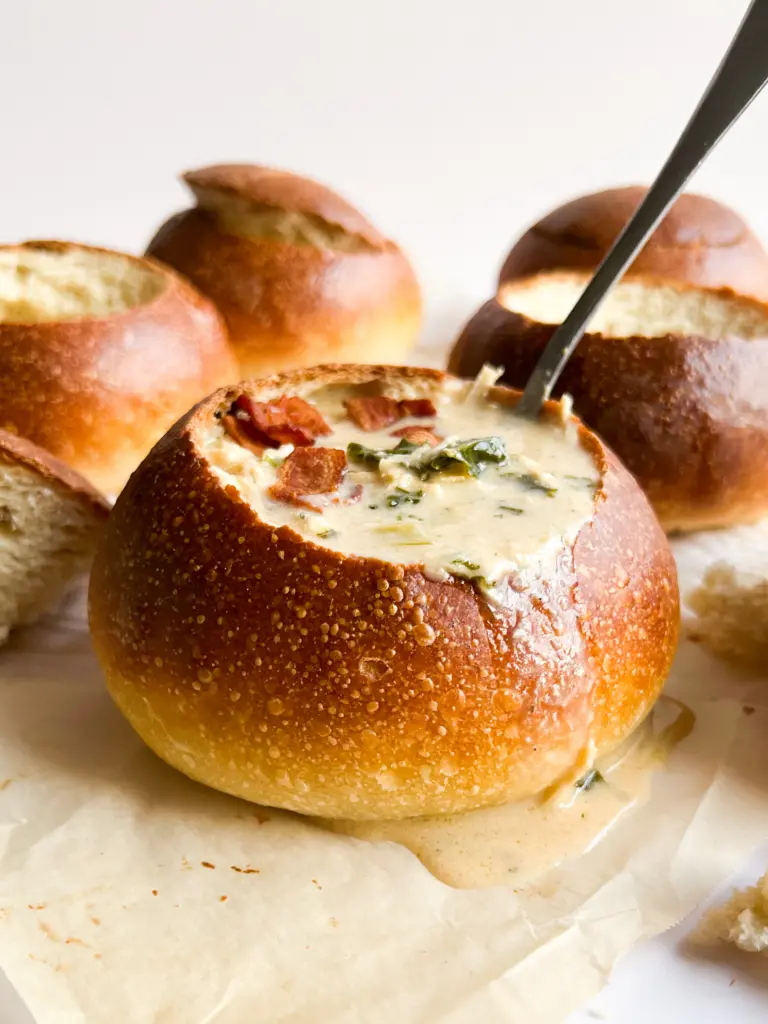 Why These Sourdough Bread Bowls are Perfect
I love a good bread bowl filled with a warm hearty soup. You can't have soup without bread, so why not just eat the soup out of the bread? These bread bowls bake up perfectly round without having to be cooked in a Dutch oven. With a soft flavorful interior and chewy crust that will hold in even the thinnest soups, you are going to love these bread bowls too.
This recipe is incredibly simple, and is perfect for beginner and novice sourdough bakers alike. They rise so well, you wouldn't believe that they aren't cooked in a Dutch oven. Not having to cook them in a Dutch oven allows you to cook them in batches instead of individually, saving you a whole lot of time. The entire recipe is a breeze, and I've also included a sample bakers schedule to make it that much easier!
Using Your Sourdough Starter
What is Sourdough Starter? These homemade sourdough bread bowls use sourdough starter to rise instead of traditional bakers yeast. If you're not sure what sourdough starter is, check out my How to Make a Sourdough Starter post to learn all about it.
For this sourdough bread bowl recipe use your sourdough starter when it is at its peak. When is that? Each sourdough starter will behave differently, so learn your starter to know for sure its ready to bake with. As a general rule of thumb most starters will peak about 8-16 hours after their last feeding. When your starter is at its peak it will have at least doubled in size, be light, airy, and filled with bubbles.
Still not sure? Try a float test. To float your starter drop a spoonful into a glass of water to see if it floats. If it does your starter is mature and ready to bake with!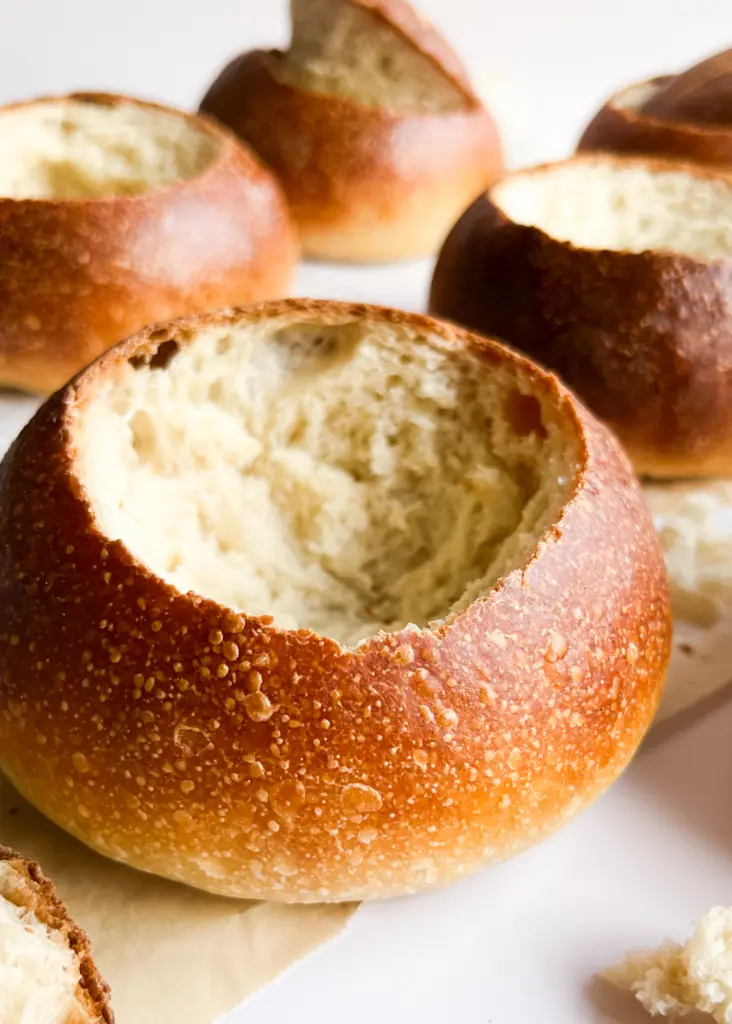 Tips and Tools
Plan Ahead: Sourdough baked goods have a long rise time. Take a look at my Sample Bakers Schedule before you begin so you have a better idea on when to begin and how to plan ahead.
Tools I Recommend
For this recipe I find the following tools quite handy (Amazon affiliate links):
Measure Your Ingredients
It can be easy to add too much flour to the dough when measuring in cups, do for best results I recommend weighing the ingredients. The recipe card below has weight and volume measurements for the listed ingredients. If using the volume measurements, try spooning the flour into the measuring cup to prevent it from packing and creating a dough that is too dry.
Do I Need Proofing Baskets?
These bread bowls look like mini sourdough loaves and you shape them like you would a regular sourdough bread recipe, but they don't need to proof in a proofing basket. After shaping, place the balls of dough seam side down on a parchment lined baking sheet, leaving a few inches between each, and allow them to proof at room temperature for about two hours.
How do You Bake Them Without a Dutch Oven?
This recipe does not require you to bake each bread bowl in a Dutch oven. For those of us with only one or two Dutch ovens, it could become a very lengthy and tedious task. These bread bowls are baked with a method called open bake. To open bake means to bake them on a regular baking sheet right inside the oven. To bake them this way and still achieve a good rise the oven is first filled with steam. This is done by preheating a roasting pan in the oven, and pouring two cups of room temperature water into the roasting pan right before placing the bread bowls in the oven to bake. The steam helps the bread bowls to rise properly and makes using a Dutch oven unnecessary.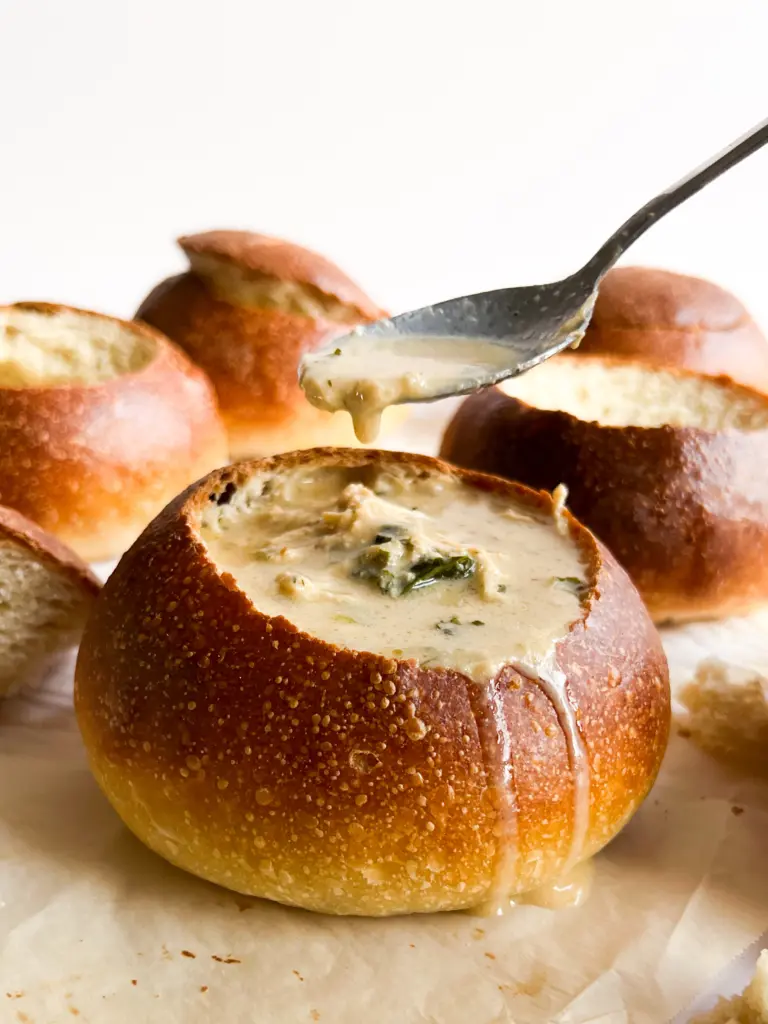 Sample Bakers Timeline
Sourdough baked goods have a long rise time. To make your life a whole lot easier I have included this sample bakers timeline to give you a better idea on when to start and how to plan ahead.
8 PM (day 1): Mix the dough together and cover to rest.
8:30 PM (day 1): Knead the dough, and cover for bulk ferment.
6 AM (day 2): Cut and shape your sourdough bread bowls.
6:30 AM (day 2): Cover the bread bowls for second rise.
8:30 AM (day 2): Bake the bread bowls.
9 AM (day 2): Set them aside and allow them to cool for two hours at room temperature.
11 AM (day 2): Store the bread bowls for later, or serve them with your favorite soup.
Soups to Try in a Sourdough Bread Bowl
Want to make some sourdough bread bowls but unsure what to serve in them? Try one of these fun and easy soup recipes!
Store at Room Temperature: Sourdough bread bowls can be left uncut at room temperature for up to three days. Store them in a bread bag to keep the crust from getting soft.
Freeze Them: Allow the bread bowls to cool completely after baking before freezing in a freezer safe container or bag for up to a month. When ready to serve allow the bread bowls to thaw completely.
More Sourdough Recipes to Try