These rolls are fun to make and loved by many. Homemade sourdough crescent dinner rolls have a soft and buttery dough with a nostalgic feel to them, making them the prefect sourdough dinner roll for any event. Can you even have a Thanksgiving or Christmas without crescent rolls at the table?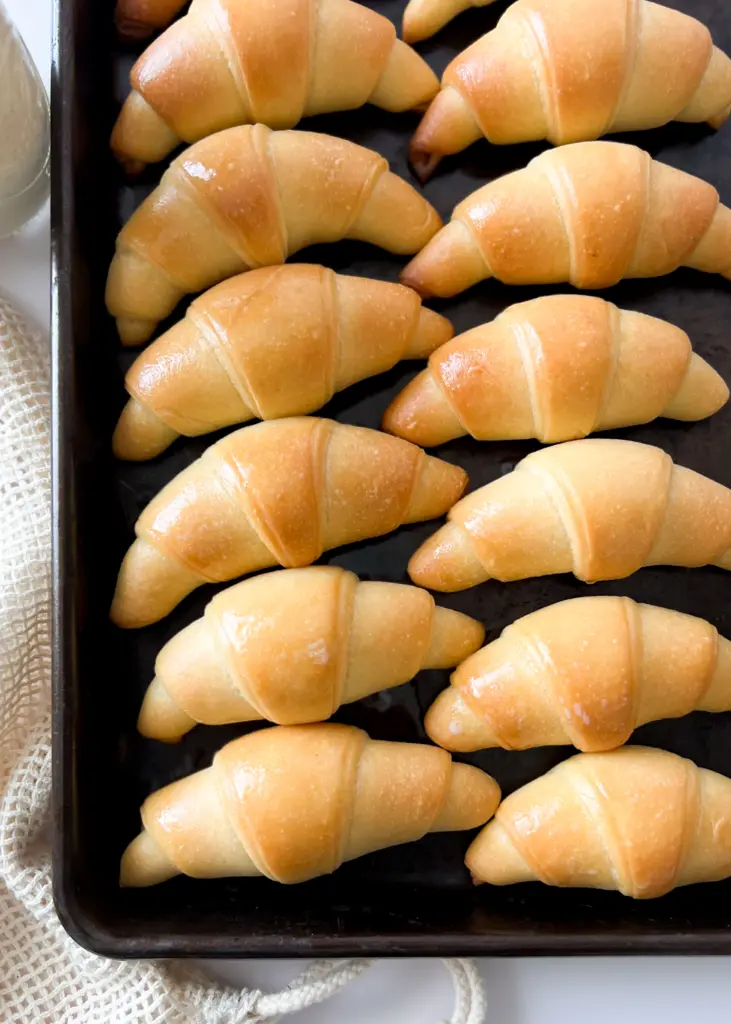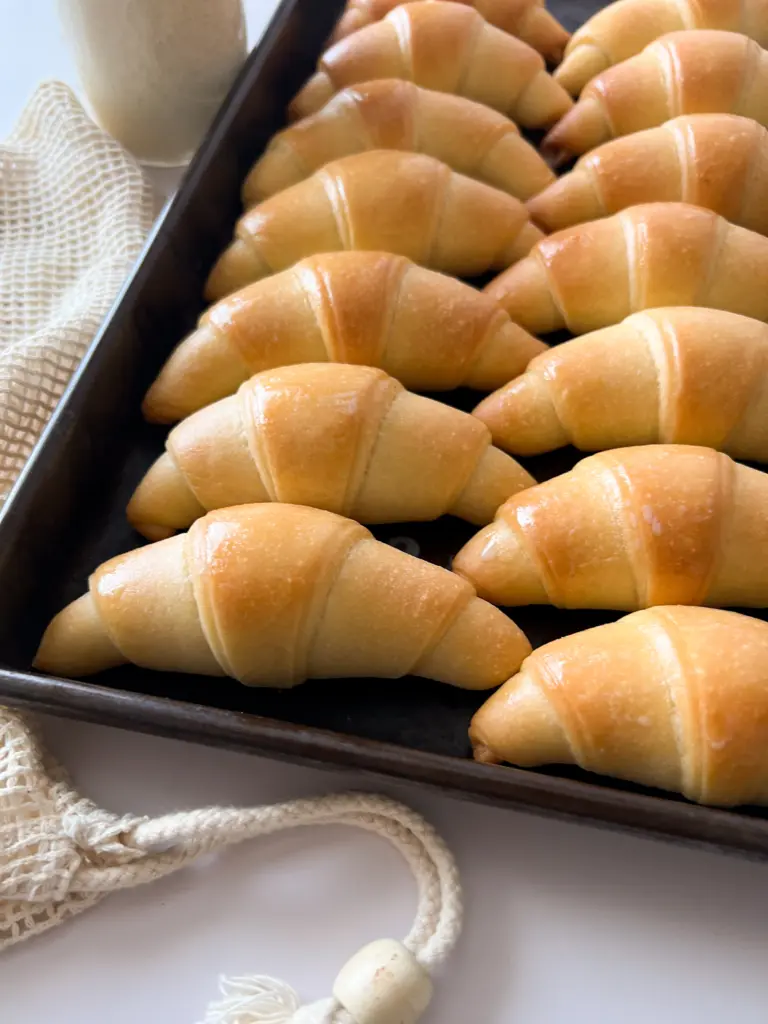 Croissant Rolls or Dinner Rolls?
It's easy to get them confused because of the similar shape and name, but crescent rolls are not the same as croissant rolls. Croissants are a flaky pastry made from laminating layers of butter and dough. Dinner rolls, and crescent rolls, are a soft white bread made from an enriched dough to be served as a side dish. These crescent rolls are more like dinner rolls with a fun twist to them, literally. If you grew up with Pillsbury crescent rolls these sourdough crescent dinner rolls will be a welcomed nostalgic touch to your table.
Why I Love This Recipe
Bread is a staple for any meal and I love a good crescent roll. Growing up with Pillsbury crescent rolls, this homemade sourdough version feels very nostalgic. Plus, my kids love them just as much as I do! These rolls are soft, buttery and tender. Served warm they are so incredibly delicious. What's else, these sourdough crescent dinner rolls have a lovely enriched dough. Enriched doughs are quite forgiving with rise times, meaning you won't ruin dinner if you find yourself losing track of time and making this recipe perfect for those just learning to bake with sourdough starter.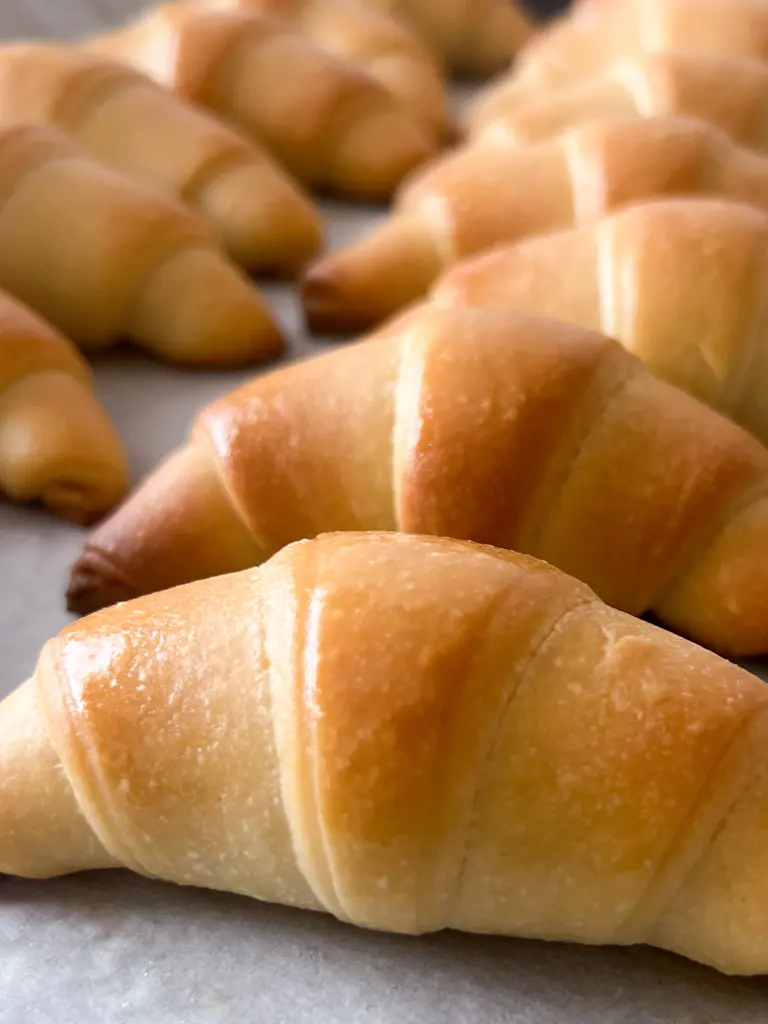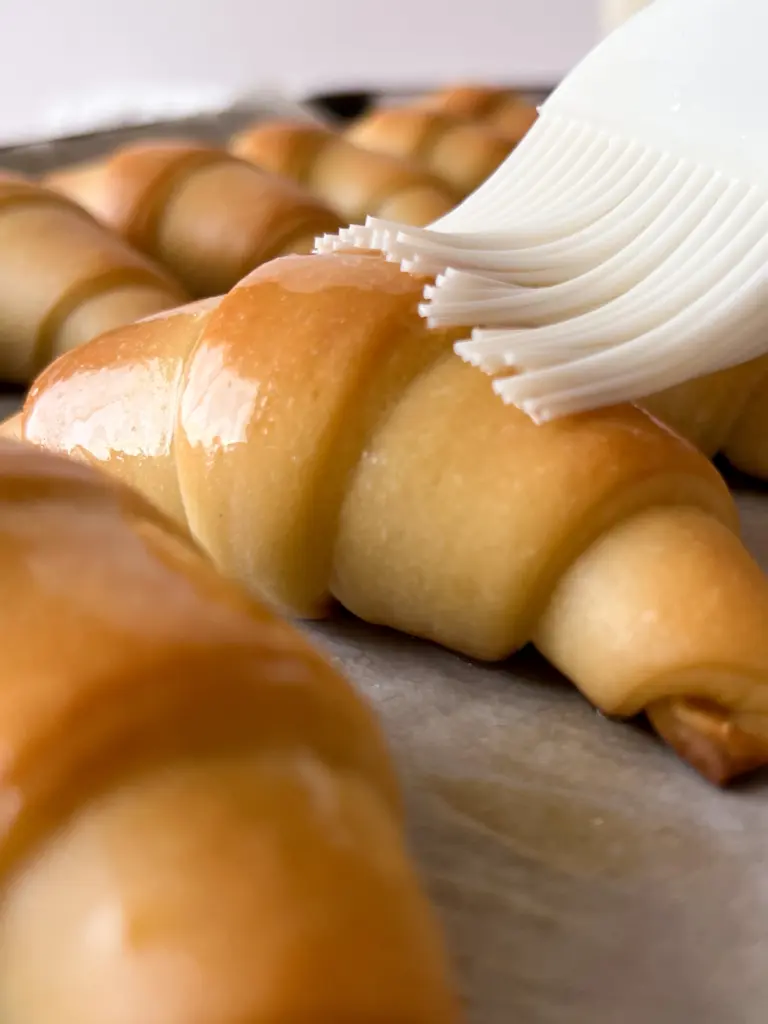 Tips for Getting the Perfect Sourdough Crescent Rolls
Plan Ahead: These sourdough crescent dinner rolls use sourdough starter to rise instead of traditional bakers yeast. If you're not sure what sourdough starter is, check out my How to Make a Sourdough Starter post to learn all about it.
When to Use Your Sourdough Starter
For this recipe use your sourdough starter when it is at its peak. When is that? Each sourdough starter will behave differently, so definitely learn your starter so you can know for sure its ready to bake with, but as a general rule of thumb most starters will peak about 8-16 hours after their last feeding. Wen your starter is at its peak it will have at least doubled in size, be light, airy, and filled with bubbles. Still not sure? Try a float test. To float your starter drop a spoonful into a glass of water to see if it floats. If it does your starter is mature and ready to bake with!
Tools I Recommend
For this recipe I find the following tools quite handy (Amazon affiliate links):
Are They Done Proofing?
This dough will take 4-5 hours at 72°F(21°C) to complete second rise. To know when they are done look for rolls that have risen about 25% their original size. They will poof up and be noticeably bigger. I find it easiest to take a picture of my rolls at the beginning of second rise to compare the rolls too at the end of second rise.
Speed up Second Rise: To speed up second rise place the dinner rolls in an oven with a proofing function. Alternatively, preheat your oven to 200°F(95°C), turn the oven off and place the pan of rolls in the oven with the door propped.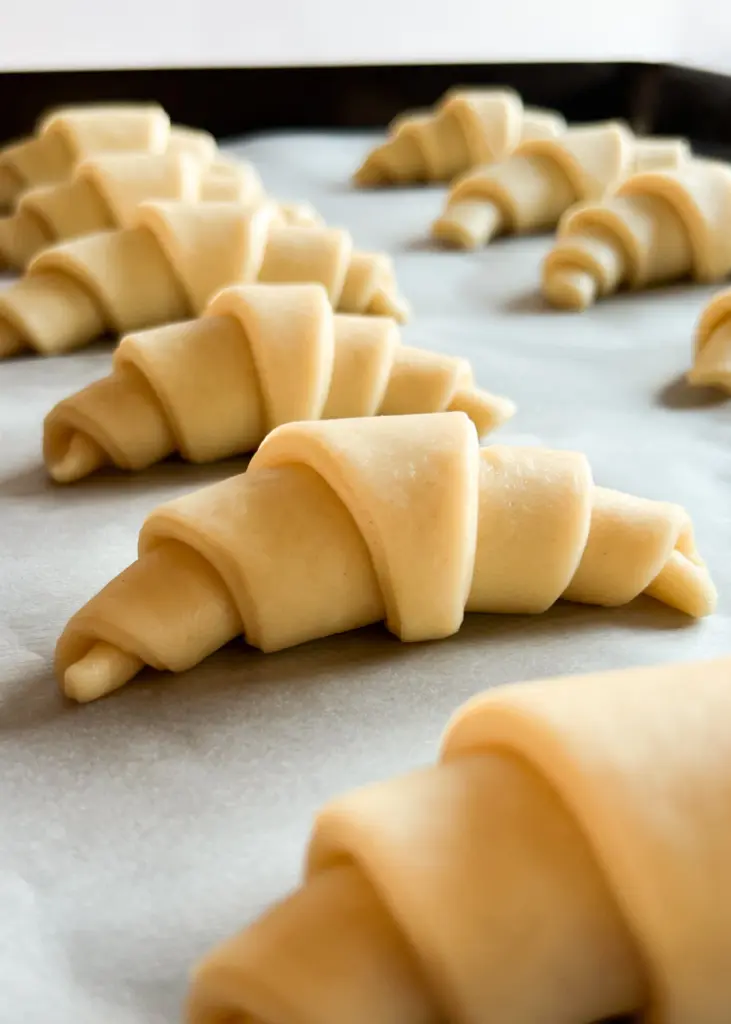 Can They be Baked Later?
Yes they can! If you are wanting to make these rolls ahead of time and bake them later, simply freeze or refrigerate the dough.
Refrigerate the Dough: The dough for these sourdough crescent dinner rolls can be refrigerated after bulk fermentation, or the rolls can be refrigerated after they have been shaped and before second rise. The dough will keep in the refrigerator for up to 3 days. When you are ready to bake allow the dough to come to room temperature, shape and/or perform second rise, and bake as normal.
Freeze the Dough: Freeze these dinner rolls on a parchment lined baking sheet, and transfer them to a freezer safe bag once they are solid. Keep them in the freezer for up to 3 months. When ready to bake, allow them to thaw at room temperature and perform second rise before baking as normal.
Mix it Up!
Like Pillsbury crescent rolls, the dough for these sourdough dinner rolls can be used in a variety of ways. Try getting creative or use one of the ideas below for something extra special and fun!
Pizza Crescent Rolls – Spread pizza sauce, mozzarella cheese, and pepperoni over each crescent roll before rolling up for delightful pizza rolls the kids are sure to love.
Cinnamon Crescent Rolls – For a sweet twist spread butter, cinnamon and brown sugar over the dough before rolling it up.
Pigs in a Blanket – To make these rolls even more nostalgic, try rapping then around your favorite brand of hot dogs before baking.
Ham and Cheese Crescent Rolls – Fill these rolls with sliced deli ham and American cheese before baking for warm ham and cheese rolls.
Sample Bakers Timeline
Sourdough baked goods have a long rise time. To make your life a whole lot easier I have included this sample bakers timeline to give you a better idea on when to start and how to plan ahead.
8 PM (day 1): Mix the dough together and cover to rest.
8:30 PM (day 1): Knead the dough, and cover for bulk ferment.
8 AM (day 2): Roll, cut, and shape your sourdough crescent rolls
8:30 AM (day 2): Cover the crescent rolls for second rise.
1 PM (day 2): Bake the crescent rolls.
1:30 PM (day 2): Brush with butter and serve the rolls warm.
More Thanksgiving Sourdough Recipes to Try