These chocolate-studded muffins are sure to become a family favorite. Sourdough chocolate chip muffins are incredibly moist, with tall tops and gooey chocolate in every bite. Added sourdough discard gives these muffins the benefit of long fermented grains.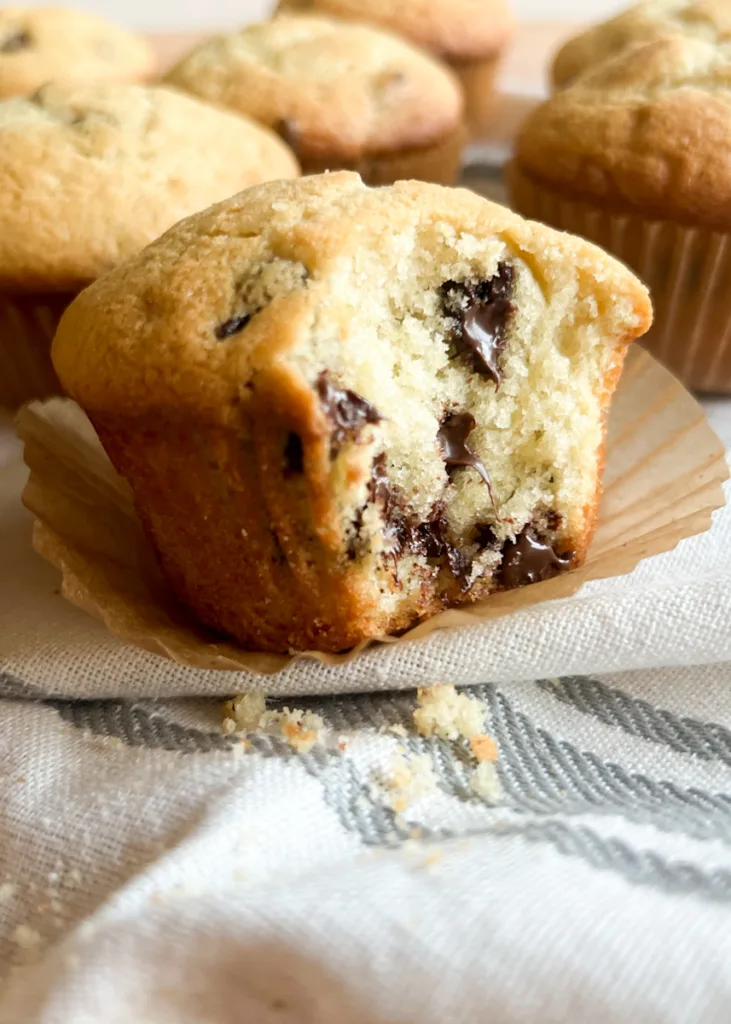 I am always up for a chocolaty treat, especially when its made with sourdough to make it more easily digestible like sourdough chocolate chip cookies, sourdough discard chocolate cake, or these sourdough chocolate chip muffins. You really can't beat a fresh chocolaty muffin still warm from the oven paired with a tall glass of milk or a morning cup of coffee. These easy sourdough muffins are a favorite with my family, my kids can devour a whole batch in record time. My favorite part is how incredibly easy to put together, with the whole recipe taking about 45 minutes from start to finish.
Using Sourdough Discard
These sourdough chocolate chip muffins are made with sourdough discard. If you're not sure what sourdough discard is, check out my How to Make a Sourdough Starter post to learn how to make your own sourdough starter. Sourdough discard not only helps give these muffins a little extra body, it adds a slight tang that compliments the vanilla and chocolate well. Discard is used in quick bread recipes like this one to add the benefits of fermented grains to the bake, and reduce waste when feeding your sourdough starter.
The Ingredients
Every ingredient plays an important role when making these sourdough chocolate chip muffins. This list explains the role of each ingredient when making this recipe, and also offers possible substitutions. See the recipe card below for a list of the ingredients with their amounts.
The Batter Ingredients
All-purpose Flour – Flour is the heart and soul of any great muffin or cake! I used unbleached organic all-purpose flour to make these sourdough chocolate chip muffins.
Salt – Using salt in sweet recipes helps to enhance the flavor, but don't worry it won't make your muffins salty. I like to use sea salt in most of my baking.
Baking Powder – Baking powder gives these muffins their tall cracked tops.
Baking Soda – Baking soda also helps to lift the muffins and neutralizes the acids in the sourdough discard.
Sugar – Sugar is what makes these muffins so sweet and yummy! I like to use organic cane sugar when baking.
Butter – Butter adds moisture and flavor to these muffins.
Coconut Oil – Oil give these muffins a lighter texture than just butter alone. I use coconut oil in most of my recipes for health reasons, but any oil will work.
Eggs – Eggs help give these muffins body and structure. Make sure your eggs are room temperature when making the batter. If you forgot to bring them to room temperature before you started mixing don't worry! Just place your cold eggs in a bowl of hot water for three minutes to bring them to temperature.
Sourdough Discard – Sourdough discard adds a touch of fermented goodness and a slight tang to this recipe. If you don't have a sourdough starter but would like to learn how to make one, check out my How to Make a Sourdough Starter recipe.
Whole Milk – Whole milk helps to thin out the batter and add fat that makes the muffins moist.
Vanilla Extract – Vanilla acts as a flavor enhancer and helps to bring out the cinnamon flavor in the muffins.
How to Make Sourdough Chocolate Chip Muffins
Making sourdough chocolate chip muffins is incredibly simple, with only a few steps. The whole process takes about 45 minutes from start to finish. If you have any questions while making these muffins, head over to the FAQ section for some helpful tips!
Step 1: Mix the Batter
Preheat your oven to 350°F (177°C).
In a medium-sized mixing bowl, whisk together the flour, salt, baking powder, and baking soda until evenly mixed. Then, set the bowl aside.
Using an hand mixer or stand mixer, beat together the sugar, butter and coconut oil on medium-high speed for 5 minutes or until it is fluffy and aerated, scraping down the sides as needed.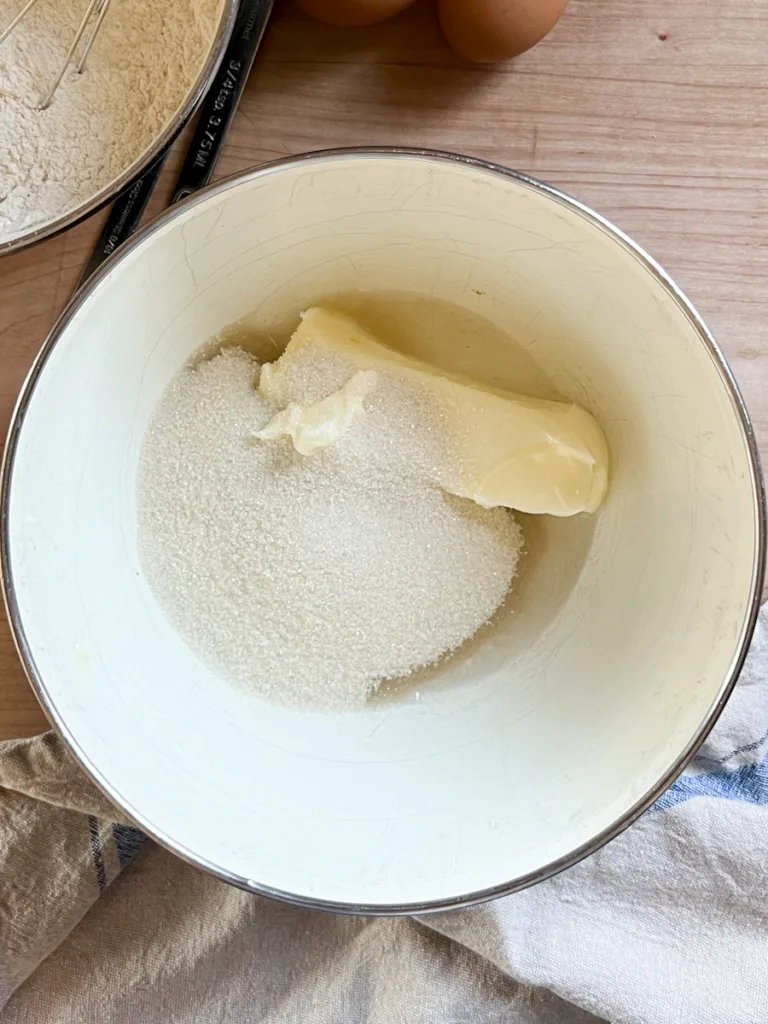 Add the eggs to the creamed butter-sugar mixture one at a time, beating until each addition is fully incorporated. Then mix in the sourdough discard, whole milk, and vanilla, scraping down the sides as needed.
Add the dry ingredients to the wet ingredients, and mix until fully combined and you achieve a thick, lump free batter. Be careful not to over mix the batter or your muffins could turn out tough.
Fold the chocolate chips into the muffin batter.
Step 2: Bake
Place paper cups in, or grease, a standard12-muffin pan. Fill each cup completely with approximately 1/3 cup of batter.
Place the muffins on the lower center rack of a 350°F (177°C) preheated oven and bake for 25-28 minutes, or until a toothpick inserted into the center comes out clean or with only a few moist crumbs. Avoid over baking to keep them moist.
Let the muffins cool in the pan for 10 minutes before moving them to a cooling rack for complete cooling.
Sourdough Chocolate Chip Muffins FAQ
Can I make the batter ahead of time?
While it's best to bake the muffins right after preparing the batter, you can ferment the sourdough chocolate chip muffin batter for added health benefits. Leave out the baking soda and baking powder, and refrigerate the batter for up to 12 hours, adding in the leavening agents before baking. Keep in mind that the texture might slightly change.
Can I use active sourdough starter instead of sourdough discard?
You can use active sourdough starter instead of sourdough discard in this recipe. Keep in mind that using active starter might yield slightly different results compared to using discard.
How should I store the muffins?
Store cooled muffins in an airtight container at room temperature for up to 2-3 days. For longer storage, refrigerate them for up to a week or freeze individually wrapped for up to 2 months, bringing them to room temperature before serving.
What's the purpose of using sourdough discard in muffins?
Sourdough discard adds a subtle tanginess to the muffins and contributes to their moisture and texture. It's a great way to reduce waste and incorporate the benefits of sourdough fermentation.
More Sourdough Discard Recipes to Try